Press Release
Southern Oregon Man Sentenced to Federal Prison for Assaulting Bureau of Land Management Employee with a Deadly Weapon
For Immediate Release
U.S. Attorney's Office, District of Oregon
MEDFORD, Ore.—A southern Oregon man was sentenced to federal prison today for assaulting a Bureau of Land Management (BLM) employee with a deadly weapon while the employee was taking photos of a campsite the man occupied on BLM property in Josephine County, Oregon.
Scott Dye, 56, was sentenced to time served and three years' supervised release. Dye was in custody from the time of his arrest in June 2020 until his release after pleading guilty in December 2021.
According to court documents, on May 31, 2020, Josephine County Sheriff's Office deputies and emergency personnel responded to an overturned school bus located on BLM property. Dye was identified as the driver and owner of the bus. On June 6, 2020, a BLM officer contacted Dye and told him he had 14 days to vacate the bus property.
From June 6, 2020 through June 16, 2020, Dye enlisted the aid of both BLM officers and civilians on multiple occasions to move his overturned bus. Throughout this time, Dye explained to witnesses that he was being harassed and intimidated by local civilians who did not want him there. On June 15, 2020, multiple individuals threw rocks at Dye and told him that he needed to leave. Dye told a BLM employee he was being harassed and expressed his desire to remove the bus from the crash site and vacate the area as soon as possible. 
On the morning of June 17, 2020, a BLM employee was travelling in a government vehicle on official business and stopped near Dye's encampment to take some photos. After taking two photos, the employee heard the rear driver side window of his vehicle shatter. Realizing he was being shot at, the employee opened his driver door and entered the vehicle. As soon as he shut the door, a second round struck the steering wheel of the vehicle sending shrapnel into the employee's hand. The employee also sustained minor abrasions on his ear from flying glass. The employee quickly departed the scene and called 911.
Less than an hour after the shooting, Josephine County sheriff deputies and BLM officers observed Dye walking on a BLM road near the encampment and detained him. Dye told the officers he owned the bus and was returning from a walk. When asked if he possessed any guns in the camp, Dye declined. Dye was eventually driven to and released in Merlin, Oregon and instructed not to the return to the bus. He was arrested again later the same day by BLM officers.
On the same day as the shooting, FBI and BLM agents executed a federal search warrant on the bus and surrounding camp site. They found a .223 caliber shell casing on the ground near the bus and an empty black rifle case and .223 magazine inside the bus near Dye's sleeping pad. From the rear of the bus where the spent shell casing was found, agents observed a direct line of site to the location where the BLM employee's vehicle was struck by gunfire earlier that day. A ballistics analysis later conducted by the FBI concluded that three shots were fired at an upward trajectory from Dye's bus toward the BLM employee and his vehicle
On June 18, 2020, Dye was charged by federal criminal complaint with assaulting a federal officer, camping longer than permitted on public lands, and disposing of garbage on public lands. Later, on July 20, 2021, a federal grand jury in Medford returned a three-count indictment charging Dye with assaulting a federal officer; attempting to murder a federal officer; and using, carrying, and discharging a firearm in furtherance of a crime of violence. 
On December 10, 2021, Dye pleaded guilty to assaulting a federal officer.
U.S. Attorney Scott Erik Asphaug of the District of Oregon made the announcement.
This case was investigated by BLM and FBI with assistance from the Josephine County Sheriff's Office. Assistant U.S. Attorneys Marco Boccato, Adam Delph, and Amy Potter prosecuted the case.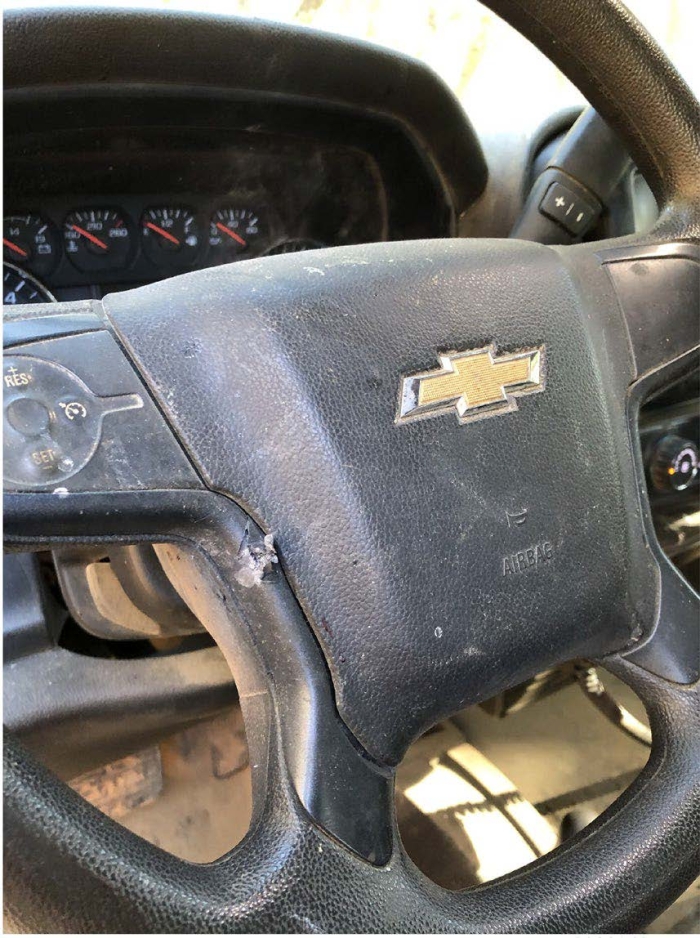 Updated April 26, 2022
---