Community Based Initiatives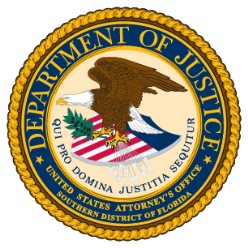 Maurice Johnson, Special Counsel to the U.S. Attorney
James D. Smith, Law Enforcement Community Coordinator (LECC)
One of the primary missions of the United States Attorney's Office is to ensure that federal crimes affecting the people in the Southern District of Florida are investigated and that the perpetrators are prosecuted, convicted, and punished. Common sense and experience have taught us, however, that we cannot prosecute, arrest, and punish our way out of the problems that illegal drug use, violent crime, and criminal gangs visit upon our community. Prosecution alone will not eliminate the threat they pose to our way of life. We know that every sector of our community has an important role to play in our efforts to put an end to these problems.
To this end, the Justice Department has implemented several special emphasis initiatives. These initiatives are aimed at empowering neighborhoods by strengthening partnerships, coordination and collaboration between and among law enforcement agencies, government agencies, non-profit community groups, faith-based organizations, and the people who live and work in our neighborhoods. The idea is simple: working together as a community, we have the power to make South Florida a better, safer place to live.
The United States Attorney's Office is involved in various community-based initiatives, including those referenced below:
Project Safe Neighborhoods
Project Safe Neighborhoods (PSN) began in 2002 as an outgrowth of the former Weed and Seed initiative. The focus of PSN is to bring together law enforcement and prevention and intervention resources to effect reductions in firearms crimes and gang related violence. PSN is also focused on preventing juvenile crime and facilitating successful ex-offender reentry.Learn more
Southern District of Florida Reentry Initiative
In 2003, President Bush's State of the Union Address identified the challenge of ex-offender reentry. At that time, it was estimated that close to 600,000 persons would be released each year from state and federal prisons for return to our communities. The challenge was, and is, to afford them successful avenues for reentry that will protect our communities from the consequences of their return to a life of crime. Learn more
Project Sentry
Project Sentry is the two-fold violent gun crimes prevention aspect of PSN. Law enforcement works with community groups to promote educational and recreational alternative activities for young people in our most challenged communities. The goals are to graphically demonstrate the negative consequences of involvement with gun violence, including the destruction of families and bodily harm, imprisonment, and neighborhoods. Project Sentry focuses on young people through anti-gang and anti-gun violence presentations at schools, community groups, youth summits and summer camps. Since 2005, PSN Project Sentry has reached over 10,000 young people from Miami-Dade, Broward, and Palm Beach Counties with its important anti-gang and anti-violence message.
Project Sentry targets 6th graders in Miami-Dade County and Broward County schools. The 90-minute multi-media presentation is comprised of speakers from the United States Attorney's Office, State Attorney's Office, and medical professions, who teach youth the importance of staying away from guns, violence, and gangs.Learn more
Project Safe Childhood
Project Safe Childhood (PSC) is the Justice Department's primary initiative aimed at preventing, investigating, and prosecuting violations of child sexual exploitation and related obscenity laws.
Project Safe Childhood's middle school outreach program is a 90-minute multi-media presentation designed for 6th grade students which empowers them from (1) committing acts of bullying, cyber-bullying, and electronic predation and (2) from becoming the victims of bullies and internet predators. Project Safe Childhood's middle school outreach program concentrates on Miami-Dade and Broward County schools. Learn more
Victim Services Program
The Victim Services Program is focused on assisting victims through the court system by providing timely information, logistical assistance (for victim-witnesses) and referrals to providers of medical care, counseling services, psychological treatment, financial and other victim-centered resources and services. Learn more
Community Based Partnerships
The United States Department of Justice and the United States Attorney's Office for the Southern District of Florida have worked with hundreds of agencies and organizations in connection with its community empowerment initiatives. Our major partners in the Project Safe Neighborhoods include: Learn more
Updated May 13, 2020