Each Medicare Fraud Strike Force team brings the investigative and analytical resources of the FBI and HHS-OIG and the prosecutorial resources of the Criminal Division's Fraud Section and the United States Attorney's Office (USAO) to analyze data obtained from CMS and bring cases in federal district court. Strike Force accomplishments from cases prosecuted in all nine areas during FY 2014 include:
165 indictments, informations, and complaints involving charges filed against 353 defendants alleged to have collectively billed the Medicare program more than $830 million;
304 guilty pleas negotiated and 38 jury trials litigated, with guilty verdicts following trial against 41 defendants; and
Imprisonment for 248 defendants sentenced during the fiscal year, averaging more than 50 months of incarceration.
o In the seven and a half years since its inception, Strike Force prosecutors filed more than 963 cases charging more than 2,097 defendants who collectively billed the Medicare program more than $6.5 billion; 1,443 defendants pleaded guilty and 191 others were convicted in jury trials; and 1,197 defendants were sentenced to imprisonment for an average term of approximately 47 months. These efforts, as you can see, have reduced Medicare payments in several arenas, as you can see in the chart below.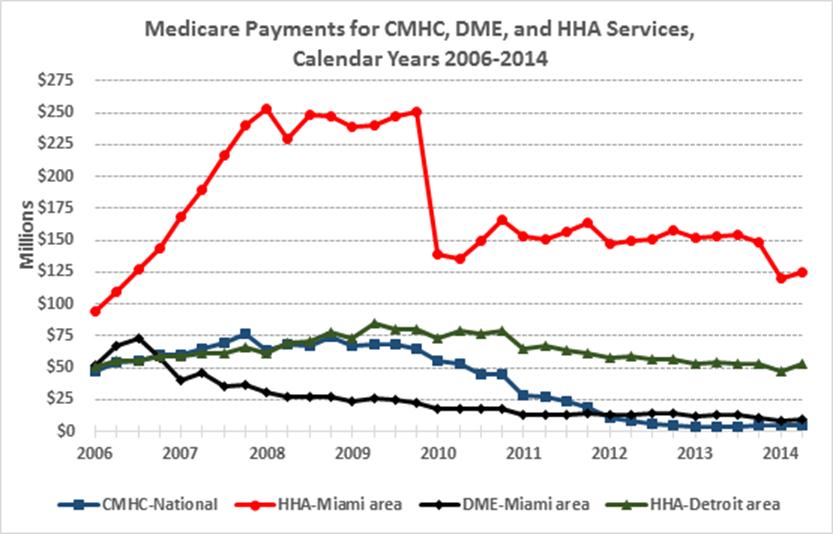 Updated June 9, 2015