Eastern District of Michigan
Annual Report for 2011
Enforcement, Prevention, Community Trust
Improving the quality of life for our citizens is the goal at the U.S. Attorney's Office for the Eastern District of Michigan.  We seek not just to process the cases that come across our desks, but to prioritize cases and lead initiatives that will have a meaningful and positive impact on our region.
Despite  budget cuts from Congress and staff reductions caused by the resulting Department of Justice hiring freeze, the lawyers and support professionals in our Detroit, Flint, and Bay City Offices made significant strides in 2011.  Among them:
Criminal case filings increased by 10 percent.
Our office collected $111 million in fines, forfeiture, restitution and judgments, up from $46 million last year, and more than four times our entire office budget of $24 million.  These funds will be returned to victims and taxpayers.
Umar Farouk Abdulmutallab was convicted of attempting to blow up Northwest Flight 253 over Detroit on Christmas Day 2009 for Al-Qaeda, pleading guilty in court after hearing our team's opening statement on the first day of trial.   He now faces life in prison.
Violent crime went down 24 percent in Detroit and 19 percent in Flint. Because public safety is essential to a high quality of life, our office has worked closely with our federal, state, and local law enforcement partners to reduce violent crime. Of course, violent crime and homicide rates remain intolerably high, but we continue to focus on making our neighborhoods safer for people to live and conduct business.  Although a number of factors well beyond our efforts likely go into the crime rate, it is the statistic by which we measure our work.
We continued to keep our eye on our priority areas:  terrorism, violent crime, public corruption, civil rights, and financial fraud, including health care fraud, investor fraud, mortgage fraud, and environmental violations.  These are the areas that we have identified as the most important to the Eastern District of Michigan, based  on our conversations with community stakeholders and law enforcement leaders.  We focus on these substantive priorities along with our other responsibilities.  Our lawyers and support professionals dedicated our efforts to the three pillars of our work -- enforcement, prevention, and community trust.  We also sought to improve our internal workings so that we can be more effective in our work.
ENFORCEMENT

National Security
Terrorism remains the top priority of the Department of Justice, and our National Security Unit focuses on investigations relating to border security, international and domestic terrorism, terrorism financing, export violations, threats, hoaxes, trade secrets, and other violations of law that affect our national security.   We continue to coordinate the multi-agency Anti-Terrorism Advisory Council and our own Critical Incident Response Team, so that we may be best prepared to prevent and respond to acts of terrorism.
International Terrorism.  In October, trial began in United States v. Abdulmutallab.  After the government's opening statement outlining the evidence and the testimony of the government's first witness, defendant Umar Farouk Abdulmutallab pleaded guilty to all eight counts in the indictment, including conspiring with Al-Qaeda to bomb a plane over U.S. soil, and attempting to murder 289 victims on board Northwest Flight 253 to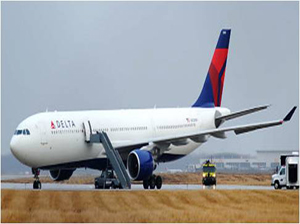 Flight 253 on Dec 25, 2009, at Detroit Metro Airport
Detroit on Christmas Day 2009.  Defendant will be sentenced on January 19, 2012, and faces a mandatory life sentence.  The case demonstrated the effectiveness of civilian courts in terrorism cases, and provided a significant legal ruling, admitting evidence of defendant's confession obtained by FBI agents without Miranda warnings under the law's public safety exception.
Foreign Agent.  In United States v. Hamama, a former U.S. Army translator was convicted of making false statements to the FBI when he denied that he had served as an agent for the Iraqi Intelligence Service during the regime of Saddam Hussein.
Illegal Militia Activity.  In United States v. Clough, defendant pleaded guilty to using a firearm during a crime of violence.  Defendant admitted to being part of the Hutaree militia, which prepared for violence against federal, state, and local law enforcement officers, and that the group conducted military-style training exercises in Lenawee County.  Training included weapon proficiency drills, patrolling, reconnaissance exercises, and explosives demonstrations.
Trade Secrets.  Theft of trade secrets harms the United States' competitive advantage with foreign manufacturers.  In United States v. Yu, a former engineer for Ford Motor Company was sentenced to almost six years in prison for stealing trade secrets from Ford.  Upon leaving his job at Ford for a job with an auto company in China, defendant stole thousands of documents detailing electrical systems, which Ford had spent many years and millions of dollars developing.
Hoaxes.  In United States v. Sanders, defendant was convicted of making a hoax call to the U.S. Coast Guard, claiming that his family's boat had capsized in Lake Erie, and was sentenced to 3 ½ years in prison.  The Coast Guard responded to his distress call and searched the area for eight hours at a cost of $53,000.  The case was prosecuted in hopes of deterring others from claiming false alarms so that the Coast Guard may focus on real emergencies.
Violent Crime
Reducing violent crime is essential to the success of our region.  Our citizens should feel safe in our neighborhoods, our homes, our schools, and our places of business.  With budget cuts throughout our state resulting in fewer law enforcement officers and prosecutors, we have increased our caseloads on the federal side, where penalties are often greater than in the state system.  Lawyers and support staff in our Violent and Organized Crime Unit, our Drug Task Force, our General Crimes Unit, and our branch offices in Flint and Bay City all work to reduce violent crime to improve our public safety.   With budget restrictions, our ability to add prosecutors was limited, but we instead found creative ways to focus our resources:
Initiatives
CVRP:  We continued to partner with federal, state, and local law enforcement agencies in the Comprehensive Violence Reduction Partnership, using information-sharing and data-driven strategies to address firearms offenses and violent crime.
Project 48205:  Learning that the 48205 zip code area was Detroit's deadliest region, the coordinator of our firearms prosecutions launched a pilot project in which we reviewed all firearms cases occurring in this area for federal prosecution.  We learned that most offenders were on probation or parole or were juveniles, information that will be valuable for prevention and enforcement efforts going forward.
Flint Zero Tolerance:  To combat violent crime in Flint in light of that City's limited local resources, our Flint branch office agreed to prosecute every firearms case that is eligible for federal prosecution.
Indian Country: We increased our case filings for violent crime occurring on the Saginaw Chippewa Indian Reservation in Mt. Pleasant from 14 to 25, an increase of 44 percent, despite a 25 percent reduction in force for our legal staff in our Bay City branch office.
Cases
Our efforts resulted in a number of case successes.  Among them were:
Armed Robbery.  Two defendants were sentenced to 57 years and 35 years, respectively, for committing a series of armed robberies at metro-Detroit area smoke shops and dollar stores.  In another case, a defendant was sentenced to 40 years in prison for committing a series of armed robberies at pet supply and dollar stores in Detroit.
Murder.  A defendant was convicted in the armed robbery and murder of an armored car guard at the Dearborn Federal Credit Union, and now faces life in prison.
Murder-For-Hire.  Two defendants were sentenced to life in prison for their role in a murder-for-hire scheme, in which the victim was killed by gunfire in retaliation for stealing money and jewelry.
Carjacking.  A defendant was convicted at trial for three separate carjackings.  In one of the carjackings, defendant shot and injured a victim in Detroit.  In another, the defendant threatened to kill the victim and her five-year-old child in Eastpointe. The third carjacking victimized a husband and wife and their 14-year-old son in Dearborn.  The defendant faces a mandatory minimum sentence of 60 years. 
Law enforcement leaders address public safety in schools
Arson. Two defendants were convicted and sentenced to 15 years in prison each for committing an arson at a Metro-PSC store on Jefferson Avenue in Detroit.  The fire seriously injured seven firefighters, some of them permanently, and also damaged and shut down several local small businesses.
Drug Trafficking.  In December, an indictment was returned against a criminal gang known as the Hustle Boys, who were charged with trafficking illegal narcotics from Michigan to West Virginia.  We also indicted 14 defendants in a major drug trafficking organization in metro-Detroit, charged with trafficking more than 800 kilograms of cocaine and 325 pounds of marijuana worth $27 million.
Child Exploitation.  Our Project Safe Childhood Program convicted a number of defendants who were using the internet to exploit children.  In United States v. Demink, defendant was sentenced to life in prison for enticing seven women to sexually assault their own children.  In United States v. Belloli, defendant was sentenced to 35 years in prison for sedating and sexually assaulting a minor child, and then photographing the acts of abuse and downloading the photos to his computer. In United States v. Chaudhery, a defendant was sentenced to 26 years in prison for hacking into the computers of teenage girls, and then blackmailing them by threatening to alter photos from their computers and send them to their classmates.   In United States v. Daniels, the court of appeals affirmed the defendant's convictions for manufacturing and distributing child pornography and sex trafficking of children.
Indian Country.  We increased our prosecution of violent crime occurring on the Saginaw Chippewa Indian Reservation by 44 percent.  Our cases included the conviction of a defendant who assaulted and attempted to murder a two-year-old girl, and the indictment of a man for assault by strangling and for witness tampering.
Public Corruption
Public corruption in federal, state or local government remains a high priority.  Our region cannot thrive until we have the honest government at every level that our citizens deserve.
City Official.  Former Chief Administrative Officer for the City of Detroit Derrick Miller pleaded guilty to corruption and tax offenses.  Miller admitted to steering city contracts to Bobby Ferguson, and accepting bribes of $115,000 from a real estate broker, $10,000 from a contractor who obtained a $4 million contract to install security cameras throughout the City, and two payments of $10,000 each from a contractor who held a contract to perform electrical and cleaning services for Cobo Civic Center.  Miller also admitted to delivering $10,000 from the contractor to former Mayor Kwame Kilpatrick.
Fundraiser.  Emma Bell, the former fundraiser for former Mayor Kwame Kilpatrick, pleaded guilty to tax evasion.  Bell admitted to receiving commissions of more than $900,000 for her fundraising activities for Kilpatrick, which she failed to report as income. Bell further admitted that the $900,000 represented 10 to 15 percent of her fundraising for Kilpatrick.  Bell admitted that she split her commission checks with Kilpatrick, giving him cash whenever she received a check of $5,000 or more, and breaking up the proceeds of checks greater than $10,000 into smaller cash payments to avoid reporting requirements.
Chris Graveline and Paulette Abdullah prepare for trial
City Council Chief of Staff.  John Clark, the former Chief of Staff for the President of the Detroit City Council, pleaded guilty to lying to FBI agents about accepting a bribe from a contractor.
Contractor.  A project executive for Ferguson Enterprises pleaded guilty to structuring financial transactions to avoid federal reporting requirements, as part of the investigation into fraud, money laundering, and obstruction of justice relating to the demolition project at the Garden View Apartments public housing project.   In a related case, the former operations manager for XCEL Construction Services pleaded guilty to falsifying documents submitted to the State of Michigan by Ferguson Enterprises, allowing Ferguson Enterprises to bid on public works projects by concealing a conflict of interest.
School Officials.  The Detroit Public Schools' Executive Director for Risk Management and contractors were among eight defendants convicted in a kickback scheme that defrauded DPS of $3.32 million in a wellness program that was worth $150,000.   Executive Director Stephen Hill was sentenced to five years in prison, Sherry Washington was sentenced to seven years, and Dr. Gwendolyn Washington, who was also convicted of health care fraud and illegal drug distribution, was sentenced to ten years.
Township Supervisor.  The Supervisor for Royal Oak Township was indicted on charges of bribery in exchange for steering a contract to demolish an old theater to a contractor and on charges of fraudulently inflating change orders for the project.
Controller.  The Controller of the City of Ecorse was convicted of accepting bribes in exchange for awarding public works contracts.  The jury found that the defendant accepted a Lexus automobile in exchange for fraudulent charges to the City amounting to more than $3.1 million.  The Ecorse mayor and two business owners who paid the bribes were also convicted in this case.
City Lead Inspector.  A City of Detroit lead inspector was sentenced to almost four years in prison for soliciting bribes in exchange for providing false reports that homes were free of lead-based paint.  His conduct exposed a two-year-old child to the risks of injury from lead paint.
Postal Supervisors.  Four Postal employees were convicted in a scheme to take bribes in exchange for $13 million in contracts to maintain Postal Service vehicles.  Defendants worked as managers, supervisors, and auto technicians in Ann Arbor, Allen Park, Detroit, and Akron, Ohio. 
Union officials.  In United States v. Douglas and Campbell, the court of appeals reversed sentences of probation for two UAW officials who threatened to prolong a strike unless GM hired two unqualified relatives of other union officials for specially created jobs paying as much as $150,000 a year. The Sixth Circuit remanded the case back for resentencing, and defendants were sentenced to terms of 12 and 18 months in prison, respectively.
Financial Fraud
Our financial fraud investigations encompassed health care fraud, mortgage fraud,  investor fraud, and environmental violations, among other crimes.
Health Care Fraud.  Our criminal and civil attorneys worked closely together to attack health care fraud, charging doctors, pharmacists, and other health care providers with making fraudulent claims to the Medicare, Medicaid, and other insurance programs and diverting prescription drugs for illicit use.  In some instances, defendants billed Medicare for medical services that were never provided.  In other instances, defendants billed for medical services that they provided to patients who did not need them, sometimes exposing patients to risk of harm.
In United States v. Patel, 26 defendants led by a Canton pharmacist were charged in a $37 million drug distribution and health care fraud scheme.  Defendants billed Medicare, Medicaid, and private insurers for drugs that were never provided or were medically unnecessary.  Patients would receive Oxycodone, Vicodin, and Xanax as kickbacks in exchange for obtaining the prescriptions.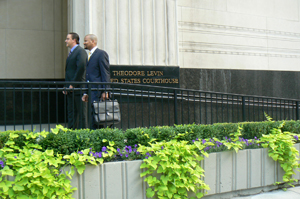 AUSA Justin Letts arrives at court
In United States v. Linares, a Monroe doctor was charged with prescribing more than 2 million doses of Oxycodone and fraudulently billing Medicare for $5.7 million.
In the civil arena, we reached a $30 million settlement with the Detroit Medical Center to resolve allegations of health care fraud, enabling the sale of the hospital to Vanguard and the continued viability of the hospital in the City of Detroit.
We obtained a settlement of $30 million from GE Healthcare in alleging that health care providers diluted a drug so that they could over bill Medicare.
One of our lawyers received national recognition from the Department of Justice for her work to develop a database that identifies providers with billing aberrations.  The database is now used for investigations nationwide.
Investor Fraud.  In United States v. May, defendant was sentenced to 14 years in prison for his decade-long investment fraud scheme, resulting in a loss to investors of $35 million, the largest Ponzi scheme in the history of Michigan.  Defendant enticed victims to invest in telecommunications services that were never provided, paying early investors with the funds he received from new investors.
Identity Theft.  In United States v. Tragas, defendant was sentenced to 25 years in prison for her role in an identity fraud scheme that yielded more than $1 million.  Defendant employed associates to use gift cards coded with stolen credit card data to purchase merchandise at Bay City and Saginaw area Meijer, Wal-Mart, and other stores.
International Fraud.  Fourteen defendants were charged in a scheme to export stolen cars overseas through Canada.  The indictment alleges that defendants rented cars in Michigan and Ohio, and then falsely reported that the cars were stolen.  In fact, defendants drove the cars to Canada, where they were shipped through Montreal, then on to Turkey and Iraq.
Mortgage fraud.  Our office filed a number of mortgage fraud cases, bringing criminal charges and civil claims.   In one case, six defendants were convicted in a scheme to commit mortgage fraud, arson, and drug distribution.  Defendants defrauded lenders to obtain loans by using straw purchasers and providing false information about employment and income.  One of the defendants was convicted of aiding and abetting the arson of one of the properties.  Profits from the mortgage fraud scheme were used to promote a drug trafficking business, in which defendants shipped marijuana from Arizona to Michigan.
Environmental Offenses.  Environmental enforcement is important because clean air and water are essential to Michigan's future.  In one case, a contractor was convicted of violating the Clean Air Act by demolishing apartments in Belleville without properly removing asbestos.  In another case, two Bay City area men were charged with violating the Clean Air Act by failing to abate asbestos in the demolition of an auto plant in Utica.  In another case, the owner of a Detroit chemical, soap, and dye company was sentenced to one year in prison after conviction for making false statements to government inspectors regarding his illegal storage and disposal of hazardous waste.
Civil Rights
Our Civil Rights Unit, formed in 2010, continued its robust enforcement activities in 2011.  Civil rights are essential to maintaining a high quality of life in a multi-cultural community like ours.  Making all people feel welcome and protected is key to the population growth necessary to the economic future of Michigan. 
Hate Crimes.  In United States v. Morgan, a defendant in Detroit was convicted of mailing a noose and threatening photographs to an inter-racial couple.  The photos depicting lynched black men and the murdered body of Nicole Brown Simpson.  The letter stated that men and women who marry outside of their race would share the fate of those depicted.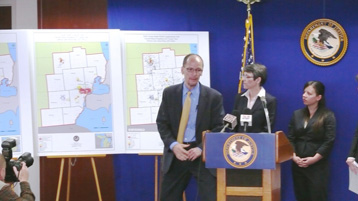 Assistant Attorney General Tim Perez, AUSA Judy Levy, and DOJ Trial Attorney Coty Miller announce a fair lending settlement
Fair Lending.  Along with the Civil Rights Division of the Department of Justice, we obtained a settlement with Citizens Bank to resolve allegations that it engaged in "redlining," a pattern or practice of discrimination based on race and color.  As part of the settlement, Citizens agreed to open a loan-production branch in Detroit and to invest $1.65 million in partnership with the City of Detroit to improve neighborhood stabilization. The investments include $1.5 million to lend to qualified African-American borrowers, a grant program to provide homeowners with up to $5,000 for home improvements, and $500,000 for financial education to citizens.
Fair Housing.  Working with the Civil Rights Division, we obtained a settlement with a mobile home park to resolve allegations that it was discriminating against families with children in violation of the Fair Housing Act.  In addition to agreeing to change its policy not to rent to families with children, the defendant agreed to pay $27,500 to victims.
Police Practices.  We continued to work with the City of Detroit to reach full compliance with the consent decree between the Department of Justice and the Detroit Police Department.  Achieving benchmarks in training, equipment, warning systems, and other areas will make Detroit a model police agency.
Other Civil Cases
Our office is also responsible for representing the United States in court in civil matters.  Among our Civil Defensive Litigation successes in 2011:
In Whisman v. United States, the government prevailed in a tort action arising out of the shooting death of a man who ran the main gate at Selfridge Air National Guard Base, evaded road blocks, and almost ran down security personnel attempting to stop him.  The Court granted the government's motion for summary judgment, finding that the use of deadly force was warranted.
In Combs v. United States, the government obtained summary judgment, demonstrating to the court that an attorney had attempted to hide money from the IRS in a client account to prevent the IRS from levying the funds for payment of income taxes.
In Affify v. United States, the court ordered a tort plaintiff's father to pay $15,881 in costs to the United States after it was discovered that he had intentionally made misleading representations about the alleged injuries of his child in an effort to recover money from the government.
PREVENTION

In addition to our enforcement efforts, we continue to work on preventing crime.  We believe that our prevention efforts are well placed, because one way to reduce crime is to prevent it from occurring in the first place.  History has shown that we cannot simply arrest our way out of our crime problems, and that long-term reductions in crime require efforts to attack the root causes of crime.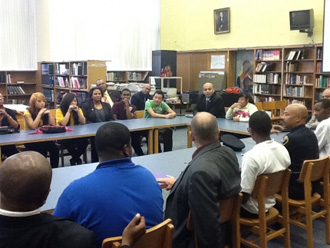 Law enforcement leaders meet with high school students in Detroit
National Forum on Youth Violence Prevention.  We worked with the Department of Justice to facilitate the City of Detroit's plan to reduce youth violence.  The plan resulted from a series of listening sessions with youth, educators, faith leaders, law enforcement officials, public health officials, business leaders, and non-profit agencies.  Piloting in the areas near Cody High School on the City's west side and Osborn and Denby High Schools on the east side, the program seeks to reduce youth violence by employing strategies that have proven effective in other parts of the country.  The Detroit plan includes a program called Safe Passages, an alternative to expulsion which provides consequences for inappropriate behavior while allowing students to continue their education.  The plan also includes a program called Safe Routes, in which volunteer patrols watch out for students as the travel to and from school.  Another part of the plan, known as Ceasefire, seeks to interrupt violence before it occurs by intervening in potentially violent disputes.
Face-To-Face.  In this re-entry program, we call in citizens who have recently returned from prison and raise their awareness of the consequences of committing new offenses, such as stiff federal sentences and the absence of parole in the federal system.  We also provide them with information about services that are available to help them succeed, from job training and resume writing programs to tattoo removal services.   We held programs on Detroit's east and west sides and in Pontiac, and have scheduled a session for Flint in January, 2012.
Camp DEFY (Drug Enforcement for Youth).  Eighty at-risk youth attended summer camp, where their counselors were law enforcement agents.  Campers participated in training on drug awareness, conflict resolution, and building self-esteem, as well as traditional camp activities, like canoeing and swimming.  The mentoring relationships with law enforcement agents continue into the school year.
Explorers.  High school students participate in a program at our office where they learn about careers in law and law enforcement, culminating in a mock trial at the federal courthouse before a U.S. District Court Judge.
Project Sentry.  Our prosecutors visited dozens of schools to talk to students about the consequences of gun violence, from physical harm to prison sentences.
Project Safe Childhood.  Our prosecutors spoke to student and parent groups about internet safety, sharing stories from cases about internet child predators and describing ways to safeguard our privacy online.
Anti-Bullying.  As part of our anti-violence strategy and civil rights enforcement, we brought in speakers from the Department of Education and the Department of Justice in Washington to discuss bullying.  We spoke to students at a middle school in Ann Arbor, to parents, teachers, and community leaders in Dearborn, to high school students in Detroit, and with an LGBT audience in Huntington Woods to raise awareness about the legal remedies that are available where students have been the victims of bullying.  We also met with elementary school students to discuss the dangers of cyber-bullying.
COMMUNITY TRUST

We have worked with our law enforcement partners to improve public trust.  We understand that law enforcement cannot be successful without the trust of the people we serve.  We need citizens to speak up when they are victims of crime or witnesses to crime, and to achieve that kind of open communication, we need to work to obtain their trust.   To break down barriers between law enforcement and community members, we conducted outreach events throughout the district.  Among our efforts:
We conducted outreach events in schools and civic groups throughout the district, in urban centers, on the Saginaw Chippewa Indian Reservation, in Muslim and Arab populations, in Hispanic communities, with veterans, Jewish groups, Native Americans, the disabled, immigrant groups and in the LGBT community.  We seek to include all groups in our outreach efforts, and will endeavor to reach additional groups in 2012.
Spirit of Detroit
We continued to work with the court to improve the diversity of jury pools.  The public has more confidence in jury verdicts when they reflect the diversity of our region.
Our efforts to improve the diversity of our office were nationally recognized by the Department of Justice.  We have developed and executed a plan for hiring, training, and retaining personnel from various backgrounds, including minority and majority populations.  Our office is more effective and credible when we include people with different perspectives.
We sought to maintain transparency in our work whenever possible.  Of course, some of our work is protected from disclosure because of grand jury secrecy rules and privacy laws, but when we can, we let the public know how we are spending our resources on behalf of our citizens.
  IMPROVING OUR WORK

We continued to look for ways to improve our work through management practices, training, coordination of efforts and communication, despite budget cuts and a hiring freeze that led to reductions in our legal and support staffs.  Among our accomplishments this year:
Improving Collections.  We added resources and improved processes in our Forfeiture and Financial Litigation Unit, resulting in the collection of $111 million in fines, forfeiture, restitution and judgments for victims of crime and taxpayers.   This total is a 140 percent increase from last year's total of $46 million.  This total is more than four times our entire office's annual budget of $24 million.
Training Our Lawyers.  We trained our new lawyers in law, ethics, and practice with weekly boot camp seminars.   We trained all of our prosecutors to ensure that they comply with all legal obligations to provide appropriate discovery material to defendants.
Training Agents.  We conducted training programs for agents and law enforcement officers in the collection of digital evidence, search warrants, and other topics to improve their awareness of legal issues.  Two of our employees were nationally recognized by the Department of Justice for their work to organize training for officers and agents across the state.
Coordinating Civil and Criminal Cases.  We coordinated the efforts of our civil and criminal attorneys to leverage resources, share information, and improve effectiveness in fraud cases.
Utilizing Technology.  We improved the way we utilize technology for communication, legal research, and administrative matters to reduce costs and improve efficiency.
Revising Policies.  We reviewed and updated our internal policies for handling criminal cases and managing our office.
Succession Planning.  We developed and promoted administrative leaders for our budget and office services units within the office.
Twitter.  We launched a Twitter account, where our press releases can reach different audiences.  Public awareness of convictions and sentences can deter others from committing crimes.  Follow us @USAO_MIE
Planning for the Future.  We developed a Strategic Plan, outlining our goals for improvement through 2012.
These are a few of the ways we improved our internal operations during 2011.  We constantly seek to improve the way we conduct our business, and will continue to strive to improve in 2012.  We welcome your suggestions about how we can improve.
SERVING OUR REGION
Law enforcement and community leaders join to address youth violence
It is energizing and inspiring to witness the dedicated public servants who work in the U.S. Attorney's Offices in Detroit, Flint and Bay City.  We are honored to work with our law enforcement and agency partners. While some of our cases result in headlines, most are handled quietly by the professionals in these three offices.  We are privileged to serve the citizens of the Eastern District of Michigan, and we work every day to improve the quality of life in our community.
Barbara L. McQuade
United States Attorney
Eastern District of Michigan
Updated April 22, 2015