Press Release
Nearly 24,000 Pounds of Unused Medications Collected in Pacific Northwest During DEA Drug Take Back Day
For Immediate Release
U.S. Attorney's Office, Eastern District of Washington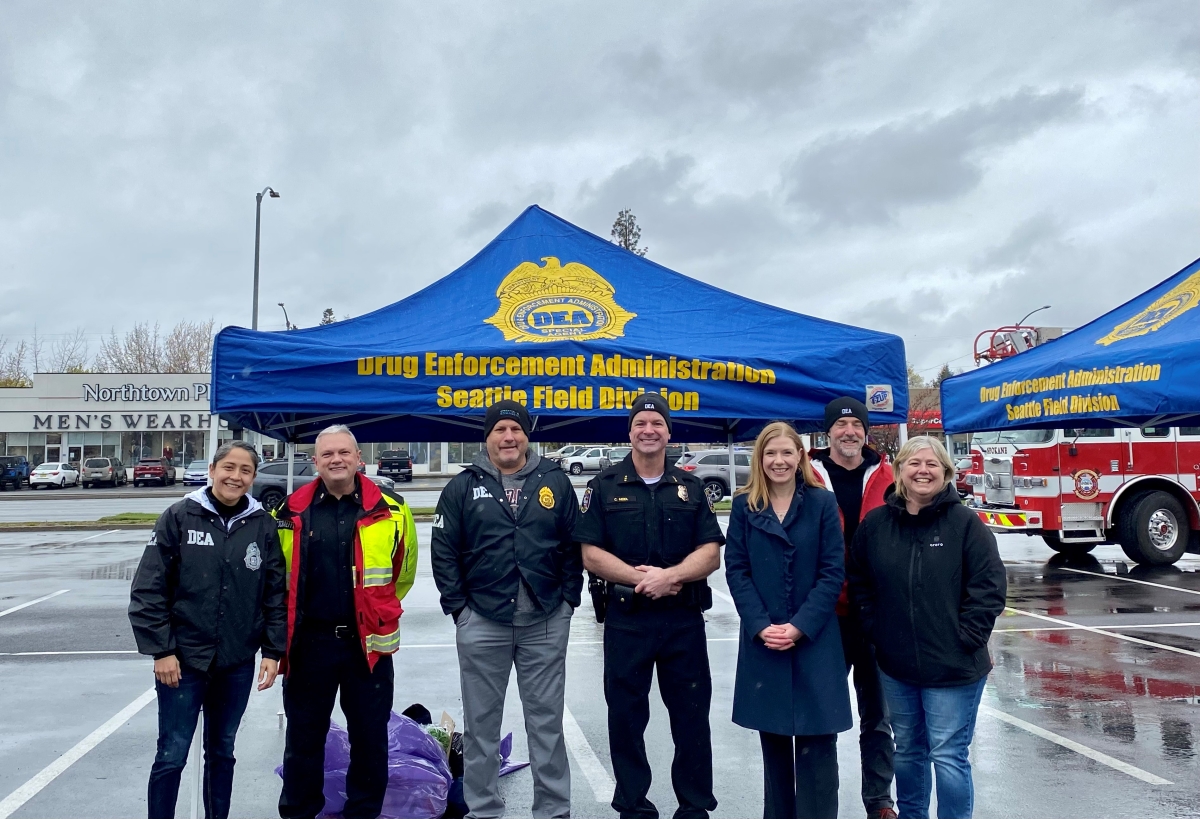 Spokane – United States Attorney for the Eastern District of Washington Vanessa Waldref and DEA Acting Special Agent in Charge Jacob D. Galvan announced the collection of thousands of pounds of unused medications in the Pacific Northwest. In all, close to 24,000 pounds of drugs were collected in the Northwest United States. Of these, over 9,000 pounds were collected at 117 sites in Washington.
On April 30, 2022, U.S. Attorney Waldref, Spokane Police Chief Craig Meidl, Spokane Fire Chief Brian Schaeffer, DEA Assistant Special Agent in Charge Mark Haigh, and representatives from their respective offices joined together at the Northtown Mall and other sites in Spokane, where 18 large boxes, weighing hundreds of pounds, of unused medicines were collected.
"Removing unused prescription drugs from our homes is one way to keep our families safe and build stronger communities," U.S. Attorney Waldref stated. "We are honored to partner with the DEA, Spokane Police, the Spokane County Sheriff's Office, and the Spokane Fire Department for this important event. We have all witnessed the ravaging effects of the opioid epidemic in our region, and we are encouraged by the proactive efforts members of our communities are taking to prevent prescription drug misuse and addiction."
"The DEA Drug Take Back is another important way in which we are working to keep our communities in the Pacific Northwest safe," said Acting Special Agent in Charge Jacob D. Galvan, DEA Seattle Field Division. "By collecting nearly 24,000 pounds of unused medications, we protected our vulnerable citizens from misuse and overdose."
Chief Meidl stated, "We appreciate that community members took advantage of the opportunity to safely dispose of dangerous drugs. This reinforces that our community is aware of the severity of drug addiction and drug-related deaths and is willing to take steps to help keep everyone safe. The Spokane Police Department is committed to furthering the drug battle on another front by continuing to hold those responsible for the manufacture and distribution of illegal drugs accountable, and working with our partners to ensure a safer community."
Nationwide, the DEA and its partners collected more than 720,000 pounds of unneeded medications at 5,144 collection sites. Since 2010, more than 16 million pounds of unneeded prescription medications have been collected through Drug Take Back events.
In addition to DEA's National Prescription Drug Take Back Day, the FDA provides information on how to safely and properly dispose of prescription drugs every day. To find out where year-round disposal sites are located, go to https://www.fda.gov/consumers/consumer-updates/where-and-how-dispose-unused-medicines.
For more information about Annual Prescription Drug Take Back Day, go to www.DEATakeBack.com
Updated May 25, 2022
---
Topics
Community Outreach
Prescription Drugs