The Department of Justice launched its Coordinated Tribal Assistance Solicitation (CTAS) in Fiscal Year 2010 in direct response to concerns raised by tribal leaders about the Department's grant process that did not provide the flexibility tribes needed to address their criminal justice and public safety needs. In Fiscal Year 2018 the department awarded more than $113 million to 133 American Indian tribes, Alaska Native villages, tribal consortia and tribal designees. The grants will provide funds to enhance law enforcement practices and sustain crime prevention and intervention efforts across nine purpose areas including public safety and community policing; justice systems planning; alcohol and substance abuse; corrections and correctional alternatives; violence against women; juvenile justice; and tribal youth programs. Additionally, FY18 funding included up to $133 million to be used to serve tribal victims of crime.
FY 2019 CTAS Fact Sheet
Through CTAS, federally-recognized tribes and tribal consortia were able – for the first time ever – to submit a single application for most of the Justice Department's tribal grant programs. The Department of Justice designed this comprehensive approach to save time and resources and allow tribes and the Department to gain a better understanding of the Tribes' overall public safety needs. The first coordinated Tribal grant process launched in Fiscal Year 2010, through the collaborative efforts across many department components, bureaus and offices including the:
The Justice Department has two primary goals in mind with this program: increasing access and streamlining the grant process. We developed communications strategies to encourage more tribes to look at the CTAS funding programs and see if these programs could help meet their public safety needs. Please visit our technical assistance resources or the other tabs in this section to apply and manage all your tribal grants.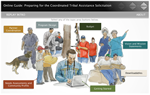 Online Guide: Preparing for the Coordinated Tribal Assistance Solicitation
This online guide was created by the Education Development Center in coordination with the Department of Justice to assist Tribes as they prepare for, write, and submit their applications for complex grants such as the Coordinated Tribal Assistance Solicitation (CTAS).
This guide contains strategies to:
Read and comprehend a complex grant solicitation
Coordinate a robust grant-writing team
Identify and articulate the needs of your community through data driven processes
Generate and capture ideas and solutions from your community
Organize key community players to execute the proposed program
Updated June 19, 2019