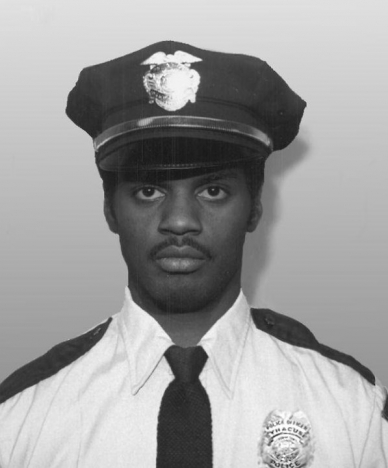 In memory of
Wallie Howard, Jr.
Investigator - DEA Task Force Officer
Syracuse Police Department
1959 - October 30, 1990
Wallie Howard, Jr., a Syracuse Police Investigator and a sworn federal agent as a member of the U.S. Drug Enforcement Administration Central New York Drug Enforcement Task Force died on October 30, 1990 after he was shot while working undercover trying to purchase two kilograms of cocaine in the parking lot of a grocery store on Salina Street in Syracuse.  He was just 31 years old.
Investigator Howard was born in Syracuse in 1959 and was raised there.  He graduated from Henninger High School where he excelled in sports, particularly track.  As a senior, he was undefeated in jumping events during dual meets and competed in the state championships.
After high school graduation, he attended Syracuse University, where he continued to compete in the high jump.  In January 1982, he left school to join the Syracuse Police Department. As a uniformed Patrol Officer, he patrolled the city streets where he grew up and later became an evidence technician.  In 1987, he was selected for special investigations (narcotics), and then for the DEA-Central New York Drug Enforcement Task Force where he began working undercover.  As a result of his work on several undercover drug investigations, he received three bureau commendations.  At the time of his tragic death, he was a nine-year veteran. His life and his passing deeply touched all who knew him. 
His loss in the line of duty is emblematic of the dangers that law enforcement officers face daily and of the sacrifices they willingly risk for the safety and freedom of those they protect.  In honor of his outstanding work in drug investigations, the Syracuse Police Department created a "WALLIE HOWARD MEDAL" which is awarded annually at the Syracuse Police Medal Awards ceremony.
The U.S. Attorney's Office for the Northern District of New York also honors his memory and his ultimate sacrifice with an annual award in his name presented to a law enforcement officer in the Syracuse area whose service has been exemplary in the investigation and prosecution of a significant federal case.   Past recipients of that award are listed below:
1998

Lyle Baxter, Senior Investigator, New York State Police

1999

Stephen Young

, Supervisory Special Agent, Internal Revenue Service

2000

Scott Miller

, Special Agent, Defense Criminal Investigative Service

2001

Justus Derx

, Resident Agent in Charge, Environmental Protection Agency

2002

Harry Maxwell, Special Agent, Bureau Alcohol, Tobacco, Firearms & Ex.

2003

Anthony R. Fitzgerald, Special Agent, Federal Bureau of Investigation

2004

Michael K. Dwyer, Special Agent, Environmental Protection Agency

2005

James G. Kolbe, Special Agent, Federal Bureau of Investigation

2006

Anthony Hart, Special Agent, Drug Enforcement Administration

2007

Kathleen Devine, Senior Investigator, New York State Police

2008

Anthony V. Martino, Sergeant, Utica Police Department

2009

Gary Miguel, Chief, Syracuse Police Department

2011

Dave P. Nowakowski, Investigator, Oneida County Sheriff's Office

2011

Richard Salamone, Investigator, New Hartford Police Department

2014

Shane C. LaVigne, Detective, Onondaga County Sheriff's Office

2015

Alix Skelton, Special Agent, Federal Bureau of Investigation

2017

Todd F. Grant, Investigator, New York State Police
Updated May 14, 2020