Nebraska, the 16th largest state geographically, became the 37th state to join the Union on March 1, 1867. Its 77,000 square miles encompass 93 counties, and a population of over 1.8 million people. As one of the 26 states with only one federal judicial district, Nebraska boasts a diversity and variety of topography, geography and economy.

The Omaha metropolitan area with a population area of approximately 650,000, accounts for approximately 36% of the district's population. Lincoln, the state's capital, is home to over 260,000 residents, and 14% of the district's population. Much of the state, however, is rural, with over 90% of Nebraska's cities and towns having fewer than 3,000 people.




The state has a mixed economic base with substantial agricultural and agri-business sectors, as well as significant manufacturing, technical and service sectors. More than 96% of Nebraska's land is farm and ranch land, and the state is a national leader in production of beef, pork, corn, and soy beans. Other economic sectors include freight transport by rail and truck, manufacturing, telecommunications, information technology, and insurance. Several Fortune 500 companies, including Berkshire Hathaway, ConAgra, Union Pacific, Mutual of Omaha, and Peter Kiewit & Sons are headquartered in Nebraska, and many others have substantial operations in the District.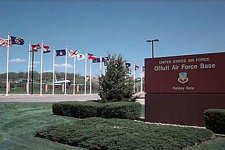 The United States Strategic Command is headquartered at Offutt Air Force Base, located just south of Omaha in Bellevue. Various other federal enclaves, including the Niobrara Scenic River, the Missouri National Recreational River, several national monuments, historic sites, National Wildlife Refuges, and U.S. Army Corp of Engineers recreational sites are located throughout Nebraska. The U.S. Department of Agriculture operates several facilities in the District, including research facilities, national forests, and a national grassland. In addition to the Veterans Affairs Hospital in Omaha, the Department of Veterans Affairs operates outpatient clinics in Lincoln and Grand Island, and the Indian Health Service operates a hospital in Winnebago.

The Omaha, Winnebago, and Santee Sioux tribes have reservations located in northeast Nebraska, and federal criminal jurisdiction has been retroceded to the United States for each. As a result, the United States Attorney's Office works closely with those tribes to address crime occurring on the reservations. Small areas of the Sac and Fox, the Iowa, and the Pine Ridge Indian Reservations are also located in Nebraska, and the Ponca Tribe of Nebraska is headquartered in the District.

Numerous federal law enforcement agencies maintain offices in Nebraska and work extensively with the United States Attorney's Office. These agencies include the Federal Bureau of Investigation, Drug Enforcement Administration, Bureau of Alcohol, Tobacco, Firearms and Explosives, U.S. Marshal's Service, Secret Service, Internal Revenue Service, Postal Service, Department of Agriculture, Department of Defense, Department of Homeland Security, National Park Service, Social Security Administration, Department of Veterans Affairs, and others. The United States Attorney's Office also works with federal agencies located outside of Nebraska, such as the Department of Education, Environmental Protection Agency, Social Security Administration, and the Department of Health and Human Services.

In addition to its work with federal agencies, the U. S. Attorney's Office works very closely with state and local law enforcement agencies, addressing the needs of the District. For many years, the citizens of Nebraska have benefited from the very cooperative relationships between federal, state, and local law enforcement agencies throughout the District. A number of multi-agency joint law enforcement task forces have been created to facilitate effective investigation and prosecution of criminal offenses, especially those involving drugs and violent crime, as well as civil enforcement in the areas of health care fraud and environmental enforcement.

Updated January 29, 2015