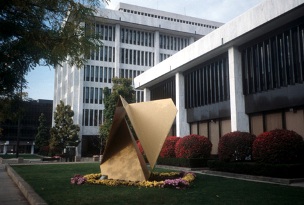 The Western District of New York has a branch office located at 100 State Street, in Rochester, New York. Rochester is located within Monroe County which borders Lake Ontario to the north. Monroe is one of nine counties served by the Rochester Branch Office. The other counties include Chemung, Livingston, Ontario, Schuyler, Seneca, Steuben, Wayne and Yates.
Rochester is located approximately 73 miles east of Buffalo, and has a population of just over 200,000. The metropolitan area surrounding the city has approximately 1 million inhabitants. Rochester sits just behind Buffalo as the third largest city in the state of New York. The next largest city served by the Rochester Branch is Elmira, located in Chemung County. Elmira has a population of approximately 30,000.
The Attorney-in-Charge of the Rochester Branch Office is Everardo A. Rodriguez.
The Rochester Branch Office is located within the Kenneth B. Keating Federal Building and houses a staff of 33, including 16 attorneys.
Updated January 19, 2022