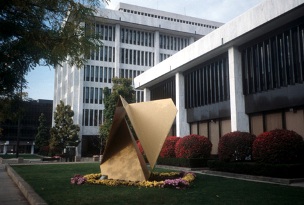 The Western District of New York has a branch office located at 100 State Street, in Rochester, New York.  Rochester is located within Monroe County  which borders Lake Ontario to the north.  Monroe is one of nine counties served by the Rochester Branch Office. The other counties include Chemung, Livingston, Ontario, Schuyler, Seneca, Steuben, Wayne and Yates.
Rochester is located approximately 73 miles east of Buffalo, and has a population of just over 200,000.  The metropolitan area surrounding the city has approximately 1 million inhabitants.   Rochester sits just behind Buffalo as the third largest city in the state of New York.   The next largest city served by the Rochester Branch is Elmira, located in Chemung County.   Elmira has a population of approximately 30,000.  
The Attorney-in-Charge of the Rochester Branch Office is Douglas E. Gregory.   Mr. Gregory joined the office in 1999, after serving six years as a prosecutor with the Monroe County District Attorneys Office.   Mr. Gregory has served as the lead prosecutor in numerous high level prosecutions and jury trials, including a 3 ½ month, eight defendant narcotics and weapons case.  He has successfully tried cases involving historical drug conspiracies, wiretaps investigations, federal weapons violations, gang and violent criminal activity and multi-defendant racketeering (RICO) offenses. He has also overseen cases prosecuted under the Organized Crime Drug Enforcement Task Force (OCDETF) in the Rochester branch, as well as serving as the District's Anti-Gang Coordinator.   Mr. Gregory has received several national awards, including the "Directors Award for Superior Performance" and has been recognized for distinguished service by the Federal Law Enforcement Foundation in New York City.  He received his Bachelor of Arts Degree in Political Science from Union College (1989), and a Juris Doctorate from Albany Law School (1993). 
The Rochester Branch Office is located within the Kenneth B. Keating Federal Building and houses a staff of 33, including 16 attorneys.    AUSA Richard A. Resnick currently serves as the Branch White Collar Chief.   AUSA Brett A. Harvey currently serves as the Branch Narcotics and Violent Crime Chief.    AUSA Tiffany H. Lee currently serves as the Appellate Chief for the entire District.
Updated January 3, 2018