Tribal Justice and Safety
Tribal Justice and Safety

Department of Justice announces new Tribal Events
The Department of Justice invites Tribal leaders to consult on how to further improve Tribal data relevance and access to databases, In accordance with S. 227, Savanna's Act. Consultations will be virtual and are scheduled for June 17 and 18, 2021. Additional information on the scope and logistics of these sessions may be found here.
As required in Savanna's Act, the Department of Justice invites any Tribal organization or urban Indian organization to confer with the Department on improving access to data and data relevance.  Any interested organization is welcome to email OTJ@usdoj.gov or call 202-514-8812 to schedule a discussion.  
Justice Department Announces Funding Opportunities for Tribal Communities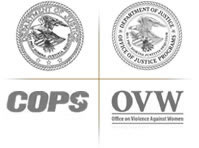 Contributors to this site include the Office of Tribal Justice,
Office of Community Oriented Policing Services,
Office of Justice Programs,
and the Office on Violence Against Women.
Contact
By Mail:
U.S. Department of Justice
950 Pennsylvania Ave., NW
Washington, DC 20530-0001
By Email:
tribalgrants@usdoj.gov
For questions about the Coordinated Tribal Solicitation Assistance Solicitation