Tribal Justice and Safety
Tribal Justice and Safety
TRIBAL INPUT ON FEDERAL INFRASTRUCTURE DECISIONS
On September 9, 2016, the Department of Justice, the Department of the Army, and the Department of the Interior issued a Joint Statement regarding Standing Rock Sioux Tribe v. U.S. Army Corps of Engineers in which the Departments committed to formal, government-to-government consultations on two questions:
(1) within the existing statutory framework, what should the federal government do to better ensure meaningful tribal input into infrastructure-related reviews and decisions and the protection of tribal lands, resources, and treaty rights; and
(2) should new legislation be proposed to Congress to alter that statutory framework and promote those goals.
Final report: Improving Tribal Consultation and Tribal Involvement in Federal Infrastructure Decisions, January 2017​​​
Additional information about the consultation, including the framing paper, meeting schedule, and discussion transcripts are available on the Bureau of Indian Affairs website.
U.S. to Accept Concurrent Jurisdiction Over Mille Lacs Band of Ojibwe Reservation In Minnesota
Second Assumption of Federal Jurisdiction under Historic Tribal Law and Order Act
On January 12, 2016, the Department of Justice granted a request by the Mille Lacs Band of Ojibwe for the United States to assume concurrent criminal jurisdiction on the tribe's reservation in central Minnesota, Deputy Attorney General Sally Quillian Yates announced today.  The decision was the second assumption of jurisdiction granted by the Department of Justice under the landmark Tribal Law and Order Act of 2010 (TLOA), which gave the department discretion to accept concurrent federal jurisdiction to prosecute violations of the General Crimes Act and the Major Crimes Act within areas of Indian country that are also subject to state criminal jurisdiction under Public Law 280.  Public Law 280 is the 1953 law that mandated the transfer of federal law enforcement jurisdiction for certain tribes to six states, including Minnesota.  The first assumption of federal jurisdiction took place on Minnesota's White Earth Reservation in March 2013.
The decision will take effect on Jan. 1, 2017.  Tribal, state and county prosecutors and law enforcement agencies will also continue to have criminal jurisdiction on the reservation. 
ENHANCED SENTENCING IN TRIBAL COURTS: LESSONS LEARNED FROM TRIBES
The Bureau of Justice Assistance, in partnership with the American Probation and Parole Association, the National Tribal Judicial Center, and the Tribal Judicial Institute, announces the release of "Enhanced Sentencing in Tribal Courts: Lessons Learned From Tribes." This publication provides a brief overview, not a comprehensive review, of the changes under the Tribal Law & Order Act (TLOA) of 2010 (Public Law 111–211, H.R. 725, 124 Stat. 2258, enacted July 29, 2010) regarding enhanced sentencing authority, offers considerations for correctional/detention and community corrections programming related to enhanced sentences, and provides tribes with a checklist to help guide discussions around implementation of enhanced sentencing authority. Additionally, this publication explores the adoption of TLOA's enhanced sentencing authority through interviews with several tribal court judges and personnel who have been intricately involved in establishing the provisions required to convey enhanced sentences. Finally, this publication provides information on financial resources to fund enhanced sentencing authority implementation.
DOJ Statement of Principles
On December 3, 2014, at the White House Tribal Nations Conference, Attorney General Eric Holder announced that the Department of Justice has adopted a Statement of Principles to guide and inform all of the Department's interactions with federally recognized Indian tribes.  Developed in consultation with the leaders of all 566 tribes, this Statement of Principles will memorialize the Department's determination to serve as a partner in fighting crime and enforcing the law in Indian country.  As Attorney General Holder said in his remarks to tribal leaders, the Statement of Principles, "was meant to codify our intention to serve not as a patron, but as a partner, in Indian country – and to institutionalize our efforts to reinforce relationships, reform the criminal justice system, and aggressively protect civil rights and treaty rights.  And it will serve as a guide for this Administration – and every Administration – as we seek to build the more perfect Union, and the more just society, that every individual deserves."
Policy Statement Regarding Marijuana Issues in Indian Country
On October 28, 2014, the Department of Justice issued a Policy Statement Regarding Marijuana Issues in Indian Country, to all United States Attorneys.  With a number of states legalizing marijuana for use and production, some tribes have requested guidance on the enforcement of the Controlled Substance Act (CSA) on tribal lands by the United States Attorneys' offices.  With these requests in mind, the Attorney General's Native American Issues Subcommittee has reviewed the Memorandum from the Deputy Attorney General, dated August 29, 2013, regarding marijuana enforcement ("Cole Memorandum") and considered its impact on Indian Country.  Indian Country includes numerous reservations and tribal lands with diverse sovereign governments, many of which traverse state borders and federal districts.  Given this, the United States Attorneys recognize that effective federal law enforcement in Indian Country, including marijuana enforcement, requires consultation with our tribal partners in the districts and flexibility to confront the particular, yet sometimes divergent, public safety issues that can exist on any single reservation.
Accomplishments
Indian Country Accomplishments of the Justice Department, 2009-2016
In June 2009, Attorney General Eric Holder launched a Department-wide initiative to enhance public safety in Indian County. Significant progress has been made since then. This document offers highlights of the Department's progress in the following areas: enhanced prosecution and training efforts; implementation of the Tribal Law and Order Act of 2010 (TLOA); grant opportunities; general litigation; civil rights; and outreach and consultation.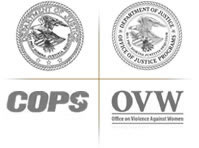 Contributors to this site include the Office of Tribal Justice,
Office of Community Oriented Policing Services,
Office of Justice Programs,
and the Office on Violence Against Women.
Contact
By Mail:
U.S. Department of Justice
950 Pennsylvania Ave., NW
Washington, DC 20530-0001
By Email:
tribalgrants@usdoj.gov
For questions about the Coordinated Tribal Solicitation Assistance Solicitation