Tribal Justice and Safety
Tribal Justice and Safety

Department of Justice announces new Tribal Events
The Department of Justice invites Tribal leaders to consult on strengthening our nation-to-nation relationship and related consultation policies. Consultations will be virtual and are scheduled for April 7, 8, and 9. Additional information on the scope and logistics of these sessions may be found here.
Important FY 2021 CTAS Deadline Update
The grant solicitation period for the U.S. Department of Justice's FY 2021 Coordinated Tribal Assistance Solicitation (CTAS), which is administered by the Department's Office of Justice Programs and Office of Community Oriented Policing Services (COPS Office), has been extended until April 20th 9PM Eastern Time and the extension will be reflected in JustGrants by Monday, March 29, 2021. Applicants are strongly encouraged to submit to their application materials before the April 20th deadline. In addition, applicants are also strongly encouraged to prepare their application materials outside of JustGrants before attempting to submit their application via JustGrants.
The following are contacts for questions related to the FY 2021 CTAS Solicitation and application process:
JustGrants Service Desk (questions about submitting the full application):
Monday – Friday | 5:00AM – 9:00PM ET Saturday – Sunday | 9:00AM – 5:00PM ET
Online resources: justicegrants.usdoj.gov
Response Center (programmatic questions and general assistance with the solicitation requirements):
Monday – Friday | 9:00AM – 5:00 PM ET
To download key CTAS documents:
CTAS Solicitation Website Online Resources, Application Templates, FAQs DOJ Tribal Justice:  www.justice.gov/tribal/open-solicitations.
Justice Department Announces Funding Opportunities for Tribal Communities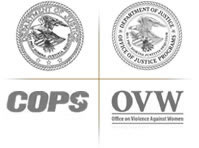 Contributors to this site include the Office of Tribal Justice,
Office of Community Oriented Policing Services,
Office of Justice Programs,
and the Office on Violence Against Women.
Contact
By Mail:
U.S. Department of Justice
950 Pennsylvania Ave., NW
Washington, DC 20530-0001
By Email:
tribalgrants@usdoj.gov
For questions about the Coordinated Tribal Solicitation Assistance Solicitation