Tribal Justice and Safety
Tribal Justice and Safety
DOJ CONSULTATION ON VAWA REAUTHORIZATION ALASKA PILOT PROGRAM
DOJ will hold government-to-government consultation on July 19, 20 and August 3, 2022 to discuss implementation of the Alaska Pilot Program established in the Violence Against Women Act Reauthorization Act of 2022.  Please reference the invitation letter for additional information about these consultation sessions. A framing paper will be posted in advance of the consultations. Please contact OTJ@usdoj.gov with any questions.
Department of Justice announces Funding Opportunities to Support Public Safety in Tribal Communities
The U.S. Department of Justice recently  announced the opening of the FY 2022 Coordinated Tribal Assistance Solicitation period. Also known as CTAS, the funding under this initiative is available to assist American Indian and Alaska Native communities in the areas of crime prevention, victim services and coordinated community responses to violence against native women.
The solicitation contains details about available grants and describes how federally-recognized American Indian and Alaska Native tribal governments and tribal consortia can apply for funding. CTAS is administered by the department's Office of Justice Programs (OJP) and Office of Community Oriented Policing Services (COPS Office).
Justice Department Announces Funding Opportunities for Tribal Communities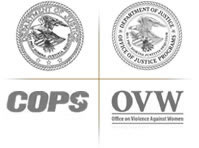 Contributors to this site include the Office of Tribal Justice,
Office of Community Oriented Policing Services,
Office of Justice Programs,
and the Office on Violence Against Women.
Contact
By Mail:
U.S. Department of Justice
950 Pennsylvania Ave., NW
Washington, DC 20530-0001
By Email:
tribalgrants@usdoj.gov
For questions about the Coordinated Tribal Solicitation Assistance Solicitation