Tribal Justice and Safety
Tribal Justice and Safety

Department of Justice announces new Tribal Events
Important FY 2021 CTAS Deadlines & Reminders
As a reminder, there are two key dates in March to remember as you prepare your FY 2021 CTAS application.
March 16, 2021 (by 9PM Eastern Time) | Submit SF 424 and SF LLL in Grants.gov
**Please note, it can take up to 72 hours for the Grants.gov system to send validation or rejection notifications. Applicants are strongly encouraged to submit these forms before the March 16th deadline to allow time to make corrections should they receive a rejection notice.
March 30, 2021 (by 9PM Eastern Time) | Submit full application in JustGrants
**Applicants are strongly encouraged to submit their full application before the March 30th deadline.
The following are contacts for questions related to the FY 2021 CTAS Solicitation and application process.
Grants.gov Customer Support (questions about the SF-424 and SF-LLL):
JustGrants Service Desk (questions about submitting the full application):
Response Center (programmatic questions and general assistance with the solicitation requirements):
Please remember to review the DOJ Application Submission Checklist
A new DOJ Application Submission Checklist is now available to support applicants in submitting their grant application this year.
The checklist covers all necessary steps to complete the two-part application process in Grants.gov and JustGrants. The checklist includes:
How to prepare to apply
Completing the abbreviated application in Grants.gov
Entity Onboarding and JustGrants Access
The JustGrants onboarding process
Completing, reviewing, certifying and submitting your application in JustGrants, and
Helpful user tips
Review this checklist before initiating your application in Grants.gov and JustGrants.
Justice Department Announces Funding Opportunities for Tribal Communities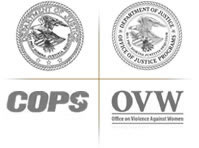 Contributors to this site include the Office of Tribal Justice,
Office of Community Oriented Policing Services,
Office of Justice Programs,
and the Office on Violence Against Women.
Contact
By Mail:
U.S. Department of Justice
950 Pennsylvania Ave., NW
Washington, DC 20530-0001
By Email:
tribalgrants@usdoj.gov
For questions about the Coordinated Tribal Solicitation Assistance Solicitation