Tribal Justice and Safety
Tribal Justice and Safety

Department of Justice announces new Tribal Events
The Bureau of Justice Assistance to Consult with Tribal Leadership on Strengthening Public Safety and Law Enforcement to Address Violent Crime in Tribal Communities and Native Villages
The goal of the Bureau of Justice Assistance (BJA) Annual Tribal Consultation with tribal leaders and tribal designees is to identify criminal justice policy issues and tribal priorities to support tribal justice strategies to achieve safer communities. The ultimate goals are to improve law enforcement and public safety in tribal communities and native villages; and support grant administration and criminal justice policy development to support local, state, and tribal law enforcement in achieving safer communities. The BJA Tribal Consultation Virtual Session will be held on Wednesday, September 15, 2021 at 1:00 – 3:00 p.m. Eastern Time. 
Read about and register for the BJA Tribal Consultation Virtual Session
Justice Department Announces Funding Opportunities for Tribal Communities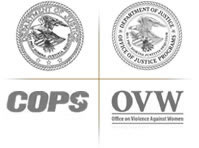 Contributors to this site include the Office of Tribal Justice,
Office of Community Oriented Policing Services,
Office of Justice Programs,
and the Office on Violence Against Women.
Contact
By Mail:
U.S. Department of Justice
950 Pennsylvania Ave., NW
Washington, DC 20530-0001
By Email:
tribalgrants@usdoj.gov
For questions about the Coordinated Tribal Solicitation Assistance Solicitation