Daniel Lemisch - First Assistant U.S. Attorney
Daniel L. Lemisch is the First Assistant U.S. Attorney.  Prior to becoming First Assistant, Mr. Lemish served as the Chief of the Criminal Division as well as served as the Deputy Chief of the Controlled Substance Unit, where he prosecuted cases involving narcotics conspiracies, money laundering and homicide. During his career as a federal prosecutor, Mr. Lemisch has also handled cases involving public corruption, health care fraud and violent crimes.
Prior to joining the U.S. Attorney's Office, Mr. Lemisch was a trial lawyer and Chief of Appeals at the Oakland County Prosecutor's Office in Pontiac, Michigan. Mr. Lemisch also practiced civil law in Philadelphia, Pennsylvania, where he specialized in commercial litigation.
Mr. Lemisch has lectured for the Department of Justice on developing criminal justice issues in Russia, Nigeria, Indonesia, Serbia and Pakistan.
Mr. Lemisch graduated from Temple University in Philadelphia, and studied law at the University of Detroit School of Law.
---
Kevin Mulcahy - Executive Assistant U.S. Attorney
Kevin Mulcahy is the Executive Assistant U.S. Attorney.  Kevin served as Chief of the General Crimes Unit for five years before becoming the Executive AUSA.  He has also served as a trial and appellate lawyer in our office.  Before joining this office in 2005, Kevin practiced law at the firm of Morrison and Foerster in Palo Alto, California and served as a prosecutor at the San Diego U.S. Attorney's Office
---
Patricia Gaedeke - Appellate Division Chief
Patricia Gaedeke is the Chief of the Appellate Division, a position she has held since 1987. She joined the U.S. Attorney's Office in Detroit in 1980. During her 30-plus years as an appellate lawyer, Ms. Gaedeke has handled almost every kind of civil and criminal case for which the U.S. Attorney's Office is responsible. She served as chair of the Attorney General's Appellate Chiefs' Working Group for ten years, and teaches appellate advocacy to prosecutors at the National Advocacy Center. Before becoming Appellate Chief, Ms. Gaedeke served as a trial lawyer in the Civil Division.

Ms. Gaedeke has served the U.S. Department of Justice since 1977, when she joined the Appellate Section of the Civil Division in Washington, D.C., through the Honors Program.
Ms. Gaedeke grew up in Western New York State, and earned both a Bachelor's degree (1974) and law degree (1977) from Wake Forest University. She has two wonderful daughters.
---
Elizabeth Larin - Civil Division Chief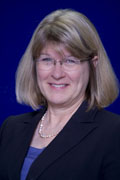 Elizabeth Larin serves as the Chief of the Civil Division. She has been an Assistant U.S. Attorney in the Civil Division since 1986. Ms. Larin also serves as the Office's Ethics Advisor. Ms. Larin has handled cases involving medical malpractice, torts, and employment discrimination, among other areas of the law.
During her tenure in the U.S. Attorney's Office, Ms. Larin has served as Senior Litigation Counsel and Deputy Chief of the Defensive Litigation Unit.
Before joining the U.S. Attorney's Office, Ms. Larin worked as an associate at Sachs Waldman, a Detroit labor and personal injury firm, for five years. She is a 1980 graduate of the Wayne State University Law School.
---
Keri Miller - Administrative Officer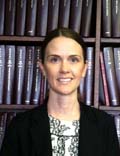 Keri Miller serves as the Administrative Officer and is responsible for overseeing a broad range of administrative program areas that support office operations.
She joined the office in 2004 and began her career as a Student Intern in the Criminal Division. Keri most recently served as the office's Budget Officer.
Keri has a Bachelor's Degree in Criminal Justice from Michigan State University and a Master's Degree in Public Administration from the University of Michigan.
Updated February 9, 2016