Project Safe Neighborhoods
Project Safe Neighborhoods | PSN Sites | Contact PSN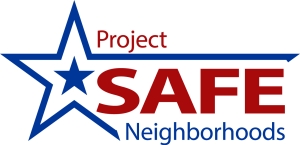 PROJECT SAFE NEIGHBORHOODS
Program to Reduce Gun Violence in the
Eastern District of North Carolina
Project Safe Neighborhoods: America's Network Against Gun Violence is a Department of Justice initiative to reduce gun violence in America. The initiative includes partnerships among federal, state, and local law enforcement agencies; strategic planning incorporating such technologies as crime mapping, gun tracking, and ballistic analysis: training that brings together federal, state, and local officials to build effective teams; outreach to communities; and accountability for impact on community safety.
Under the leadership of the United States Attorney, 14 PSN sites have been developed in the Eastern District of North Carolina. Each site is comprised of a partnership between local, state and federal law enforcement agencies as well as community resource providers. In one site, Cumberland County, there is a business partnership as well. These PSN sites are led by local agents and residents who have a vested interest in their communities and a desire to have those communities be the safest most desirable places to live in the district. Many sites have adopted a logo and program name so that whenever you see that logo it is identified as PSN.
Our strategy includes face-to-face notification to identified violent drug and firearms offenders that it is time to stop the violence, and that resources are available to assist offenders avoid a life of crime.
Project Safe Neighborhoods: Working Together to Keep Communities Safe PSA VIDEO
Updated June 5, 2019