On February 5, 2014, the United States Attorney's Office, in partnership with the Governor's Office of Transition, Support and Reentry, hosted a Summit on Reentry. The purpose of the Summit was to convene Chamber of Commerce leaders and the business community to address the issues that formerly incarcerated individuals encounter upon release.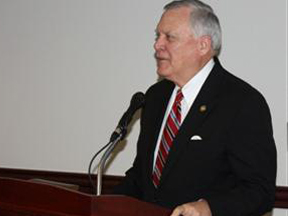 A key component to successful reentry for ex-offenders is correcting public perception. To dispel some of the myths about ex-offenders and highlight key factors that impact reentry, our office created a Reentry Fact Sheet which was disseminated at the Summit. Summit participants learned that:
Each year, more than 700,000 individuals are released from state and federal prisons. 
The U.S. now spends more than $68 billion annually on federal, state and local corrections.
High rates of recidivism (the act of reengaging in criminal behavior that results in being rearrested, reconvicted, or returned to custody within three years of release from prison or probation) means more crime, more victims and more pressure on an already overburdened criminal justice system.
Studies have found that employers were unwilling to hire ex-offenders even when they exceeded the qualifications for the position. Nearly 60% of employers surveyed in 4 large U.S. cities reported that they would "definitely not" or "probably not" hire an ex-prisoner.
Successful reintegration into the workforce translates into: a) safer neighborhoods, b) stable families, c) prosocial structured activity for an ex-offender, d) reduced taxpayer costs for reincarceration, e) living wages for an ex-offender to support himself/herself and family, and f) income for restitution to victims, court and correctional supervision fees, continued mental or behavioral health treatment, and child support, when necessary.
During the Summit, formerly incarcerated individuals shared their personal experiences concerning the difficulties and obstacles they have encountered while attempting to find employment.  Additionally, employers who have hired formerly incarcerated individuals shared positive stories and experiences, and encouraged other business owners to assist with reentry.  The "New Beginnings" reentry program was highlighted as a successful reentry model and a program from which business owners could hire employees who have completed eight weeks of extensive pre-employment training.  Summit attendees also received information about job training programs, resources, and employer incentives such as the Work Opportunity Tax Credit and Department of Labor Bonding Program.
Updated March 19, 2018