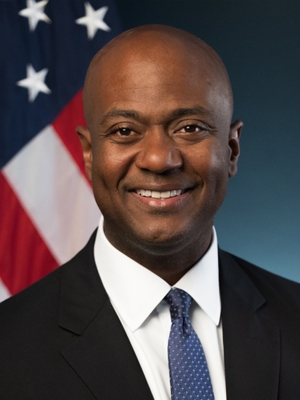 Ryan K. Buchanan is the U.S. Attorney for the Northern District of Georgia.  Mr. Buchanan was nominated by President Joseph R. Biden, Jr. on November 15, 2021, and confirmed by the U.S. Senate confirmed his nomination on April 27, 2022.
As the chief federal law enforcement official in the Northern District of Georgia, U.S. Attorney Buchanan oversees the investigation and litigation of all criminal and civil cases brought in the district on behalf of the United States.  He leads an office of approximately 250 prosecutors, civil litigators, and support personnel in its mission to enforce federal criminal law, advocate for the victims of crimes, and represent the United States' interests in federal court – including in matters involving domestic and international terrorism, organized crime, gang violence, public corruption, cybercrime, narcotics trafficking, civil rights violations, whistleblower actions, and financial and healthcare fraud. The district serves over seven million people.
Mr. Buchanan serves on the Attorney General's Advisory Committee (AGAC), a select group of United States Attorneys who advise the Attorney General on matters of policy, procedure, and management. Specifically, Mr. Buchanan serves as Vice-Chair of the AGAC's Terrorism and National Security Subcommittee and leads the Foreign Influence and Nation-State Threats Working Group. Mr. Buchanan also serves on the AGAC's Office, Management, and Budget Subcommittee.
Mr. Buchanan joined the Department of Justice in 2010. From 2010 to 2013, Mr. Buchanan served as an Assistant U.S. Attorney in the Northern District of Alabama. Since 2013, he has served as an Assistant U.S. Attorney in the Northern District of Georgia, where he has also served as the National Security and Anti-Terrorism Council Coordinator and as Deputy Chief of the Violent Crime and National Security Section.
As a federal prosecutor, Buchanan has prosecuted cases involving the support of foreign terrorist organizations and attempts by would-be domestic terrorists to acquire weapons of mass destruction. He has also prosecuted and supervised cases involving violent crimes such as armed robbery, kidnapping, and carjacking; crimes involving the exploitation of children via child pornography production and distribution; and organized crime cases involving national gangs.  
Prior to joining the Department of Justice, Mr. Buchanan was in private practice at McGuireWoods LLP. He also served as a law clerk to Judge Inge P. Johnson of the U.S. District Court for the Northern District of Alabama. Mr. Buchanan received his J.D. from Vanderbilt University Law School in 2005 and his B.S. from Samford University in 2001.
Updated March 27, 2023