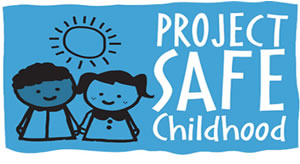 The United States Attorney's Office for the Northern District of Texas is committed to the protection of our children. Advances in technology over the past two decades have brought about new obstacles for parents, educators, and law enforcement. No longer can teachers and parents let their guard down when our children are in the classroom, library, or even in their own home.
Our Project Safe Childhood (PSC) strategy consists of 5 components; 1) expansion of partnerships between federal, state, and local law enforcement in prosecuting child exploitation matters, identifying, rescuing and assisting child-victims; 2) continued participation in national initiatives; 3) expanding federal involvement in child exploitation investigations; 4) training federal, state, and local law enforcement; and 5) community outreach and education.
Collaborative efforts between federal, state, and local law enforcement not only facilitate the sharing of resources, but ensure that the most dangerous offenders receive the most serious punishment available. The goal of the educational components of our program is to raise the public's awareness about the threat and prevalence of online sexual predators, to provide the tools and information to educators, parents, and children, to help reduce the likelihood of harm to children, and to assist law enforcement in their investigations through the reporting of incidents involving minors. Additionally, the educational component of the PSC program assists law enforcement with their investigations by raising the community's awareness of incidents involving minors and improving the community's willingness to report these incidents
---
Success: The USAO has successfully prosecuted numerous Project Safe Childhood cases including:
Texas Couple Sentenced to Combined 140 Years in Child Exploitation Case
Fort Worth Child Sexual Predator Sentenced to 80 Years
Mesquite Ex-Educator Sentenced to 14 Years in Child Pornography Case
Following Facebook Tip, Balch Springs Woman Sentenced to 30 Years in Child Exploitation Case
---
Partners: Project Safe Childhood is implemented through partnerships with numerous federal, state, and local law enforcement agencies including: FBI, U.S. Postal Inspection Service, Homeland Security Investigations, U.S. Secret Service, U.S. Marshals Service and many others.
The Northern District of Texas PSC Coordinator is A. Saleem. She can be reached at 214-659-8600.
Updated May 20, 2020