Project Safe Neighborhood (PSN): Revitalized in 2018
Project Safe Neighborhoods is a nationwide initiative that brings together federal, state, local, and tribal law enforcement officials, prosecutors, and community leaders to identify the most pressing violent crime problems in a community and develop comprehensive solutions to address them.
In May 2021, the Department launched a violent crime reduction strategy strengthening PSN so that it is built on newly articulated core principles: fostering trust and legitimacy in our communities, supporting community-based organizations that help prevent violence from occurring in the first place, setting focused and strategic enforcement priorities, and measuring the results of our efforts.  And the Department expressly underscores that the fundamental goal of this work is to reduce violent crime in the places we call home, not to increase the number of arrests or prosecutions as if they were ends in themselves.
There are several PSN efforts across the Northern District of Texas and each is committed to a strategic effort to reduce violent crime across the District. 
Dallas Division
Dallas Division's PSN operation, known locally as "Operation Badge # 10934", in honor of Officer Rogelio Santander, is contoured to fit the specific violent crime problem in Dallas.   The project utilizes law enforcement and community intelligence, along with cutting-edge technology, to identify and target the most violent offenders for enforcement action.   The NDTX has set up a strategy to marry enforcement efforts with support of prevention and reentry strategies to truly combat violent crime in a lasting way. 
This project includes the direct and significant involvement of the Dallas Police Department, the FBI, ATF, DEA, U.S. Marshals, Dallas Sherriff's Office, Texas Department of Public Safety, the Dallas District Attorney, the Dallas City Attorney, and researchers from TCU. 
A map of the selected PSN area is below:
As part of the project, prosecutors, agents, and officers routinely meet with local community groups or hold events designed to educate and engage the public about the project and how the community can assist in reducing violence.  This month, our upcoming public events include:
December 19 - Better Block Work Day at the intersection of Park Lane and Fair Oaks Avenue
Local news about the project includes:
Dallas Morning News: "This Dallas neighborhood is so dangerous, we need the feds to save us from it."
CBS DFW: "US Attorney General William Barr Visits Dallas, Touts Impact of Project Safe Neighborhood."
Fort Worth Division
Fort Worth's PSN efforts date back to 2013, when the U.S. Attorney's Office for the Northern District of Texas, in partnership with One Safe Place, teamed with local and federal law enforcement to target some of the most violent crime hotspots in the city. They zeroed in on two areas, dubbed "Poly-Stop 6" and "Seminary":
In tandem with law enforcement – including the Fort Worth Police Department, the Federal Bureau of Investigation, the Bureau of Alcohol, Tobacco, Firearms, and Explosives (ATF), Crime Stoppers, Comin' Up Program, Tarrant County District  Attorney's Office, Tarrant County Community Supervision and Corrections Department, Tarrant County Juvenile and Reentry Services, Fort Worth Housing Authority, Texas Christian University, Bridging the Gap Baptist Church, and Cook Children's Hospital – the Fort Worth PSN program focuses on giving power back to the communities it serves by empowering long-time residents to get involved.
It also hosts conferences highlighting PSN strategies, including the Child Witness Project, child maltreatment issues, motorcycle gangs, active shooter responses, intelligence-led policing, drug trends, juvenile issues, domestic violence, and various other topics, mostly geared at law enforcement and corrections officials.
By 2016, the project had been so successful officials decided to shift the PSN focus away from the Seminary area. By then, the Las Vegas Trail area has emerged as one of the most problematic parts of the city. Current PSN efforts have shifted there: 
Under the leadership of U.S. Attorney Nealy Cox, PSN Fort Worth is using scientific data to identify and target the most dangerous criminals, reduce recidivism through proactive felon re-entry programs, and build relationships with the community. 
Amarillo Division
The Amarillo Office launched its PSN project in January 2019, focusing on a violent crime hotspot in the San Jacinto/ North Heights Area: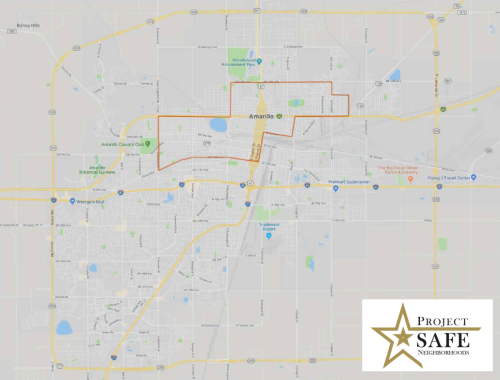 This project has promoted collaboration between federal, state, and local law enforcement and area nonprofits, including the Amarillo Police Department, Randall and Potter County Sheriff's' Offices, Randall and Potter County District Attorneys' Offices, the Texas Department of Public Safety, Bureau of Alcohol, Tobacco, Firearms and Explosives, the U.S. Marshals, the Federal Bureau of Investigation, Homeland Security Investigations, and the Drug Enforcement Administration, Family Support Services of Amarillo, Heal the City, the Amarillo Independent School District, Amarillo's College Success Initiative, Storybridge, and several local houses of worship.
Through this collaboration, Amarillo PSN has resulted in sharp decreases in violent crime inside the hotspot. In addition to traditional policing, Amarillo PSN has focused on community building by launching a reading mentorship program and hosting numerous neighborhood events, such as health fairs, block parties, and back-to-school events.
Local news coverage includes:
Amarillo Globe News: "New Initiative Targets Violent Crime"
The PSN Coordinator for NDTX is AUSA P.J.Meitl.  He can be reached at 214-659-8600. The PSN program is handled by the Violent and Major Crimes Section of NDTX's Dallas Division.
Updated December 6, 2021