Press Release
Five Defendants Arrested For Daytime Armed Robberies Of Manhattan Jewelry Stores
For Immediate Release
U.S. Attorney's Office, Southern District of New York
Robbers Stole Approximately $2 Million Worth of Jewelry at Gunpoint
Damian Williams, the United States Attorney for the Southern District of New York, Michael J. Driscoll, the Assistant Director in Charge of the New York Field Office of the Federal Bureau of Investigation ("FBI"), and Keechant L. Sewell, the Commissioner of the New York City Police Department ("NYPD"), announced today the unsealing of two Complaints charging five defendants with the armed robberies of two Manhattan jewelry stores on the mornings of January 3, 2023, and May 20, 2023, in which approximately $2 million of jewelry was stolen at gunpoint.  The five defendants were arrested this morning in New York and New Jersey.  FRANK DIPIETRO, VINCENT CERCHIO, VINCENT SPAGNUOLO, and MICHAEL SELLICK were charged by Complaint in connection with the January 3, 2023, robbery of a jewelry store on Madison Avenue in Midtown Manhattan.  SAMUEL SORCE was charged by Complaint in connection with the May 20, 2023, robbery of a jewelry store on Elizabeth Street in lower Manhattan.  DIPIETRO, CERCHIO, SPAGNUOLO, SELLICK, and SORCE will be presented in Manhattan federal court later today before U.S. Magistrate Judge Sarah Netburn.
U.S. Attorney Damian Williams said: "These five defendants allegedly carried out brazen and dangerous daylight robberies of jewelry stores in Manhattan, stealing about $2 million in jewelry at gunpoint.  Dressed as construction workers, the defendants allegedly sought to blend into the busy streets around them before pointing guns at the jewelry stores' employees and carrying out about $2 million in stolen diamonds and other valuable pieces.  Thanks to the career prosecutors from my Office and our partners at the NYPD and the FBI, the defendants' alleged armed robbery spree has been shut down."
FBI Assistant Director in Charge Michael J. Driscoll said: "The defendants allegedly brazenly robbed Manhattan jewelry stores of approximately $2 million worth of merchandise at gunpoint.  Violent robberies, especially those with firearms, will not be tolerated by the FBI and our partners in law enforcement.  The arrests today should serve as a warning to anyone willing to engage in armed robberies – you will face the consequences."
NYPD Commissioner Keechant L. Sewell said: "The swift arrests in this case reaffirm the NYPD's steadfast commitment, with its law enforcement partners, to hold everyone accused of violent acts accountable.  The charges these defendants face reflect a callous disregard for life, and they will now be held accountable.  I thank and commend the U.S. Attorney for the Southern District, the New York Field Office of the FBI, and everyone who worked to achieve justice in this case."
According to the allegations in the Complaints and other publicly filed documents:[1]
On the morning of January 3, 2023, DIPIETRO, CERCHIO, SPAGNUOLO, and SELLICK traveled to Midtown Manhattan together in multiple vehicles.  At approximately 10:20 a.m., an employee of a Midtown Manhattan jewelry store was preparing to place pieces of jewelry into the store's street-level display case when DIPIETRO and SELLICK, dressed in construction vests, entered the building from Madison Avenue.  As shown in the image below, DIPIETRO pointed a gun at the employee and said "give it to me," before SELLICK said, "turn around and get in the closet."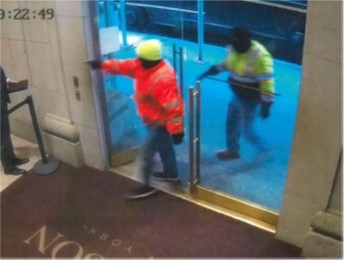 DIPIETRO and SELLICK fled the store with at least three pieces of high-end diamond jewelry, including an approximately 73-carat necklace (first picture below), an approximately six-carat ring (second picture below), and an approximately 17-carat pair of earrings (third picture below).  DIPIETRO, SELLICK, CERCHIO, and SPAGNUOLO then fled Midtown Manhattan.  Surveillance footage from the area of the robbery indicates that the defendants, including DIPIETRO and CERCHIO, had prepared for the robbery by "casing" the scene the day before.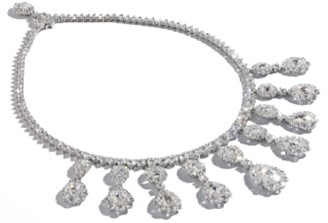 On the morning of May 20, 2023, employees of a jewelry store on Elizabeth Street in Manhattan had just opened for business when DIPIETRO and SELLICK — again masked and wearing construction vests — entered the store's street-level front door.  As shown in the image below, SELLICK pointed a gun at the store's employees and ordered them to the ground, while DIPIETRO gathered jewelry.  After DIPIETRO and SELLICK fled the store with the stolen goods, they first got in a getaway car driven by SORCE — who was also dressed like a construction worker — before switching to a second getaway car driven by SPAGNUOLO.
*                *                *
CERCHIO, 69, of Howard Beach, New York, DIPIETRO, 65, of Red Bank, New Jersey, SELLICK, 67, of Franklin Square, New York, SORCE, 25, of Florham Park, New Jersey, and SPAGNUOLO, 65, of Monmouth Beach, New Jersey, are each charged with one count of Hobbs Act robbery and one count of conspiracy to commit Hobbs Act robbery, each of which carry a maximum sentence of 20 years in prison, and one count of brandishing a firearm during and in connection with a crime of violence, which carries a mandatory minimum sentence of seven years in prison to be imposed in addition to any sentence imposed for the underlying Hobbs Act robbery. 
The minimum and maximum potential sentences are prescribed by Congress and are provided here for informational purposes only, as any sentencing of the defendants would be determined by a judge.
Mr. Williams praised the outstanding investigative work of the NYPD.  Mr. Williams also thanked the FBI for its assistance in this matter.
This case is being handled by the Office's General Crimes Unit.  Assistant U.S. Attorneys Alexandra S. Messiter and Justin Horton are in charge of the prosecution.
The charges contained in the Complaints are merely accusations, and the defendants are presumed innocent unless and until proven guilty.
---
[1] As the introductory phrase signifies, the entirety of the text of the Complaints and the description of the Complaints set forth herein constitute only allegations, and every fact described should be treated as an allegation.
Contact
Nicholas Biase
(212) 637-2600
Updated June 6, 2023
---
Press Release Number:
23-206