The Office prosecutes a wide variety of significant fraud cases involving both individual and corporate defendants, including frauds affecting the integrity of the financial markets.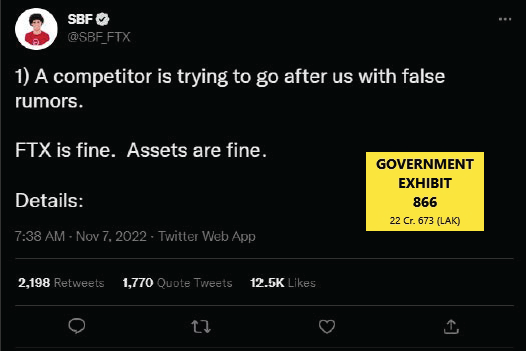 Securities and Commodities Fraud Prosecutions
The Securities and Commodities Fraud Task Force continues its long tradition of leadership in the prosecution of securities and commodities fraud and other cases affecting the integrity of the financial markets. For example:
Complex Fraud Prosecutions
The Office's Complex Frauds and Cybercrime Unit as well as prosecutors assigned to the Office's White Plains Division have pursued a wide range of significant fraud cases involving both individual and corporate defendants.  For example:
Former NBA Players and Doctors Prosecuted For Defrauding the NBA Players' Health and Welfare Benefit Plan:  In November 2023, former NBA players Ronald Glen Davis and William Bynum were convicted after trial for their roles in a prosecution charging more than 20 defendants in connection with a sprawling scheme to defraud the National Basketball Association Players' Health and Welfare Benefit Plan out of more than $5 million.  In August 2023, former NBA player Terrence Williams, the leader of the scheme, was sentenced to 10 years in prison.  
Leaders of Multibillion-Dollar Cryptocurrency Scheme "OneCoin" Prosecuted:  In September 2023, Sebastian Greenwood, one of the co-founders of OneCoin, a fake cryptocurrency multi-level marketing scheme, was sentenced to 20 years in prison for his role in stealing more than $4 billion from at least 3.5 million victims.  In 2019, Mark Scott, a former equity partner at international law firm Locke Lord LLP, was convicted at trial for his role in laundering hundreds of millions of dollars of fraud proceeds on behalf of the leadership of OneCoin.  Scott is awaiting sentencing.  Ruja Ignatova, the co-founder of OneCoin, remains at large and was added to the Federal Bureau of Investigation's Top Ten Most Wanted List in June 2022.
Prosecution of Danske Bank:  In December 2022, Danske Bank A/S, a global financial institution headquartered in Denmark, pleaded guilty in the Southern District of New York to conspiring to commit bank fraud and agreed to forfeit $2 billion to resolve the United States' investigation into Danske Bank's fraud on U.S. banks.  The guilty plea followed an investigation by the Office's Money Laundering and Transnational Criminal Enterprises Unit, in conjunction with the Department of Justice. Between 2008 and 2016, Danske Bank defrauded U.S. banks regarding Danske Bank Estonia's customers and anti-money laundering controls.  This fraud was designed to facilitate access to the U.S. financial system for Danske Bank Estonia's high-risk customers, who resided outside of Estonia – including in Russia and who otherwise would not have been able to access U.S. banks.
Israel's Largest Bank Admits to Conspiring with U.S. Taxpayers to Hide Assets Offshore:  In April 2020, Bank Hapoalim (Switzerland) Ltd., the Swiss subsidiary of Israel's largest bank, pled guilty to criminal charges arising from its participation in a conspiracy with U.S. taxpayers to hide more than $7.6 billion in more than 5,500 secret Swiss and Israeli bank accounts, evading U.S. taxes.  At the same time, Bank Hapoalim B.M., the Israeli parent bank, entered into a deferred prosecution agreement.  As part of the resolution, Bank Hapoalim agreed to pay almost $875 million in restitution to the Internal Revenue Service.