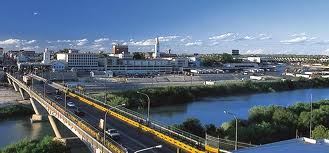 Laredo, Webb County, Texas, is located on the northern bank of the Rio Grande River and is unique in its ability to operate international bridges between two Mexican states. The city presently maintains four border crossings and one rail bridge with the Mexican State of Tamaulipas at Nuevo Laredo and the Mexican State of Nuevo León at Colombia. Webb County also borders the State of Nuevo Leon and the State of Coahuila, Mexico, northwest of Laredo. Laredo is the largest inland port along the U.S.-Mexico border and the Pan American Highway leading into Mexico through Laredo stretches from Canada and continues into Central and South America. Because of its location and accessibility to Mexico, Laredo's economy is primarily based on international trade with Mexico. According to the Laredo Development Foundation, more than 700 of the Fortune 1,000 companies do international business via Laredo and more than 9,000 trucks cross through town per day along with 1,800 loaded rail cars. Laredo is ranked first in growth in Texas and seventh in the country by the Milken Institute.
The division encompasses five counties with the federal courthouse located in Laredo, Texas. There are three Laredo district court judges - Judge George P. Kazen, who has taken Senior Status but continues to carry a full docket, and Judges Diana Saldaña and Marina Garcia Marmolejo, who presided over more than 2,000 felony cases in 2013 - most of which involved charges of narcotics trafficking and alien smuggling. In addition, there are three federal magistrates who alternate duties every two weeks. Additionally, the federal grand jury convenes every other week where AUSAs rotate the responsibility of presenting felony cases.
Dedicated and professional support staff personnel and Assistant United States Attorneys continue to do extraordinary work. Our office will strive to continue in its mission of prosecuting those cases having a significant federal interest with ties to criminal organizations along the border and promoting law enforcement necessary for community safety and economic development along our corridor of the Texas-Mexico border.
If Laredo was its own district, it would rank ahead of 88 of the 94 Districts within the United States.
Updated March 4, 2019