Daily News
Retired Police Captain To Be Liaison For Attorney's Office
By JUSTIN STORY, The Daily News

David J. Hale (left), United States Attorney for the Western District of Kentucky announced the hiring of Brett Hightower as Law Enforcement Coordinator, during a swearing-in ceremony, held in Louisville Monday, at the headquarters for the U.S. Attorney's Office. In attendance were federal, state and local law enforcement officials. (Submitted) Wednesday, August 8, 2012
Retired Bowling Green Police Department Capt. Brett Hightower was sworn in Monday in Louisville as law enforcement coordinator for the U.S. Attorney's Office. Hightower's new role will see him building relationships between the federal prosecutor's office and law enforcement agencies across the 53 counties overseen by the U.S. Attorney's Office in the Western District of Kentucky.
In announcing the hiring, U.S. Attorney David Hale said Hightower's past police and military experience have prepared him well to take on the responsibilities of his new position.
"We are fortunate to have a law enforcement coordinator with this breadth of experience," Hale said in a news release. "We know Brett will make a substantial contribution to our strategy of improved collaboration among federal, state and local law enforcement in the district."
In his new position, Hightower will serve as a liaison with state and local police agencies and develop and coordinate law enforcement training conferences in an effort to enhance outreach efforts by the federal prosecutor's office.
According to the U.S. Attorney's Office, Hightower will advise Hale on law enforcement issues, particularly on issues important to Department of Justice programs such as Project Safe Neighborhood, which seeks to reduce gun and gang crime, and Project Safe Childhood, which attempts to combat child sexual exploitation.
Hightower will also assist on collaborative projects between Hale's office and Fort Knox and Fort Campbell.
BGPD Chief Doug Hawkins said Hightower's professionalism as a police officer and his military experience in the Army National Guard will benefit the U.S. Attorney's Office.
"Both of those sets of experiences will apply directly to the work he's going to be doing in the U.S. Attorney's Office and I anticipate Brett will be very successful and effective at this position," Hawkins said. "He's a man of high character, and I think the U.S. Attorney's Office and law enforcement generally will benefit from his new position."
Hightower's career in the BGPD spanned more than 17 years as he rose through the ranks from patrol officer to captain.
As a city police officer, Hightower led the BGPD's critical response team, coordinated training seminars and community awareness programs and worked with the city attorney's office on policies and procedures.
Hightower also served in the Army National Guard, retiring as a master sergeant after a career that included deployments to Bosnia in 2002 and Afghanistan in 2007. Severely injured in a grenade blast in August 2008, he was awarded the Purple Heart and Bronze Star and went to work for the Army Wounded Warrior Program at Fort Knox after his military retirement.
The United States Attorney's Office for the Western District of Kentucky hosted a law enforcement training session in Owensboro, Kentucky on October 30, 2012. Approximately one hundred law enforcement officers from local, state and federal agencies attended the daylong event that focused on Department of Justice priorities including Project Safe Neighborhoods and Project Safe Childhood. The successful training event was held in conjunction with the Daviess County Sheriff's Office, the Owensboro Police Department and the Henderson Police Department.
Collaborative strategies and partnerships are key to law enforcement success. These sessions provide expert training to investigate and prosecute crimes.
David J. Hale, United States Attorney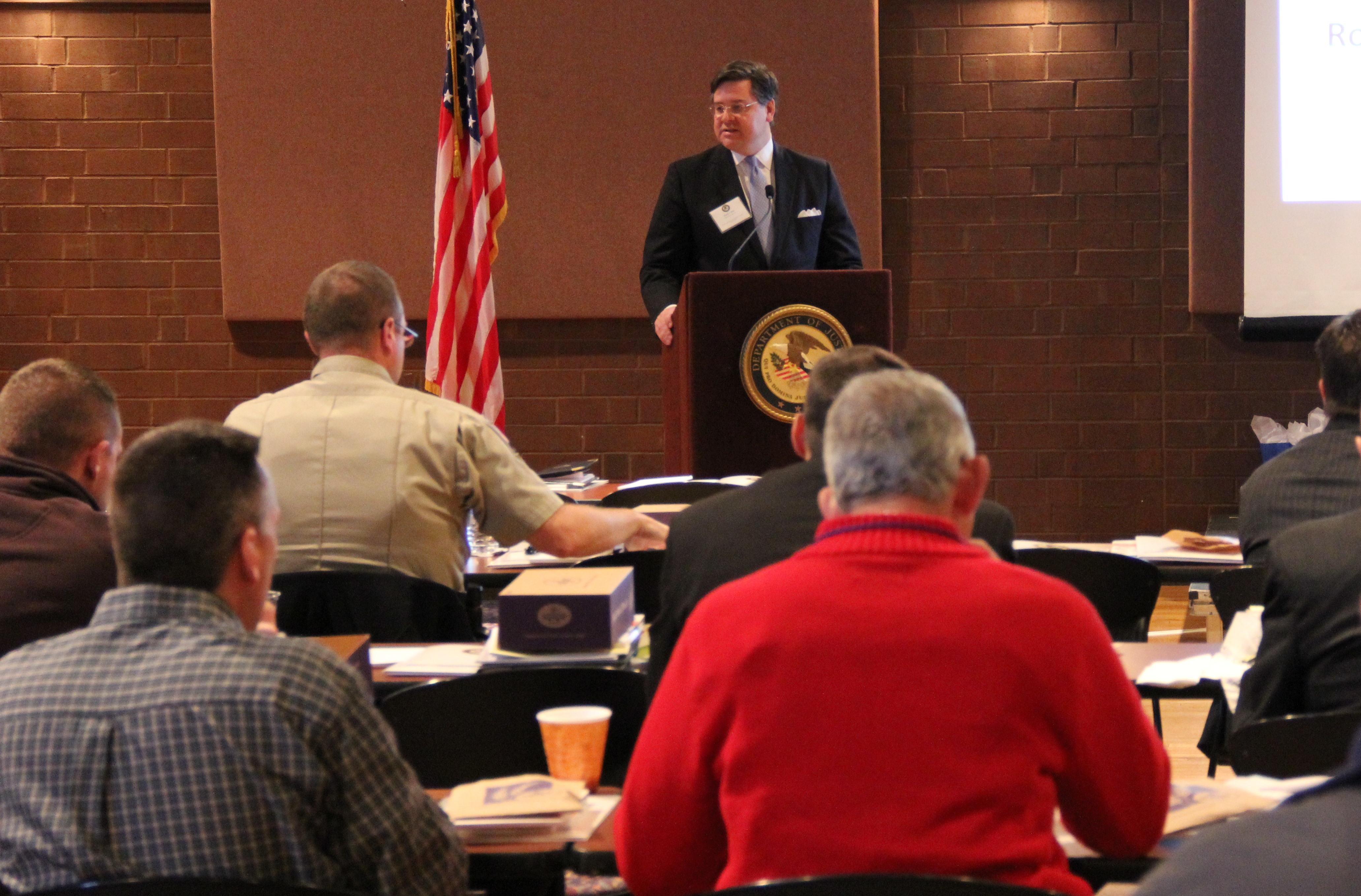 David J. Hale, United States Attorney welcomes law enforcement officers to the training session held in Owensboro, Kentucky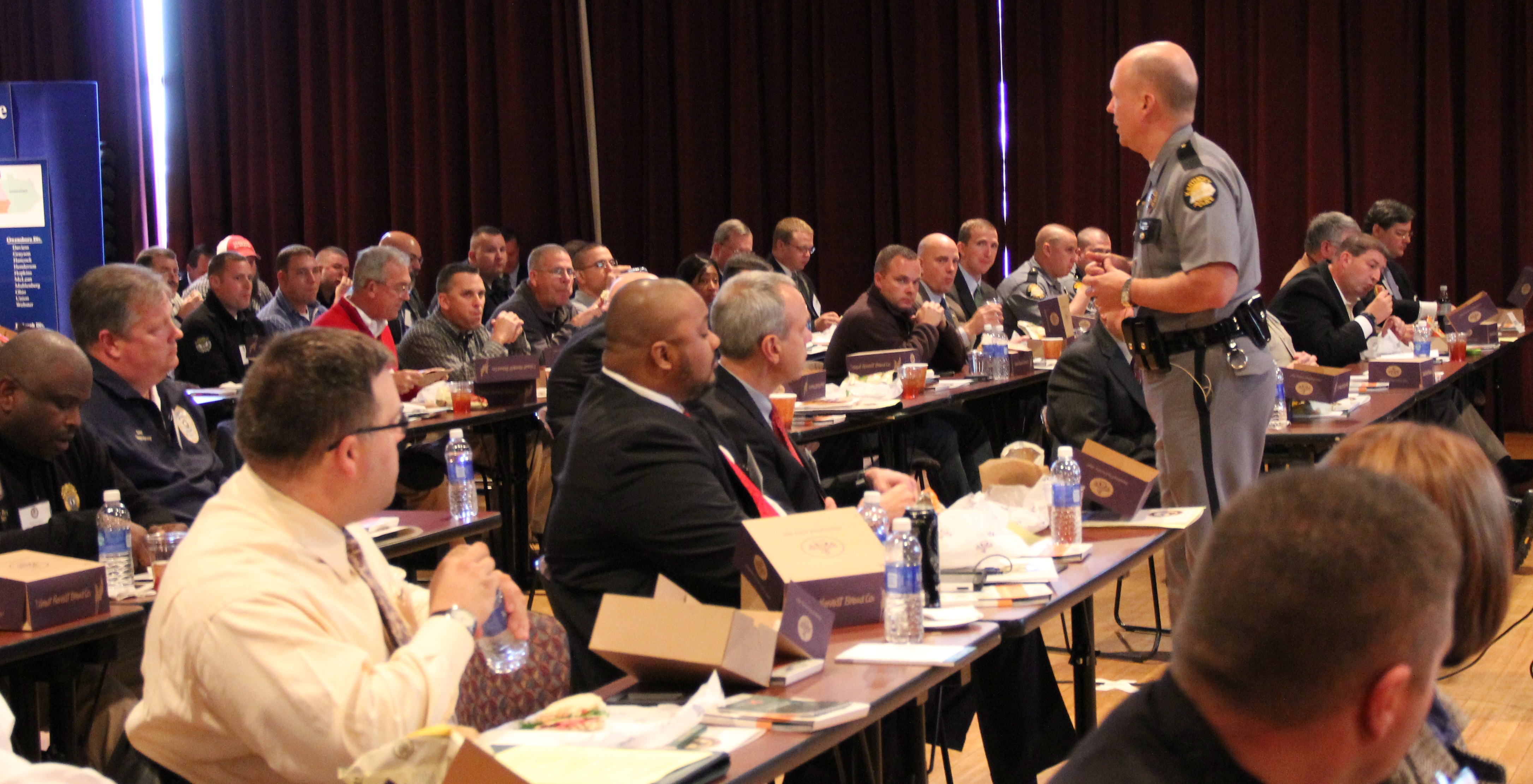 Members from the law enforcement community hear from Kentucky State Police Commissioner Rodney Brewer during a working lunch at the daylong training session.

James Clark, United States Marshal-WDKY; Rodney Brewer, Kentucky State Police Commissioner; Paul Johnson, USSS Special Agent in Charge; David J. Hale, United States Attorney-WDKY; Stuart L. Lowrey, ATF Special Agent in Charge
For upcoming training, please contact Law Enforcement Coordinator Brett Hightower (502) 582-5911 for more information.
Updated December 17, 2014