The Department of Justice, in partnership with other federal agencies, is committed to enforcing the federal laws that protect the civil rights of servicemembers. The Civil Rights Division and U.S. Attorney's Office work together to protect a servicemember's civilian, employment, economic and voting rights by enforcing the Uniformed Services Employment and Reemployment Rights Act (USERRA), voting rights by enforcing the Uniformed and Overseas Citizen Absentee Voting Act of 1986 (UOCAVA), and financial security through the Servicemembers Civil Relief Act (SCRA).
"We've got your back." Thomas E. Perez, Assistant Attorney General for the Civil Rights Division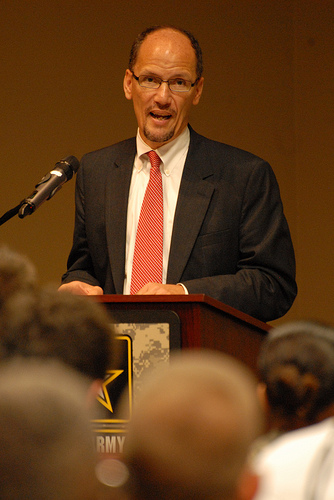 U.S. Attorney Hale and AAG Perez traveled to Ft.
Knox and Ft. Campbell to hear directly from the men
and women serving our nation in uniform about the
daily challenges they face and to advise them of the
work being done to protect the important rights
of servicemembers and their families.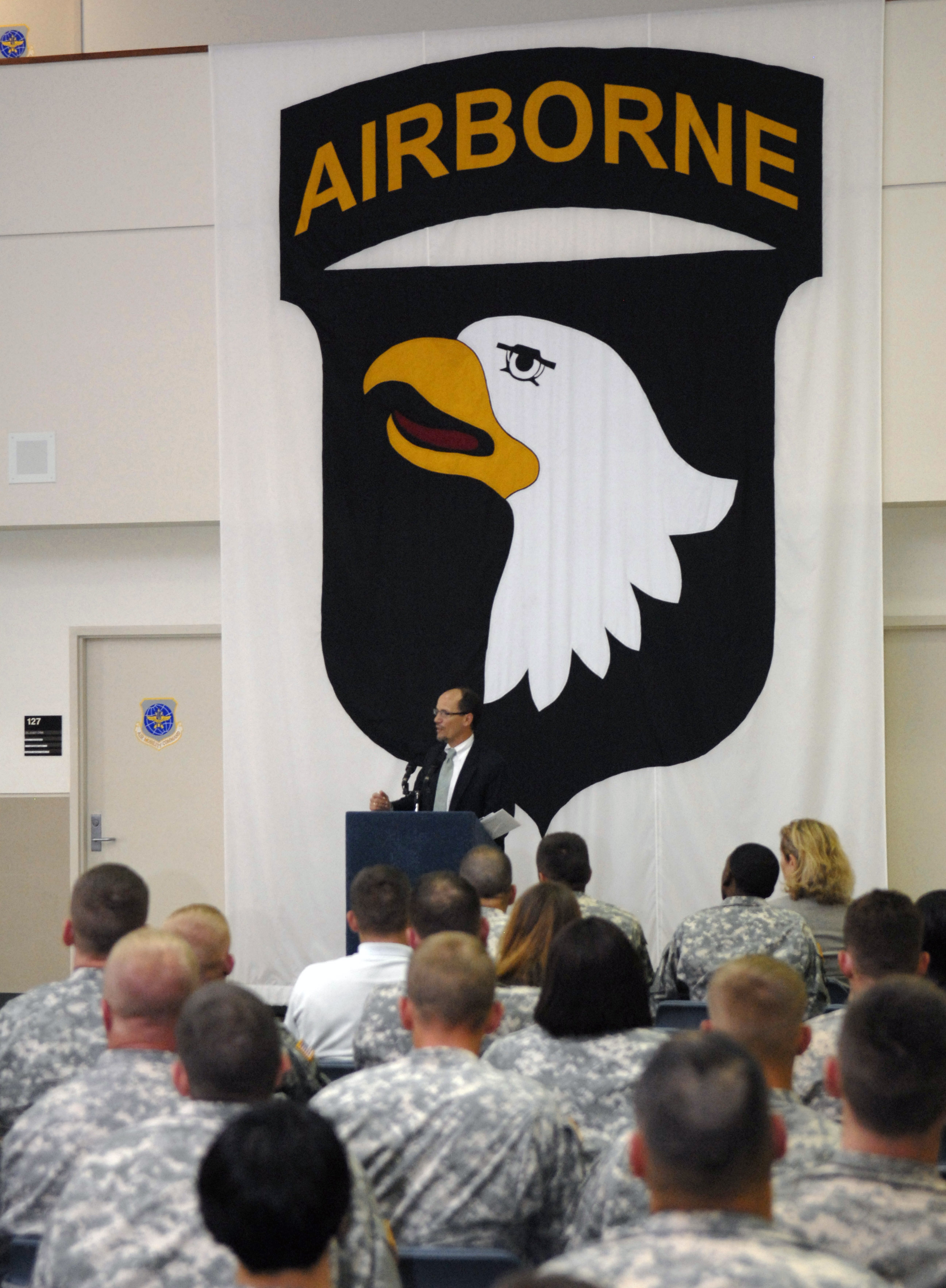 Courtesy U.S. Army
Assistant Attorney General Thomas E. Perez and U.S. Attorney David J. Hale spoke with soldiers and their families at the Fort Knox and Fort Campbell Military Installations. During recent visits to the posts, AAG Perez discussed the Department's recent efforts to protect important economic, housing, voting, loan and employment rights of our nation's service members. AAG Perez encouraged soldiers stationed at Ft. Knox and Ft. Campbell to seek advice from their JAG office about their rights under these laws and to report violations of their rights. Soldiers were given examples of recent enforcement actions, including successful efforts to avoid the foreclosure of homes owned by soldiers serving overseas and the compensation of guard and reserve soldiers who return from deployment to find that they no longer had a civilian job.
Recently, the Civil Rights Division announced two multi-million dollar settlements under Service Members Civil Relief Act (SCRA), including a $20 million settlement with Bank of America/Countrywide to resolve allegations that the mortgage server unlawfully foreclosed on approximately 160 servicemen. According to Mr. Perez each servicemember is entitled to more than $117,000 per settlement and there is no cap on this fund. The DOJ continues its efforts to locate servicemembers who qualify under this settlement agreement.
During the last two years, 34 cases have been filed under Uniformed Services Employment and Reemployment Act (USERRA) to protect the employment rights of servicemembers and the Civil Rights Division has aggressively enforced voting rights to ensure Americans serving overseas received absentee ballots in time to have their votes counted.
U.S. Attorney Hale and AAG Perez met with LTG Benjamin C. Freakley, Commanding General, at Fort Knox as well as staff Judge Advocate Col. Robert J. Coltell. While at Ft. Campbell they met with Staff Judge Advocate LTC Jeff Bovarnick and LTC William Howard, Warrior Transition Battalion Commander to discuss significant laws the Civil Rights Division enforces to protect service members and their families.
Legal Rights for Servicemembers Resources:
Updated October 9, 2015