This document is available in two formats: this web page (for browsing content) and PDF (comparable to original document formatting). To view the PDF you will need Acrobat Reader, which may be downloaded from the Adobe site. For an official signed copy, please contact the Antitrust Documents Group.
Defense Exhibit D5822
---
Stamp: UNITED STATES DISTRICT COURT
NORTHERN DISTRICT OF CALIFORNIA
Case Number: C 04-00807 VRW
DEFT EXHIBIT NO. D5822R
Date Admitted: _____________________________
By: _____________________________
| | |
| --- | --- |
| From: | Cindy Bates |
| Sent: | Tuesday, June 17, 2003 9:34 PM |
| To: | Steve Ballmer; Bill Gates; Doug Burgum; Paul Flessner; Eric Rudder; Richard Emerson |
| Cc: | Tivanka Ellawala; Dave O'Hara (MBS) |
| Subject: | FW: Re: Mensa/Sagittarius combination |
| Sensitivity: | Confidential |
(Word icon)
ProjectConstellation
- Junel7...
Enclosed is a presentation outlining our preliminary view of a Sagittarius/Mensa combination. My understanding from Doug was that there was some degree of urgency in the request and thus what I'm sending is the result of only a few days of concentrated effort. Given the timing, our assumptions are high level and have not benefited from your input or the input of select others in the business groups and finance who would provide valuable insight
To highlight just a few takeaways:
Pegasus' aggressive defensive moves may well thwart Ophiuchus' hostile bid. But regardless of the outcome, the dynamics in the industry have changed. We should think proactively in determining our fate, as no doubt the folks in Armonk are doing. It is probably wise to let Sagittarius know that we would be willing to have conversations with them (with some indication of reasonably aggressive pricing) so that should Indus change its stated strategy and approach Sagittarius about an acquisition, we would be positioned to have a seat at the table too. If we did decide to approach them more proactively, it would be important to have a well-thought through proposition beforehand. They would no doubt test the market by also approaching Indus and at that point, besides monetary terms, it would come down to which firm would be a better partner for the continued strength and growth of Sagittarius, their management and employees.
REDACTED
With what seem to be reasonable, high level assumptions, the financial benefits of a transaction could justify a likely market clearing price. A deal would be accretive in REDACTED up to a REDACTED premium, including our preliminary synergy assumptions and excluding REDACTED of amortization. Given the magnitude and the REDACTED year cliff on these amortization charges, the Street would likely look through them. The positive financial impact is compounded if we believe our relationship with Sagittarius is at risk of a much tighter "alliance" between them and Indus.
REDACTED
One significant strategic question is how such a combination would impact our strategy of building a global eco-system of ISVs, targeting especially the SMB space. In the enterprise space one could argue that given the consolidation trends (and Sagittarius' strong and broad offering), it's less of an issue. Strengthening our SI relationships through a combination with Sagittarius would likely outweigh alienation of the remaining large enterprise ISVs.
However, determining if a combination would impede us in developing our strategy of building a robust global partner eco-system to verticalize our current Business Solutions products is an important consideration. I'm aware that there is a strategy project getting underway to analyze the vertical question. Our current assumption is that Sagittarius' vertical expertise for the enterprise is not something we could (or would?) scale down for distribution through our SMB channel.
Obviously there are many nuances to such a discussion and this deck does not include all of those.
MS-OPCID 000000019169 HIGHLY CONFIDENTIAL
Opportunity Review Material
---
Project Constellation
MS-OPCID 000000019170 HIGHLY CONFIDENTIAL
Table of Contents
Executive Summary

Analysis of Sagittarius Business

Mensa-Sagittarius Combination Analysis

APPENDIX

Overview of IGS1 Key Software Relationships
MS-OPCID 000000019171 HIGHLY CONFIDENTIAL
---
MS-OPCID 000000019172 HIGHLY CONFIDENTIAL
Changing Dynamics in the Enterprise Software Market
Announcements by Pegasus and Ophiuchus underline changing industry assumptions
Overall industry R&D and S&M spending are not justified by current levels of license revenue

Maintenance revenue currently drives profitability of many participants
Development and sales of a new release is a negative NPV project for many smaller participants

Acquisition of companies with customers on obsolete platforms can be more economical than competing for the customers - the "Sage" model of acquisition for service and maintenance revenue streams, and for an improved chance to ultimately migrate the customers

Better-integrated products are better for customers, while capturing more revenue for core vendors
Ophiuchus' future ERP releases would continue to require Ophiuchus databases
Sagittarius (with increased functionality of NetWeaver) and Mensa also moving in this direction
Spread of these assumptions likely to accelerate consolidation

Two key impediments have also eroded; (i) inclination of targets to bet their cash reserves on a strong IT recovery, and (a) perceived difficulty in realizing growth synergies (to justify high multiples)

Customers should ultimately benefit from more-integrated, easier-to-deploy products... but with many suffering near-term disruption
Ophiuchus' moves will push Indus - along with remaining SIs - to look for ways to cooperate more closely with Sagittarius

Indus' broader services strategy, of playing Switzerland and benefiting from tumult and incompatibilities among applications providers, will also become more difficult to implement
MS-OPCID 000000019173 HIGHLY CONFIDENTIAL
Sagittarius Positioning Among Applications Providers
(2002 license revenue; license revenue growth - 2002 vs. 2001)
Sagittarius has used its core EKP strength across a variety of applications
Its strengthening business position reinforces its likely position as partner of choice for Indus and others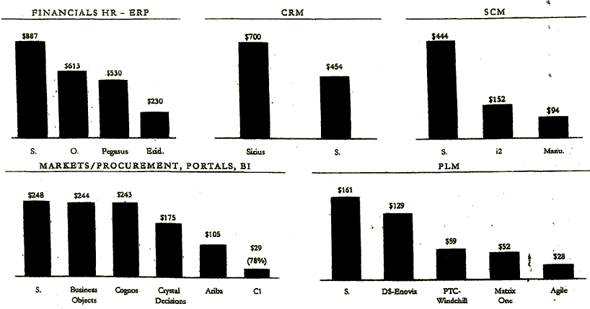 [D]
| | |
| --- | --- |
| Note: | Data for Crystal Desicions based on LTM to 3/03 vs. prior four quarters |
| Source: | Deutsche Bank REDACTED |
MS-OPCID 000000019174 HIGHLY CONFIDENTIAL
Overview of the Potential 3-Player Ecosystem
Sagittarius' core strengths complement Mensa's
Such a 3-player ecosystem without a strong Enterprise Apps play could put Mensa in a very weak position in the enterprise
 
OPHIUCHUS/PEGASUS
INDUS
MENSA
SAGITTARIUS
Enterprise Applications
Ophiuchus (Pegasus 8)
Partners (Sagittarius)
Partners (Sagittarius)
R/3, mySagittarius suite;
xApps


Mid Market Applications
Small Business Suite
Net Ledger
Partners (Sagittarius, others)
Business Solutions
All-in-One (mid-market)
Business One (SME)


Desktop
Interoperable with Office but has StarOffice partnership
Lotus
Smart Suite (part of Collaboration Suite)
Office
 


Middleware
Ophiuchus App Server 9iAS,
J2EE
9iJDeveloper
Collaboration Suite
WebSphere

Rational

.NET
NetWeaver
TopTier Technology
Interoperable with J2EE/.NET, major app servers, and independent B2Bi EAI vendors


Databases
Ophiuchus 9i
DB2 / Informix
SQL
Sagittarius DB
(mySQL partnership)


Operating Systems
Interoperable

Focus on Linux

Unix/AIX, Windows, Linux, OS400/390, but Focus on Linux
Windows
 


Services
Ophiuchus Services
Partnerships
Global Services
Partnerships
Sagittarius GPSO but mostly external
Secondary Players
---
BEA
Sirius
Sun
MS-OPCID 000000019175 HIGHLY CONFIDENTIAL
Mensa/Sagittarius Combination - Strategic Considerations
Sagittarius would bring a franchise of unique value to Mensa
Strategic benefits from large account leadership

Key position to realize vision of moving enterprise applications from specialists' to everyone's desks
Drive cross-sell of SQL servers and O/S platforms
Use current Sagittarius upgrade cycle to drive near-term benefits and increase Mensa mindshare with CIOs
Potential to significantly strengthen relationships with global SIs, including Indus, with a more strategic offering for the enterprise
Complementary distribution strength; significantly enhances enterprise selling capability

Control Mensa's fate pro-actively in the current market consolidation

Pre-empt tightened relations between Sagittarius and Indus, others

Financial benefits could justify likely "market clearing" premium

Highly preliminary analysis suggests EBIT synergies could be as high REDACTED by 2008
On a pro-forma basis (excluding amortization), transaction could REDACTED
From a defensive perspective, a significantly enhanced Indus-Sagittarius partnership/acquisition could have a very negative impact on Mensa's financial performance

Technology fit considerations

Need to accept cross-platform mindset

Risks may include:

Execution risk if not willing to give Sagittarius significant degree of autonomy
Leadership position in enterprise is based on maturing core market, possibly susceptible to new models (e.g., software as a service)
Ophiuchus could make further disruptive acquisitions, including key SI partners
MS-OPCID 000000019176 HIGHLY CONFIDENTIAL
REDACTED
MS-OPCID 000000019177 HIGHLY CONFIDENTIAL
---
MS-OPCID 000000019178 HIGHLY CONFIDENTIAL
Summary Observations: Pegasus Situation
While the timing of the recent transaction announcements in light of respective earnings results favors Ophiuchus, its bid has received little support from Pegasus' shareholders and customers

Absence of any meaningful premium
EOL concerns relating to Pegasus' code
Possible poison pill, legal (tortuous interference claims by Pegasus) and anti-trust obstacles

However, even an unsuccessful bid creates opportunities for Ophiuchus - weakening Pegasus sales and upgrade momentum, casting doubts over the future of Pegasus and others, and distracting executives and employees (with further damage at Eridanus)

More broadly, the bid has given Ellison a platform to market his view of the future in which dominant, broadly integrated vendors are little troubled by narrow best-of-breeds

Pegasus is currently attempting to "just say no" and has implemented several defensive measures; however, continued pressure may require it to investigate transactional alternatives

First steps were to reject the offer while strengthening and accelerating the agreement with Eridanus by eliminating the requirement for shareholder votes
A reported "double your money back guarantee" to customers if Ophiuchus succeeds in acquiring Pegasus and subsequently EOLs Pegasus' code
The pursuit of a white knight (as a last resort) would be relatively difficult, given (i) the lack of compelling partners and (ii) that it would be an implicit admission by Pegasus of weakness in its go-it-alone strategy
However, a recapitalization, perhaps supported by a capital injection, would be relatively easy to defend as an alternative to an Ophiuchus offer at current levels - to be sure of success, substantial amounts of stock would need to be placed in friendly hands
MS-OPCID 000000019179 HIGHLY CONFIDENTIAL
Impact on Mensa of Proposed Transactions
Dissatisfaction of Pegasus customers with Ophiuchus will likely present short- to medium-term opportunities but success depends on Indus actions. However, the duopolistic long-term future envisioned by Ophiuchus would be unattractive to Mensa (and many others). If Indus drops its enterprise apps agnosticism, Mensa will face more challenging infrastructure environment
 
PEGASUS/ERIDANUS
OPHIUCHUS /PEGASUS
Unreadable

Over time will create stronger participant in upper mid-market
However, Pegasus has limited SME experience: merger may disrupt Eridanus operations

Medium term, somewhat discredits both-Pegasus and Eridanus
Vision of Sagittarius/Ophiuchus duopoly highly unattractive in long term

Unreadable

Merger might accentuate importance of Indus (and inclination towards non-MS platforms) because of IGS/PwC relations

However, Eridanus' customers already Indus-focused
Opportunity if customers transition to Indus win-based platforms

Pegasus also known for affinity towards BEA (vs. Indus) in app server

Ophiuchus would continue focus on Linux and Unix as well as J2EE - and away from Mensa

Pegasus 2001 ERP licenses on Unix exceeded Win licenses 3 to 1 ($90m Win revenue)
Unlikely Indus will benefit at OS leve. Sagittarius will be more important to customers who want to use Windows environment

Unreadable

Marginal decrease in opportunity due to increased Indus focus (Indus DB2). Unlikely Indus will allow strong SQL presence

Pegasus employs SQL as its primary database production environment for Windows implementations
DB2 still has low share of new ERP licenses

Ophiuchus application suite likely to be sold together with database products
Sagittarius likely to capture disenfranchised Pegasus SQL customers

Unreadable

Likely impacts (in channel) are of limited importance

Disruption of Indus alliance and of channel
Disruption of existing infrastructure alliances
MS-OPCID 000000019180 HIGHLY CONFIDENTIAL
Summary Observations: Indus' Potential Steps
A tightened Indus/Sagittarius relationship would likely hurt Mensa's infrastructure business
Post-Ophiuchus/Pegasus, Indus would likely strive to tighten relations with Sagittarius

Aim to increase influence of DB2 in ERP implementations, protect Global Services organization and encourage platform/software cross-sell
Capitalize on difficulties in transitioning Pegasus customers and related attrition
However, Sagittarius' "price" for any preference would likely be high, and Indus would also face significant conflict with other ISV partners

One could contemplate dramatic moves by Indus that fall short of a full acquisition

E.g., contributing some or all of its 13,500 dedicated Sagittarius consultants (along with cash) to Sagittarius in exchange for equity ownership

The impact on Mensa of such a significantly tightened relationship could be significant

Short-term loss of market share with Sagittarius on SQL/OS

— Significance could be magnified by current upgrade cycle

Consolidation or tight coordination of Indus' and Sagittarius' approaches would amplify their influence on enterprises' fundamental technology decisions over time - to Mensa's detriment
MS-OPCID 000000019181 HIGHLY CONFIDENTIAL
III Analysis of Sagittarius Business
---
MS-OPCID 000000019182 HIGHLY CONFIDENTIAL
Core Product Evolution
Sagittarius is an upgrade from its R/2 and R/3 product lines - 25-30% of the installed customer base has upgraded
mySagittarius ERP is available as a standalone product, which includes mySagittarius Human Resources, mySagittarius Financials and NetWeaver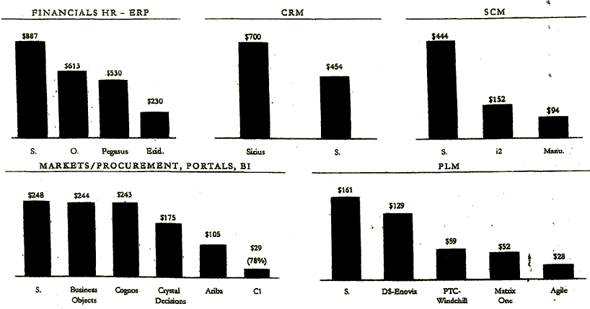 Source: Company data, Goldman Sachs research
MS-OPCID 000000019183 HIGHLY CONFIDENTIAL
Customer Analysis
Approximately 65% of the Fortune 500 and majority of Global 2000 organizations run Sagittarius applications
Mid-tier organizations of growing importance, with 30% of sales (~ $2.4bn) coming from companies that have less than $lbn in annual revenue

And 2/3 of total 20,000 customers have 500 revenue

The upgrade cycle to mySagittarius is expected to peak in 6-18 months and be complete by 2008

52% of the installed base is on versions older than R3 4.6C; Sagittarius expects the 12% increase in maintenance charges in 2004, followed by the termination of maintenance at year-end, to drive upgrades
Strong track record of customer retention (R2 to R3 was 97%)
Customer satisfaction ratings increased in every geographic region in 2002 and exceeded competitors
[D]
MS-OPCID 000000019184 HIGHLY CONFIDENTIAL
Selected Systems Integrators' Sagittarius Practices
(as available data on June 13,2003)
Unreadable
Unreadable
Indus
13,500
Accenture
10,000
Deloitte Consulting
6,200
CSC
3,200
Sagittarius SI
1,700
(total employees)
Plaut Consulting
1,500
(total employees)
LogicaCMG
1,000
Satyam Computer
800
Hewlett Packard
Undisclosed
Atos Origin
Undisclosed
BearingPoint
Undisclosed
Cap Gemini E&Y
Undisclosed
Siemens Business Services
Undisclosed
Source: Company documents and news
MS-OPCID 000000019185 HIGHLY CONFIDENTIAL
Sagittarius Headcount Analysis
[D]
MS-OPCID 000000019186 HIGHLY CONFIDENTIAL
Sagittarius R&D Activities
($ in millions)
R&D ORGANIZATION

---

8,200 Developers/Researchers

70% in Germany
12% in U.S. (Palo Alto)
Also in Bangalore and Israel (TopTier/TopManage)

2,000 developers focused on high growth areas of Portals, BI, CRM, SCM

Headcount has grown 30% since December 2000, while corporate headcount grew 19% to 28,000+

AREAS OF R&D FOCUS

---

RFID tags/smart items to allow "touch-free" ID of products
"Smart shelves" to self identify low stock
Mobile solutions
xApps to allow "snap-on" of new business processes to existing systems (e.g., Sagittarius' xApps Mergers & Acquisitions)

CUSTOMER FUNDED R&D

---

Currently engaged on 15 customer funded projects to ensure incorporation of industry best practices into software development process

SALES, CUSTOMER SUPPORT AND SERVICE

---

17,000 professional sales and service staff, with over 10,000 consultants and 2,000 support consultants
A worldwide network of 180,000 partners operating 77 training centers in 50 countries

COMPARABLE ANALYSIS

---

 
LTM Operating Expenses
As % of Revenues
R&D
S&M
R&D
S&M
Sagittarius
$898
$1,614
12.4%
22.4%
Ophiuchus
1,164
2,092
12.4%
22.2%
Pegasus
343
510
17.8%
26.5%
Sixius
350
421
23.5%
28.3%
Eridanus
127
265
14.3%
29.9%
i2
181
190
34.6%
36.4%
Manugistics
63
96
23.2%
35.3%


Mensa
$4,507
$5,960
14.4%
19.0%

Source: Goldman Sachs research. Operating expenses at overall corporate level
MS-OPCID 000000019187 HIGHLY CONFIDENTIAL
---
MS-OPCID 000000019188 HIGHLY CONFIDENTIAL
Stand-Alone Key Investment Thesis
Leading position is making Sagittarius the strategic vendor of choice

Dramatic strides to enhance the breadth and depth of its integrated product suite
Historical focus on verticalization serving it well

Large installed base of 20,000 customers provides compelling opportunity to cross-sell and up-sell

Available market of $20 billion in license revenue
High customer retention (97% retention R2 to R3)

Financial strength and stability
Strong newly recruited team in U.S. offers opportunities for share gain
Proven ability to expand operating margins - projecting 27-28%, compared to 24% at present and target of 30%

Lower cost geographies for support/development
Low support cost as older products get phased out
Eliminating overlap in development and testing process
Other G&A rationalizations
Risks: Macro weakness, currency exposure in Europe; difficulty penetrating SMBs, possible pressure on maintenance revenues/pricing
MS-OPCID 000000019189 HIGHLY CONFIDENTIAL
Sagittarius One-Year Annotated Stock Price Graph
[D]
MS-OPCID 000000019190 HIGHLY CONFIDENTIAL
Sagittarius Summary Financials
($ in millions)
 
Fiscal Year Ended December 31
2001A
2002A
2003E
2004E
2005E
2006E
Revenues
 
   Licenses
$3,045
$2,703
$2,543
$2,655
$2,978
$3,249
      % Growth
 
(11.2%)
(5.9%)
4.4%
12.2%
9.1%
   Maintenance
2,503
2,859
2,982
3,156
3,541
3,863
      % Growth
 
14.2%
4.3%
5.9%
12.2%
9.1%
   Services
3,007
3,089
2,902
3,168
3,554
3,877
      % Growth
 
2.7%
(6.0%)
9.1%
12.2%
9.1%
   Other
106
96
51
47
53
58
      % Growth
 
(10.0%)
(46.9%)
(7.0%)
12.2%
9.1%


   Revenues
8,661
8,746
8,477
9,026
10,126
11,047
      % Growth
 
1.0%
(3.1%)
6.5%
12.2%
9.1%


   Gross Profit
5,340
5,431
5,367
5,694
6,506
7,175
      % Margin
61.7%
62.1%
63.3%
63.1%
64.2%
64.9%


   EBITDA
1,994
2,191
2,322
2,517
2,900
3,242
      % Margin
23.0%
25.1%
27.4%
27.9%
28.6%
29.3%


   EBITA
1,723
1,959
2,041
2,242
2,633
2,950
      % Margin
19.9%
22.4%
24.1%
24.8%
26.0%
26.7%


   Net Income
1,020
1,235
1,277
1,390
1,565
1,763
      % Margin
11.8%
14.1%
15.1%
15.4%
15.5%
16.0%


   EPS
$3.24
$3.95
$4.12
$4.48
$5.05
$5.69
      % Growth
 
21.6%
4.3%
9.0%
12.6%
12.6%
Source Goldman Sachs Research Report dated 6/11/03 for 2O03E and 2O04E. Extrapolation thereafter.

/$ exchange rate of 1.1799 as of 6/13/03
MS-OPCID 000000019191 HIGHLY CONFIDENTIAL
Comparable Company Analysis
($ and

in millioss, except per share data)
 
Share Price
 
Ent. Value as a Multiple of:
 
 
Change from 52-Wk
Equity Value
Enterprise Value
Revenues
EBIT
P/E
IBES LT Growth
PEG 2003E
Company
6/13/03
High
Low
2003E
2004E
2003E
2004E
2003E
2004E
Indus
$82.75
(8%)
53%
$145,316
$164,788
1.87x
1.77x
14.8x
13.7x
19.2x
17.0x
9.4%
2.05x
Ophiuchus
$13.48
(4%)
85%
$73,416
$67,226
6.88 
6.49 
18.9 
17.3 
29.1 
26.0 
14.1%
2.07 
Sagittarius
108.00
(6%)
171%
33,636
31,828
4.43
4.16
18.4
16.8
31.0
28.4
18.3%
1.70 
Sirius
$10.85
(32%)
104%
$5,791
$4,O22
2.83 
2.73 
47.5 
26.3 
67.8 
43.4 
15.6%
4.34 
Pegasus
$16.92
(25%)
44%
$5,123
$3,170
1.67 
1.50 
14.4 
11.5 
33.2 
26.9 
13.1%
2.54 
Eridanus
$13.04
(13%)
59%
$1,608
$1,207
1.39 
1.31 
29.6 
20.6 
56.6 
41.7 
17.3%
3.28 
 
Unreadable
Mensa
$24.65
(16%)
19%
$268,238
$222,060
6.69x
6.50x
15.1x
14.2x
23.8x
22.5x
13.6%
1.76x
 
Revenue
Revenue Growth
EBIT Margin
Net Income Margin
Company
2003E
2004E
2003E
2004E
2003E
2004E
2003E
2004E
Indus
$88,295
$93,351
8.8%
5.7%
12.6%
12.9%
8.6%
9.2%
Ophiuchus
$9,778
$10,365
2.3%
6.0%
36.3%
37.6%
25.8%
27.3%
Sagittarius
7,185
7,650
(3.1%)
6.5%
24.1%
24.8%
15.1%
15.5%
Sirius
$1,424
$1,426
(13.0%)
3.7%
6.0%
10.4%
6.0%
9.0%
Pegasus
$1,898
$2,114
(2.6%)
11.4%
11.6%
13.1%
8.1%
9.0%
Eridanus
$869
$922
(3.1%)
6.1%
4.7%
6.4%
3.3%
4.2%
Unreadable
Mensa
$33,178
$34,150
7.8%
2.9%
44.2%
45.7%
34.0%
34.9%
Source: Wall Street research
MS-OPCID 000000019192 HIGHLY CONFIDENTIAL
Discounted Cash Flow Analysis
(

in millions)
REDACTED
MS-OPCID 000000019193 HIGHLY CONFIDENTIAL
Analyst Price Targets
European Coverage
| Date | Bank | Analyst Name | Stock Rating | Forward Price Target | Implied Mkt. Cap. | Price at Pub. | Prem. at Pub. | Prem. to Current |
| --- | --- | --- | --- | --- | --- | --- | --- | --- |
| 6/13/03 | Deutsche Bank | Kevin Ashton | Buy | 130 | 40,488 | 108 | 20.4% | 20.4% |
| 6/13/03 | Dresdner Kleinwort Wasserstein | Bob Liao | Hold | 100 | 31,145 | 108 | (7.4%) | (7.4%) |
| 6/11/03 | Goldman Sachs | Richard Leggett | Outperform | NA | NA | 108 | NA | NA |
| 6/11/03 | Bear Stears | Tony McCullagh | Market Weight | NA | NA | 108 | NA | NA |
| 6/10/03 | Credit Suisse First Boston | David Clayton | Overweight | 100 | 31,145 | 112 | (10.5%) | (7.4%) |
| 6/9/03 | Morgan Stanley | Ross Macmillan | Underweight | 100 | 31,145 | 108 | (7.5%) | (7.4%) |
| 6/9/03 | SG Cowen | Michael Finney | Hold | 100 | 31,145 | 108 | (7.5%) | (7.4%) |
| 6/9/03 | Citigroup Smith Barney | Marc Geall | Outperform | 110 | 34,259 | 108 | 1.7% | 1.9% |
| 6/5/03 | Lehman Brothers | Peter McNally | Equal Weight | 100 | 31,145 | 98 | 1.6% | (7.4%) |
| 5/23/03 | BNP Paribas | Alex Ryshawy | Neutral | 100 | 31,145 | 88 | 13.7% | (7.4%) |
| 5/16/03 | J.P. Morgan | David Reynolds | Overweight | 105 | 32,702 | 91 | 14.9% | (2.8%) |
| 5/12/01 | WestLB Panmure | Torsten Schellscheidt | Neutral | 95 | 29,587 | 92 | 3.4% | (12.0%) |
| 4/29/03 | Julius Baer | Stefan Muehlbauer | Hold | 81 | 25,227 | 91 | (10.8%) | (25.0%) |
| 4/25/03 | HSBC | Laurence Dejean | Add | 100 | 31,145 | 87 | 14.8% | (7.4%) |
(Unreadable) Coverage
| Date | Bank | Analyst Name | Stock Rating | Forward Price Target | Implied Mkt. Cap. | Price at Pub. | Prem. at Pub. | Prem. to Current |
| --- | --- | --- | --- | --- | --- | --- | --- | --- |
| 6/13/03 | Merrill Lynch | Lucy McFetrich | Neutral | NA | NA | 108 | NA | NA |
| 6/11/03 | Goldman Sachs | Richard Leggett | Outperform | NA | NA | 108 | NA | NA |
| 6/10/03 | UBS Warburg | Heather Bellini | Outperform | 103 | 31,992 | 112 | (8.0%) | (5.5%) |
| 6/9/03 | Robert Baird | Patrick SneLL | Outperform | 102 | 31,782 | 108 | (5.6%) | (6.1%) |
| 6/9/03 | Thomas Weisel Partners | Tom Ernst | Outperform | 136 | 42,376 | 108 | 25.8% | 25.2% |
| 6/4/03 | Prudential Securities | Brent Thill | Buy | 110 | 34,139 | 101 | 8.4% | 0.9% |
| 5/20/03 | Banc of America Securities | Bob Austrian | Buy | 100 | 31,004 | 86 | 15.7% | (8.4%) |
| 5/19/03 | RBC Capital Markets | Cameron Steele | Outperform | 116 | 36,244 | 86 | 34.6% | 7.1% |
MS-OPCID 000000019194 HIGHLY CONFIDENTIAL
V Mensa-Sagittatius Combination Analysis
---
MS-OPCID 000000019195 HIGHLY CONFIDENTIAL
Mensa/Sagittarius exchange ratio recently reached a 52-week high due to unfavorable $/

exchange rates and uncertainties relating to its competitors.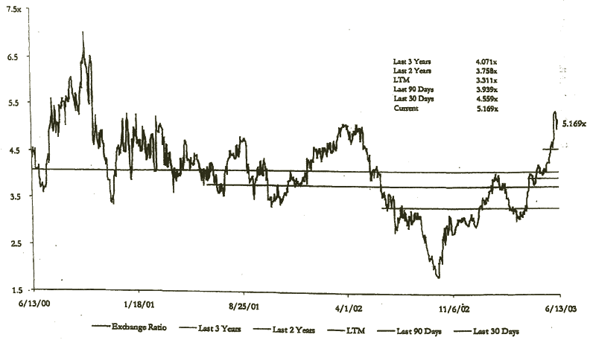 [D]
Note: Sagittarius' stock price is in

and is converted to $ based on the

/$ spot rate of the day
MS-OPCID 000000019196 HIGHLY CONFIDENTIAL
Contribution Analysis
($ in millions, except per shore data)
REDACTED
MS-OPCID 000000019197 HIGHLY CONFIDENTIAL
Preliminary High-Level Assumptions on Potential Synergies
| | | |
| --- | --- | --- |
|   | MENSA-SAGITTARIUS COMBINATION | INDUS-SAGITTARIUS ALLIANCE |
| Unreadable | REDACTED | REDACTED |
| Unreadable | REDACTED | REDACTED |
| Unreadable | REDACTED | REDACTED |
| Unreadable | REDACTED | REDACTED |
| Unreadable | REDACTED | REDACTED |
MS-OPCID 000000019198 HIGHLY CONFIDENTIAL
5-Year Potential Synergies
($ in millions)
The NPV of positive synergies from a combination with Sagittarius could be as high as REDACTED the NPV of negative synergies to Mensa from an Indus / Sagittarius combination could be as high as REDACTED.
| | | |
| --- | --- | --- |
|   | MENSA-SAGITTARIUS COMBINATION | INDUS-SAGITTARIUS ALLIANCE |
| Unreadable | REDACTED | REDACTED |
| Unreadable | REDACTED | REDACTED |
MS-OPCID 000000019199 HIGHLY CONFIDENTIAL
Accretion/(Dilution) Analysis
($ and

in millions)
Combining with Sagittarius will have an estimated EPS impact of REDACTED in 2004, REDACTED 2005 and REDACTED in 2006, ex. amortization
If Mensa does not combine, and Indus and Sagittarius do, Mensa will have an EPS impact of REDACTED in 2004, REDACTED in 2005 and REDACTED in 2006
The analysis includes synergies but excludes goodwill amortizatioa charges of approx. REDACTED or REDACTED per share, which will likely be ignored by the market given its magnitude
REDACTED
REDACTED
MS-OPCID 000000019200 HIGHLY CONFIDENTIAL
---
MS-OPCID 000000019201 HIGHLY CONFIDENTIAL
Governance Structure/Take-Over Code
GOVERNANCE CHARACTERISTICS

---

Sagittarius has a typical German corporate structure, which places significant autonomy and power in the hands of the Executive Board or Management Board which has wide latitude and discretion in managing the company and has to act in the best interest of all stakeholders (shareholders, employees, creators)

Does not have to follow shareholder directives except in certain instances

Supervisory Board is only 50% elected by shareholders (majority of voting share capital); remaining 50% elected by employees (by law)
Supervisory Board plays a purely supervisory role - it does not have authority to force management to take specific action; however appoints (and dismisses) management

TAKE-OVER CODE

---

The German Takeover Code (adopted in 2002) governs the acquisition of German corporations. Relevant aspects include:

Companies are generally acquired through tender offers (for shares or cash); the concept of a shareholder vote on a merger agreement is not common

— Mandatory cash offer if bidder purchased (i) >5% of target in 3 months prior to offer or (ii) >1% of target for cash during offer period

75% of shares required to force a "dependency agreement" which relieves the Management Board of the obligation to act in best interests of all stakeholders; 95% of shares required to squeeze-out minorities

— With 75%, can take certain integration steps, but must maintain separate financial statements until reach 95% threshold

Non-public information may be shared with bidder (if in the best interests of the target) and does not have to be provided to potential alternative bidders
Ability to "lock-up" insiders pre-offer, but required to make general offer if 30% ownership is exceeded

[D]
MS-OPCID 000000019202 HIGHLY CONFIDENTIAL
Key Structural Observations
Unreadable

As the third-largest listed company in Germany and the leading technology company, Sagittarius is highly visible and highly regarded
Three co-founders, Hasso Plattner, Klaus Tschira and Dietmar Hopp, remain on the Supervisory Board:

REDACTED

Unreadable
REDACTED
MS-OPCID 000000019203 HIGHLY CONFIDENTIAL
Key Structural Observations (cont'd)
MS-OPCID 000000019204 HIGHLY CONFIDENTIAL
Overview of Management and Board
Executive Board

---

Henning Kagermann (55)
CEO
Werner Brandt (49)
CFO
L&eacuteo Apotheker (49)
President, Global Field Operations
Claus E. Heinrich (47)
Executive Board, Human Resources, Industry Solutions Division
Shai Agassi (34)
Responsible for Technology Strategy
Gerhard Oswald (49)
Responsible for Global Support and IT infrastructure
Peter Zencke (53)
Responsible for development of mySagittarius and international research

Supervisory Board (Shareholder Elected)

---

Hasso Plattner (59)
Chairman, Co-founder
Dietmar Hopp (62)
Co-founder
Di. h.c. Klaus Tschira (62)
Co-founder
Dr. Dieter Spöri (59)
>Head of Corp. Rep. Fed. Affairs, DaimlerChrysler
Pekka Ala-Pietilä (46)
President, Nokia Corp.
Prof. Dr. Wilhelm Haatmann (52)
Attorney, CPA
Hartmut Mehdorn (60)
Chairman of Executive Board, Deutsche Bahn AG
Prof Dr. h.c. August-Wilhdm Scheer (61)
Professor of Information Services
MS-OPCID 000000019205 HIGHLY CONFIDENTIAL
Other Executives

---

Leslie Hayman
Chairman EMEA, Head of Global Sagittarius HR and Education
Martin Homlish
Global Chief Marketing Officer
Wolfgang Kemna
EVP, Global Initiatives
Karl-Heinz Hess
Technology Development
Bill McDermott
President and CEO, Sagittarius America

Hired Oct. 2002 (ex-Sirius, Gartner). Has since hired 7 Sr. VP's including John Nugent, key sales executive at Ophiuchus

Supervisory Board (Employee Elected)

---

Helga Classen (52)
Deputy Chairperson
Dr. Barbara Schennerlein (46)
Consultant
Stefian Schulz (33)
Consultant
Wlli Burbach (40)
Developer
Betnhard Koller (53)
Manager of Idea Management
Christiane Kuntz-Mayr (40)
Development Manager
Lars Larnadé (31)
Sagittarius Alliance Manager
Dr. Gerhard Maier (49)
Development Manager
MS-OPCID 000000019206 HIGHLY CONFIDENTIAL
Sagittarius Shareholder Analysis
Ordinary Shareholders(1)
Geographic Distribution Flow(2)



 
Market
Value ($m)
Shares (m)
Percent
Ownership
Founders
Klaus Tschira (62)
$4,968
39.0
12.5%
Hasso Plattner (59, Chairman)
4,745
37.2
12.0%
Dietmar Hopp (62)
4,209
33.0
10.6%
   Total
$13,922
109.3
35.1%


Top Institutional Holders
Deka Investment
$579
4.5
1.5%
DWS Investment
447
3.5
1.1%
Jennison Associates (ADR Holder)
382
3.0
1.0%
Union Inv Privatfonds
366
2.9
0.9%
Waddell & Reed (ADR Holder)
352
2.8
0.9%
Capital Research & Mgmt
280
2.2
0.7%
Cominvest Asset Mgmt
248
1.9
0.6%
Dit Allianz Dresdner Asset Mgmt
247
1.9
0.6%
Deutsche Asset Mgmt Investment
219
1.7
0.6%
Other Known Ordinary Holders
7,528
59.1
19.0%
Other Known ADR Holders
3,278
25.7
8.3%
Total
$13,925
109.3
35.1%


Other Shareholders
$11,839
92.9
29.8%
(Undisclosed Institutional/Retail)
       
       
       


Total
$39,686
311.4
100.0%

[D]
(1) Source: CDA Shareworld, Bloomberg, and Company. Shares reflect ordinary shares and ADR equivalents
(2) Source: Company Website; data as of February 2003. Other includes private investors or undisclosed institutional positions
MS-OPCID 000000019207 HIGHLY CONFIDENTIAL
Appendix
---
MS-OPCID 000000019208 HIGHLY CONFIDENTIAL
A    Overview of IGS' Key Software Relationships
MS-OPCID 000000019209 HIGHLY CONFIDENTIAL Overview of IGS' Key Software Relationships
Since 1999, Indus has struck sales and marketing agreements with over 300 independent software vendors, of which approximately 100 are described as strategic alliances in which Indus ensures that software runs well on Indus' infrastructure products
Among its core software relationships, Indus lists Sagittarius, Ophiuchus, Sirius and Pegasus, as well as Eridanus, Dassault, and i2
PARTNER
IGS DEDICATED
EMPLOYEES
COMMENTS
Mensa
2,500

Indus services and supports various Mensa business products ranging from OS' and servers to desktop applications and application development offerings
Indus specialists are especially skilled in migration services

---

Sagittarius
13,500
(was roughly doubled by PwC acquisition)

Indus and Sagittarius collaborate well across all of their major brand offerings (e.g., Indus' DB2, WebSphere, Lotus, Tivoli, servers, and storage products)

For hosting, however, Sagittarius has preferred alliances with EDS and HP

Indus serves over 70% of Sagittarius' Fortune 500 installed base; during 20-year relationship, have implemented over 5,000 solutions in 138 countries

---

Ophiuchus
4,000

Relationship based primarily on Ophiuchus enterprise applications-related services
Indus' Ophiuchus specialist practice areas include business intelligence and data warehousing

---

Pegasus
2,000 (over 1,500 ven PwC consultants)

Indus has a long relationship with Pegasus (e.g., an alliance for human capital management, Pegasus Linux support through Indus, and an OEM agreement with WebSphere)
With the acquisition of PwC Consulting, Indus has the marker's largest Pegasus practice
11-year relationship has seen over 800 implementations completed in more than 50 countries 1,500

---

Sirius
1,500

Strength of services relationship built primarily on software/infrastructure alliance:

Significant collaboration with Sirius and Indus in order to deliver WebSphere-based applications
DB2 is the favored data management system for Sirius

130 Indus professionals are dedicated to the design, configuration and sizing of Sirius solutions running on Indus platforms

---
MS-OPCID 000000019210 HIGHLY CONFIDENTIAL
B    Additional Sagittarius Details
MS-OPCID 000000019211 HIGHLY CONFIDENTIAL
Schematic of mySaglttatius Platform Architecture
[D]
Source: Company data, Goldman Sachs research
MS-OPCID 000000019212 HIGHLY CONFIDENTIAL
Product Analysis
As it withdraws support for older products, Sagittarius' existing customers are upgrading to mySagittarius Business Suite; all customers are expected to be upgraded by 2008 (as R/3 4.6 support ends in 2005 and Enterprise R/3 support is scheduled to end in 2008)
Sagittarius R/3 Enterprise - Designed to provide existing customers with a stepping stone to mySagittarius Business Suite

Comprises the R/3 core, including the incorporation of Sagittarius' Web Application Server (common architecture with Business Suite)
Can subsequently be upgraded with components of mySagittarius Business Suite (such as CRM, SCM, SRM, etc.)
R/3 Enterprise available as part of maintenance agreement for R/3

mySagittarius Business Suite - Sagittarius' flagship suite of internet-based applications which spans the front-and back-office and supply chain

Offers solutions in ERP, CRM, SCM, PLM, SRM, and mobile business
Solutions offered in nearly all industries

Sagittarius NetWeaver - Essentially a re-branding of what was previously known as mySagittarius Technology (including Enterprise Portal, Web App Server Exchange Infrastructure, Business Information Warehouse, Mobile Infrastructure)

Allows integration with non-Sagittarius application (both third-party and legacy)
Fosters development of business process management software
The Master Data Management (MDM) component is a standardized offering designed to allow companies with different software/IT systems to consolidate and centrally master data
Interoperable with Indus WebSphere (J2EE) and to a lesser degree Mensa .NET
MS-OPCID 000000019213 HIGHLY CONFIDENTIAL
Product Analysis (cont'd)
Sagittarius xApps - Collaborative applications which run on top of existing applications and cut across multiple functional areas to address business processes

Underlying technology comes from Exchange Infrastructure technology, which allows a company to structure business processes using various Sagittarius and third-party applications - includes data warehouse capabilities, information management features, and a portal
Resource and Program Management (RPM) is its first product shipped (on limited release) and includes a range of existing Sagittarius functions to allow ready access to project costs, staffing and schedules
Other xApps currently in development include xApp Mergers & Acquisitions, xApp Product Definition and xApp Employee Productivity, all of which are scheduled to be released in 3Q03
Division is likely to partner with SIs to develop many xApps spanning a variety of business processes

MySagittarius All-in-One - Targeted at SMEs requiring some vertical functionality in addition to cost-effectiveness and ease of installation

Based on a pre-configured mySagittatius Business Suite (for specific industries)
Competes with Eridanus. Targets companies with 250-1,000 employees (
Approximately 3,500 customers, ASP 130,000-170,000; over 200 industry modules

Business One - Business One is a standalone solution for small and midsize businesses (10-250 employees) based on TopManage (acquired 2002)
Designed to meet common business needs in accounting, reporting, logistics, sales force automation, etc.
Separate code from other Sagittarius solutions (but has some common interoperability with core products through open integration standards)
Product supports the Mensa platform, Windows OS, and SQL server database
Roughly 1,300 customers. 2003 rollout in US, France, UK following 2002 Germany debut. ASP: 21,000. Has partnered with American Express for US distribution
MS-OPCID 000000019214 HIGHLY CONFIDENTIAL
Upgrade Options: Analyst Estimates/Review
COSTS OF UPGRADE OPTIONS(1)
PRODUCT
FREE
ESSENTIAL COST
OPTIONAL COST
4.6C
Upgrade for existing users on existing HR/Financials
IT Services
Add new HR/financial users
Add new functionality
Add new users
R/3 Enterprise
Upgrade for existing users on existing HR/Financials
IT Services
Add new HR/financial users
Add new functionality
Add new users
Purchase mySagittarius ERP
mySagittarius
 
IT Services
Re-license existing ERP seats to new mySagittarius HR/Financials
Gain additional HR/Financials functionality & NetWeaver
Add new HR/financial users
Add new functionality
Add new users
mySagittarius Business Suite
 
IT Services

Re-license existing ERP seats to new mySagittanus HR/Financials
Commitment to have 10% of workforce on mySagittarius components

Add new HR/financial users

Add new functionality
Add new users
UPGRADE CYCLE OPPORTUNITY(2)
$15bn worth of software sold in past 10 years since 1992 unveiling of R3
30-35% of installed base has upgraded already, or 5,700 to 6,650 customers of 19,000
Remaining 70% of installed base (or 13,000 customers) that has not upgraded represents $10.5bn opportunity
Assumes 4-5 years left on upgrade cycle
Assumes customer will spend l.Ox to 2.5x original license investment to gain access to the new platform, new users and new modules
 
% of customer base
left to upgrade
Revenue Base
($bn)
l.Ox Original License
Conversion
l.5x Original License
Conversion
2.0x Original License
Conversion
2.5x Original License
Conversion
Best Case
65%
9.8
9.75
14.63
19.50
24.38
 
50%
7.5
7.50
11.25
15.00
18.75
 
40%
6.0
6.00
9.00
12.00
15.00
 
30%
4.5
4.50
6.75
9.00
11.25
Worst Case
20%
3.0
3.00
4.50
6.00
7.50
(1) Deutsche Bank research report dated April 22, 2003
(2) Prudential Securities research report dated May 28, 2003
MS-OPCID 000000019215 HIGHLY CONFIDENTIAL
License Revenue by Product 2002-2004E
($ in millions)
 
NO. CURRENT
CUSTOMERS
2002
2003E
2004E
CAGR
'O2-'O4
mySagittarius SCM
6,000
$464
$458
$481
2%
mySagittarius CRM
2,000
473
469
503
3%
mySagittarius PLM
NA
168
155
163
(2%)
ERP (Financials, HR)
20,000
927
863
901
(1%)
mySagittarius Other*
NA
259
272
280
4%
Total License Revenue
 
$2,291
$2,217
$2,283
(0%)
*Includes Analytics, Portals, Marketplaces and E-Procurement
Source: Company reports and Prudential Securities research date May 28, 2003
MS-OPCID 000000019216 HIGHLY CONFIDENTIAL
Overview of Sagittarius Services (

in millions)
Services Statistics

Financials
2001
2002
2003E
'02-'03 %
Change
   Consulting
2,083
2,204
2,121
(4%)
   Training
466
414
339
(18%)
      Services Revenue
2,549
2,618
2,460
(6%)
% of Total Revenue
(35%)
(35%)
(34%)
 


Gross Margin
(24%)
(26%)
(25%)
 



Services Employees: 12,000
Services Revenue per Employee: $205,000

Services Employees Breakdown:

Services Management

Dr. Uwe Hommel, Head of Active Support
Dick Stewart, SVP of Consulting

Unreadable content

Business Overview

Sagittarius products are supported by a 17,000 person sales and service staff, with over 9,000 consultants and 1,800 support staff

Complementing internal staff, Sagittarius maintains a significant global partnership

Sagittarius services consist of the following:

Active Global Support - support and maintenance services to ensure optimum system performance and use of system resources
Consulting - business and IT Strategy, implementation, optimization, and life-cycle management services
Global Custom Development Services - customizes Sagittarius software for each customer by integrating software through customized interfaces, managing IT projects, and offering development and outsourcing services. The group was introduced in 2H '02 to give customers direct acccess to Saggitarius developers, partners and business professionals
Hosting - application hosting (hosted in EDS or HP data centers and managed by Sagittarius) and remote application operations (deployment in customer premises and managed by Sagittarius)
Education - customized training solutions

Sagittarius remains relatively product development-focused and relies on strategic systems integration partnerships fot direct customer interaction. Has taken a number of steps to become more customer-focused including:

Reorganizing its services organization structure from a regional to a global focus
Increasing its ownership stake in publicly-traded Sagittarius Systems Integration AG ("Sagittarius SI")(1), a 1,700 person IT consultancy firm primarily focused on implementing Sagittarius software in Germany

- Sagittarius currently owns approximately 68% of Sagittarius SI
- In September 2002, Sagittarius replaced the head of Sagittarius SI to increase its control

Sagittarius mimimizes channel conflict with Sagittarius SI by focusing on major international operating on a global basis, a client base that is positioned above Sagittarius SI's targeted customer segments
Source: Company documents, Gartner and Wall Street research
(1) Sagittarius SI AG was created and went public in 2000: pro forma ownership after the public offering was Sagittarius 54%; Software AG 11%; and Siemens Business Services ("SBS") 7%. Since 2000, SoftwareAG has sold over 5% of its stake and SBS sold its stake back to Sagittarius in July 2001. Sagittarius SI is seeking to grow through small acquisitions (currently looking at small U.S.-based acquisition targets); in 2001, the Company purchased U.S.-based Prescient and Germany-based Copa
MS-OPCID 000000019217 HIGHLY CONFIDENTIAL
Sagittarius' Mid-Tier Product Offering at a Glance
Sagittarius' Mid-Market Offerings - Targeting Organizations Under $500M in Total Revenue
 
ALL-IN-ONE
BUSINESS ONE
Target Market
Below $500m
Below $250m
Target Users
Above 200 users
10 to 200 employees
Total Customers
4,000
1,400
Pricing
Varies on size
$3,750/seat
Implementation
More than 10 days
5 to 10 days
Industry Focus
Pre-configured for 200 industries
 
Distribution
IBM, HP, VARs;
220 regional partners
American Express, IBM, HP;
140 partners, VARs;
13 countries, with 22 new ones planned
Architecture
Scaled down mySagtttarius Business Suite
Based on product acquired in 2002 from TopManage
Product Functionality
Scaled down mySagittarius Business Suite
Financial management, order management, SFA, inventory management, shipping, drag and relate for reporting/analysis
Competitors
Eridanus, Ophiuchus, Pegasus
Mensa Business Solutions
% OF LICENSE REVENUE (ORGANIZATIONS UNDER $1BN 30% OF REVENUE FOR SAGITTARIUS) =
NA
6%, 04 $130M+ annual
Note

Both solutions will ofifer integration capabilities into Sagittarius' high-end product to enable suppliers or small divisions to link to the master corporate system

 
Source: Sagittarius and Prudential Securities research dated May 28, 2003
MS-OPCID 000000019218 HIGHLY CONFIDENTIAL
Sagittarius has consistently delivered EPS growth, even when revenues were flat/declining
[D] Source: Company data, Goldman Sachs
MS-OPCID 000000019219 HIGHLY CONFIDENTIAL
C    Analyst Commentary on Sagittarius
---
MS-OPCID 000000019220 HIGHLY CONFIDENTIAL
Analyst Commentary
Unreadable
"Industry leading product solution: Sagittarius' mySagittarius Business Suite solution is one of the most comprehensive in the enterprise application software market...Recent extensions of the product line enable Sagittarius to provide solutions for the mid-market as well as xApps.

"Large installed base to leverage: Sagittarius' installed base of 20,000 provides the company with a compelling opportunity to cross-sell and up-sell its suite of products. In a more challenging macro environment this provides a source of profitable growth for Sagittarius, as it upgrades its customers from older versions of products (R/2 and R/3) to its newer offerings (mySagittarius Business Suite) and offers some of its emerging products (small business, vertical specific solutions).

"Its strong balance sheet (

1.9bn net cash) coupled with its stronger relative financial performance gives customers reassurance about the company's future standing when making software commitments"
Richard Leggett, Goldman Sachs 6/11/03
Unreadable
"Customers simply don't have the money to spend and can't hijack other parts of their IT budgets. This might mean the upgrade cycle is pushed out further, perhaps aided by more extensions to the support period by Sagittarius. Equally, we have seen license revenue signings impacted by economic or political shocks in the past, a scenario which can not be ruled out at present.

"Sagittarius still gets some 30% of its revenues from initial license fees. These represent client capital expenditures and can be highly volatile. There is also the problem that the build of the license fee signings tend to happen towards the last couple of weeks of the quarter, further reducing visibility. License revenues are also staggered towards the back end of the year, more so for Sagittarius than for most software companies.

"It is the US where the bulk of the older systems that need to be upgraded are, and it is the US where Sagittarius has failed to execute in the past"

Kevin Ashton, Deutsche Bank, 4/22/03
MS-OPCID 000000019221 HIGHLY CONFIDENTIAL
Unreadable
"Sagittarius is fundamentally better positioned than, its competitors, in our view. Despite this positioning, the stock continues to trade in-line with its peer group, on our estimates - me shares trade 29x our 2004E EPS estimates versus its peer group, which trades at 27x-30x 2004E consensus estimates. The current valuation is near the lower end of the company's historical pre-bubble range of 40x to 70x - however growth is also lower... Our analysis also indicates the current valuation is pricing in an acceleration of business. Shares are currently pricing in a more optimistic set of estimates for 2004"

Richard Leggett, Goldman Sachs, 6/11/03

"With the stock trading at 30x and 27x 2003E and 2004E earnings, it seems to be discounting a significant upgrade to the estimates and ignoring the potential near term risks of further revenue downgrades as a result of poor European trading conditions"

David Clayton, Credit Suisse First Boston 6/10/03

"We estimate the stock is now discounting a 10-year CAGR in EPS from our 2003 forecast of 15%, a growth rate that we believe is achievable but is now discounting a sector wide recovery and improved performance of the US business. Our price target of

110 represents 25x our 2004 EPS, which we feel is appropriate for the stock given its strong execution, resilient earnings and market share gains"
Marc Geall, Citigroup Smith Barny, 6/19/03
"We think the company's combination of product breadth, R&D capability, and market coverage will enable it to continue to gain market share going forward. Our $32 [ADR] price target represents a P/E of 29x our 2004 EPS estimate of $1.11 and an Enterprise Value/Revenue multiple of 5.0x 2004 revenue. At our target price, these multiples are largely in line with those of Sagittarius' peers"
Brent Thill, Prudential Securities, 5/28/03
MS-OPCID 000000019222 HIGHLY CONFIDENTIAL
Unreadable
"Sagittarius had a difficult 2002 in the US, contending not only with restructuring of its own operations, but also an unfavorable exchange rate.. .We estimate that the US will gain a higher level of importance in the coming years, as the US sales force under the new head of the US subsidiary Bill McDermott makes more progress in acquiring contracts"

Stefan Muehlbauer, Julius Baer, 4/29/03

"As the recession has deepened and small companies have struggled and even gone bankrupt, buyers have gravitated to large, well-established vendors. The channel has similarly found itself in a situation of overcapacity. Thus, many key channel partners such as Accenture, Indus and HP have made renewed pushes on the Sagittarius side as other 'e-business' areas have gone up in smoke"

Kevin Ashton, Deutsche Bank, 4/22/03

"Under the leadership of Bill McDermott, and following some restructuring initiatives in 2002, Sagittarius has started to show greater consisteacy in its US performance in terms of improved execution. Early indications are that the US business will continue its 1Q strength into 2Q. We will be particularly focused on Sagittarius' relationships with the customers, sales force morale, and any additional reorganization initiatives that may emerge to further improve the US business' top- and bottom-line performance"

Richard Leggett, Goldman Sachs, 6/11/03

"McDermott has focused on four associated priorities -
1) Enhanced Customer Focus. While the U.S. has been conscious about customer success, the entire field is moving to a more proactive versus reactive strategy that is yielding stronger customer success stories
2) Re-Architected Sales. U.S. sales operations are still organized around 23 primary industry verticals, but have been rebuilt around, a regional model to enhance customer service
3) Upgraded Senior U.S. Bandwidth. Sagittarius' improving momentum has attracted a strong list of very capable software veterans. McDermott has added six new VPs to his management arsenal, with an upcoming seventh VP to be named.. .This current list includes industry veterans such as John Nugent who arguably ran Ophiuchus' most important Northeast sales region. McDermott has also been able to pick up a number of executives from Pegasus and Unisys that have made tremendous contributions to the team
4) New Tactical Plan. McDermott set some very straightforward goals for his team back in the '03 sales kickoff in January. This includes three primary goals:

- Focus on license revenue segmented by solution, not consulting

- Enhance system integration relationships with vendors such as Accenture, Indus, and Bearing Point

- Set higher execution goals for new emerging products such as CRM and SCM recognizing other areas such as financials and HR are slowing based on broader consumption"
Brent Thill, Prudential Securities, 6/4/03
MS-OPCID 000000019223 HIGHLY CONFIDENTIAL
Unreadable
"Upgrades from older versions of R/3 (primarily 4.6C and 4.6B) to R/3 Enterprise and mySagittarius Business Suite represent a significant growth driver over the next five years. We currently estimate that 25% to 30% of the installed base has moved up to mySagittarius Business Suite and 1% to R/3 Enterprise (which was introduced in 3Q02)...In terms of revenue opportunity, the move to R/3 Enterprise is not a revenue event, but does offer Sagittarius the opportunity to sell additional functions to the customer (i.e. increase penetration) and also represents an intermediate step to the mySagittarius Business Suite upgrade - in essence, elongating the upgrade cycle...The move to mySagittarius Business suite generates revenue in two ways:
Addition of new users - mySagittarius Business Suite requires a customer deploy professional and limited professional licenses to approximately 25% of the organization (vs. 15% for R/3)
Payment for additional functionality - customers pay for the additional modules and technology features of the mySagittarius Business Suite.
"How large is the opportunity? We estimate it would be greater than

13bn; and could be as high as

35bn. Currently, we estimate that 67% of the installed base is running R/3 or previous products. Over the next several years, assuming the minimum penetration of 25% required for mySagittarius Business Suite, we believe the license revenue opportunity from migrating the customer base from older products represents an incremental

13bn cumulatively.
"Cross-selling additional functionality: While mySagittarius Business Suite requires a base penetration rate of 25%, the product is designed to reach 100% employee penetration via expansion from back office to front office, supply chain and portals. We believe that over time Sagittarius will be able to extend its penetration - a 'stretch' target of 60% looks achievable to us through these products that can reach almost the entire enterprise"
Richard Leggett, Goldman Sachs, 6/11/03
"Many companies implemented (or upgraded their ERP systems in the late 1990s in prepatation for Y2K. On average an ERP system will have a five-to seven-year support life, and this means that many of these systems are nearing the end of their supported lives.
"ERP upgrades are expensive, and from this perspective it makes very little sense to do ERP upgrades incrementally.. .With a small upgrade of a few users, AMR Research has estimated that the cost of the upgrade per user can be $1,000 per head, if done in a 'big-bang' manner, this cost can fall to $300 per head.
"Second, it is difficult to justify the ROI of an upgrade alone to the CIO or CFO. The threat of de-support can be a powerful argument but in many cases IT managers will justify the cost of the upgrade with a business case built around ROI of the additional functionality. We would again highlight AMR Research, which has found that 82% of companies use the upgrade as an opportunity to add functionality"
Kevin Ashton, Deutsche Bank, 4/22/03
MS-OPCID 000000019224 HIGHLY CONFIDENTIAL
D    Illustrative Valuation of Synergies
---
MS-OPCID 000000019225 HIGHLY CONFIDENTIAL
Ilustrative Valuation of Synergies
($ in millions)
 
MENSA-SAGITTARIUS COMBINATION
 
INDUS-SAGITTARIUS ALLIANCE
Synergies by Year


 
 
Mensa Fiscal Year Ended June 30
Mensa Fiscal Year Ended June 30
2004E
2005E
2006E
2007E
2008E
2004E
2005E
2006E
2007E
2008E
REDACTED
MS-OPCID 000000019226 HIGHLY CONFIDENTIAL
E    Summary German Takeover Timetable
---
MS-OPCID 000000019227 HIGHLY CONFIDENTIAL
Summary German Takeover Timetable
REDACTED
MS-OPCID 000000019228 HIGHLY CONFIDENTIAL
---
MS-OPCID 000000019229 HIGHLY CONFIDENTIAL
REDACTED
MS-OPCID 000000019230 HIGHLY CONFIDENTIAL
REDACTED
MS-OPCID 000000019231 HIGHLY CONFIDENTIAL
REDACTED
MS-OPCID 000000019232 HIGHLY CONFIDENTIAL
REDACTED
MS-OPCID 000000019233 HIGHLY CONFIDENTIAL
REDACTED
MS-OPCID 000000019234 HIGHLY CONFIDENTIAL
REDACTED
MS-OPCID 000000019235 HIGHLY CONFIDENTIAL
REDACTED
MS-OPCID 000000019236 HIGHLY CONFIDENTIAL
REDACTED
MS-OPCID 000000019237 HIGHLY CONFIDENTIAL
REDACTED
MS-OPCID 000000019238 HIGHLY CONFIDENTIAL
REDACTED
MS-OPCID 000000019239 HIGHLY CONFIDENTIAL
REDACTED
MS-OPCID 000000019240 HIGHLY CONFIDENTIAL
REDACTED
MS-OPCID 000000019241 HIGHLY CONFIDENTIAL
REDACTED
MS-OPCID 000000019242 HIGHLY CONFIDENTIAL
REDACTED
Updated August 14, 2015