Civil and Criminal Trial Successes
Civil and Criminal Trial Successes

This past year, the Division had important trial wins in civil nonmerger, merger, and criminal cases. The Division prioritizes trial readiness, and the e-books, Bazaarvoice, and McDonald trial teams demonstrated how that readiness pays off in victories for American consumers.
E-Books Trial
On July 10, 2013, the U.S. District Court for the Southern District of New York found that Apple conspired with five defendant publishers—Hachette Book Group (USA), HarperCollins Publishers L.L.C., Holtzbrinck Publishers, LLC, which does business as Macmillan, Penguin Group (USA) Inc., and Simon & Schuster, Inc.—to raise the retail price of e-books, violating Section 1 of the Sherman Act. Because of the defendants' illegal agreement, the prevailing price consumers paid for defendant publishers' bestselling and newly released e-books rose overnight from $9.99 to either $12.99 or $14.99.
The trial victory against Apple and the consent decrees secured from the defendant publishers resulted from months of hard work by the Division's e-books team. The investigative and trial team included attorneys from across the Division's sections and two of its offices: Lawrence Buterman, Laura Collins, Stephen Fairchild, Stephanie Fleming, David Gringer, Nina Hale, Daniel Haar, William Jones, Owen Kendler, David Kully, Daniel McCuaig, Mary Beth McGee, Kate Mitchell-Tombras, John Read, Mark Ryan, Anupama Sawkar, Adam Speegle, and Nathan Sutton in Washington, D.C. and Benjamin Sirota and Carrie Syme from the New York Office. The trial team also included economists Michael Sandfort, Alexander Raskovich, William Whalen, Jeffery Wilder, Dean Williamson, and Tor Winston, paralegals Nate Foley, Hanna Guida, Sarah Hamza, Sarah Kushner, Andrea Mousouris, Jillian Nemec, Sandra Park, Chelsea Rinning, Rebecca Salley, and Ethan Stevenson, and was supported by Olga DeWindt, Adam High, and Scott Minning from the Division's Information Systems Support Group (ISSG).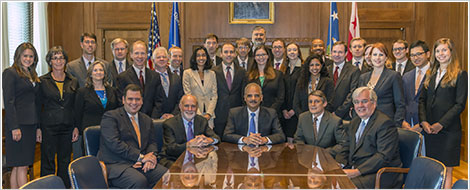 The e-books team: Seated L-R Lawrence Buterman, Assistant Attorney General Bill Baer, Attorney General Eric Holder, Litigation III Section Chief John Read, and Director of Litigation Mark Ryan. Standing L-R Hannah Guida, Nina Hale, Daniel McCuaig, Mary Beth McGee, Counsel to the Assistant Attorney General Owen Kendler, Litigation III Section Assistant Chief David Kully, Special Counsel for State Relations and Agriculture Mark Tobey, David Gringer, Anupama Sawkar, Tor Winston, Economic Regulatory Section Assistant Chief Jeffrey Wilder, Tom Whelan, Alexander Raskovich, Laura Collins, Steve Fairchild, Jillian Nemec, William Jones, Sarah Hamza, Nathan Sutton, Adam Speegle, Stephanie Fleming, Carrie Syme, Ethan Stevenson, Nathan Foley, and Chelsea Rinning. Download original
Buterman and Ryan led the team and headed its courtroom efforts with Jones, McCuaig, Sutton, and Syme also examining witnesses during the three-week trial. In his opening statement, Buterman previewed the e-mails, phone logs, and economic testimony evidencing the conspiracy and its consumer effects that the team would present during the bench trial. Buterman set the tone for the proceedings by highlighting the strength of the government's case. In addition to witnesses from Amazon and Google, the team called executives from the defendant publishers and Apple. The team used adverse witnesses to prove the defendants agreed to raise prices and change the way the industry distributed e-books. It also presented video footage of Steve Jobs and excerpts from his biography by Walter Isaacson where Mr. Jobs acknowledged that the new agency model for e-books would cause higher consumer prices. In the government's closing, Ryan explained how the evidence both proved the conspiracy and undermined the credibility of key defense witnesses. He also focused on the harm consumers suffered as a result of the conspiracy.
The court issued a 160-page opinion agreeing that Apple had played a central role in facilitating and executing a conspiracy to raise e-books prices and concluding that Apple had violated Section 1 of the Sherman Act. The court rejected Apple's arguments, including its assertion that its entry into the e-books market justified its demand that it not have to compete on price.
After hearing arguments on relief, the court issued a final judgment that ended Apple's anticompetitive conduct and established an external monitor to evaluate Apple's antitrust compliance policies and procedures and the antitrust training the final judgment requires. Since the court entered the final judgment and the settlements with the defendants have taken effect, the prices of bestselling and newly released e-books have fallen significantly—consumers once again are able to purchase e-books at competitive prices. Further, the team's efforts helped our state attorneys general partners secure settlements with the publishers that will return more than $160 million to e-books consumers through seamless credits to their accounts.
Press Releases
August 2, 2013
Department of Justice Proposes Remedy to Address Apple's Price Fixing
July 10, 2013
Justice Department Issues Statement on U.S. District Court Ruling That Apple Violated Antitrust Laws
Bazaarvoice Consummated Merger Challenge
On January 10, 2013, the Division filed a lawsuit against Bazaarvoice, Inc., challenging the company's June 2012 acquisition of PowerReviews, which the Division alleged substantially lessens competition in the market for Internet product ratings and reviews platforms in the United States, resulting in higher prices and diminished innovation. Bazaarvoice is the dominant commercial supplier of ratings and reviews platforms in the United States, and, prior to the acquisition, PowerReviews was its most significant rival. Retailers and manufacturers use product ratings and reviews platforms to collect, organize, and display consumer-generated feedback online.
The Bazaarvoice/PowerReviews transaction was not reportable under the Hart-Scott-Rodino Act and the parties completed the transaction without review by the antitrust agencies. This matter was investigated due to the alertness of staff, which discovered the problematic acquisition when reviewing the trade press.
The investigation and trial team included attorneys from the Networks and Technology Section in Washington, D.C., and the Division's San Francisco Office: Michael Bonanno, Janet Brody, Jessica Butler-Arkow, Travis Chapman, Soyoung (Jenny) Choe, Aaron Comenetz, Danielle Hauck, Aaron Hoag, Ihan Kim, Robert Lepore, Scott Sacks, Lisa Scanlon, Claude Scott, Adam Severt, James Tierney, and Shane Wagman from Networks and Technology and Pam Cole, Peter Huston, and Kelsey Linnett from San Francisco. Seth Bender was the team's lead paralegal and he was joined by paralegals Joe Coniglio, Tom DeMatteo, Steve Duplicki, Nathan Foley, Shannon Goodwin, Jessica Igoe, Christopher King, Savannah Lake, Jillian Nemec, Laura Ross, Carmi Schickler, Rachel Trageser, and Blake Tyler.
Robin Allen, Wayne Dunham, Aditi Mehta, Marc Remer, and Jennifer Shanefelter provided economic analysis and assistance. The trial team received technical support from Naphasorn Allen, Thomas (Randy) Bender, Renee Brown, Paul Dougherty, Rikki Grooms, Marcus Henderson, Thomas Chongsun Kim, Ralph Lennon, Hicham Massat, Alexander Nguyen, Tsang Pun, Linda Riley, Brenda Slater, Melody Smith, and Brandon Tolson of the Division's ISSG.
The Bazaarvoice team: L-R Savannah Lake, Blakely Tyler, Carmiel Schickler, Christopher King, Jennifer Shanefelter, Travis Chapman, Scott Sacks, Jenny (Soyoung) Choe, Lisa Scanlon, Networks and Technology Enforcement Section Chief James Tierney, Steven Duplicki, Rachel Trageser, Michael Bonanno, Assistant Attorney General Bill Baer, Shannon Goodwin, Ihan Kim , Aaron Comenetz, Jessica Butler-Arkow, Adam Severt, Wayne Dunham, Networks and Technology Enforcement Section Assistant Chief Aaron Hoag, Robert Lepore, Marc Remer, Shane Wagman, Robin Allen, Danielle Hauck, Joseph Coniglio, and Economic Litigation Section Assistant Chief Aditi Mehta. Download original
The three-week trial began on September 10, 2013. Huston gave the government's opening statement, which described the evidence the team would produce at trial showing that the acquisition was anticompetitive, including e-mails and other documents from the defendants demonstrating that Bazaarvoice recognized that PowerReviews was its only real competitor and that the transaction was designed to end the rivalry and insulate Bazaarvoice from future competition. Witnesses were examined by Huston, Bonanno, Comenetz, Hoag, LePore, Scanlon, and Severt. Huston gave the government's closing arguments and Bonanno gave its rebuttal argument.
On January 8, 2014, the court ruled that Bazaarvoice had violated Section 7 of the Clayton Act by purchasing its closest and only serious competitor. Remedies determination is ongoing. The Antitrust Division's proposed remedy would require Bazaarvoice to sell all of PowerReviews' assets; provide syndication services to the divestiture buyer; and remove trade secret restrictions for employees hired by the divestiture buyer. The proposed remedy is designed to restore the competitive landscape by enabling another company to replicate the critical competitive role that PowerReviews would be playing if Bazaarvoice had not illegally acquired it. Bazaarvoice filed its opposition to the remedy on March 4, 2014. If the Court determines that a hearing is necessary, it will be held on April 2, 2014.
Press Releases
February 12, 2014
Department of Justice Proposes Remedy to Address Bazaarvoice's Unlawful Acquisition of PowerReviews
January 9, 2014
Justice Department Issues Statement on U.S. District Court Ruling That Bazaarvoice's Acquisition of PowerReviews Violated Antitrust Laws
January 10, 2013
Justice Department Files Antitrust Lawsuit Against Bazaarvoice Inc. Regarding the Company's Acquisition of PowerReviews Inc.
McDonald Superfund Kickbacks Trial
On September 30, 2013, a jury sitting in federal district court in Newark, N.J., convicted Gordon McDonald, a former project manager of two United States Environmental Protection Agency-designated toxic waste sites, on 10 counts relating to three kickback and fraud conspiracies at those sites. The jury found McDonald guilty of bid rigging, major fraud against the United States, international money laundering, tax frauds, and obstruction.
The conviction was the culmination of a four-year effort to bring McDonald to justice after he was indicted in August 2009. McDonald missed numerous court appearances and was found to have engaged in a pattern of malingering.
The trial began in early September 2013. The government's prosecution team consisted of attorneys Helen Christodoulou, Ludovic Ghesquiere, and Elizabeth Prewitt, along with paralegals Lasasha Adams and Caitlin Morrison. "Backroom" team members—attorneys Daniel Tracer and Mikhail Vanyo—as well as ISSG and Litigation Support—Scott Minning, Byron Moore, and Toni Triplett—were key to the team's efforts.
The McDonald team: L-R Daniel Tracer, Helen Christodoulou, New York Office Assistant Chief Elizabeth Prewitt, Caitlin Morrison, Ludovic Ghesquiere, Lasasha Adams, and Mikhail Vanyo.
Helen Christodoulou gave the government's opening statement to the jury, emphasizing McDonald's central role in each conspiracy and highlighting the extent of his corruption. The team called three co-conspirator witnesses—all of whom described their participation in the kickbacks-for-contracts scheme at the two toxic wastes sites, and pointed out McDonald as the chief architect of the conspiracies. After seven days of evidence, the government rested. The defendant called one witness. Elizabeth Prewitt gave the government's closing and rebuttal arguments, laying out the case for the jury to find the defendant guilty as charged.
The jurors deliberated for one day, rendering their guilty verdict the day before the government shutdown. On March 3, 2014, McDonald was sentenced to serve 14 years in prison. This sentence, which incorporates the multiple crimes for which McDonald was convicted, is the longest ever imposed in a matter involving an antitrust crime. McDonald also was sentenced to pay a $50,000 fine. The court will order restitution at a later date.
Press Releases
March 3, 2014
Former Project Manager Sentenced to Serve Time in Prison for Role in Bid Rigging and Other Fraudulent Schemes Involving Two EPA Superfund Sites in New Jersey
September 30, 2013
Former Project Manager Convicted for Role in Conspiracy Schemes Involving Two EPA Superfund Sites in New Jersey