This document is available in two formats: this web page (for browsing content) and PDF (comparable to original document formatting). To view the PDF you will need Acrobat Reader, which may be downloaded from the Adobe site. For an official signed copy, please contact the Antitrust Documents Group.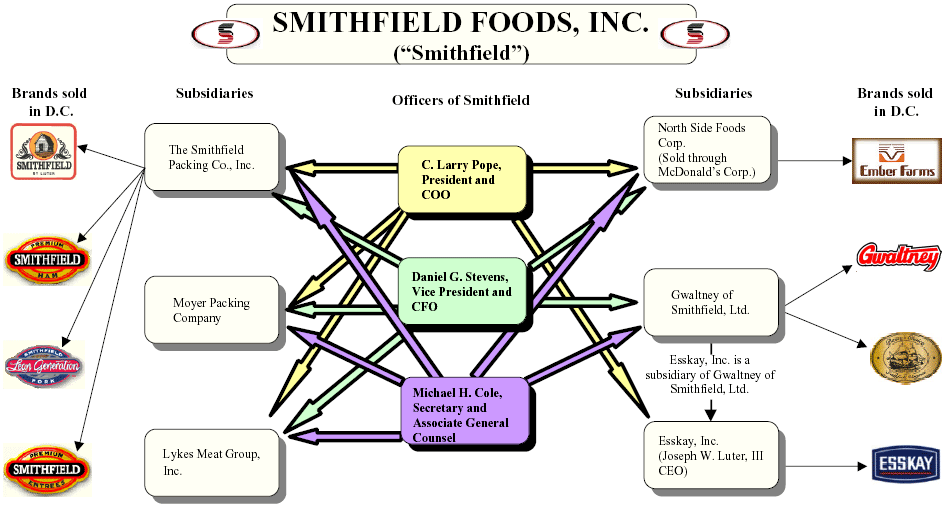 [D]
---
[D]
---
[D]
---
[D]
---
1) This exhibit is for demostrative purposes only;mit is not intended to be an exhaustive list of Smithfiled officers, Smithfield subsidiaries, affiliations between Smithfield officers and Smithfield subsidiaries, or brands sold in the District of Columbia by subsidiaries of Smithfield.
2) Officer titles at Smithfield appear as they do in "Smithfield Foods, Inc. Annual Report 2002," page 67.
3) Daniel G. Steven's position as Vice President of Gwaltney of Smithfield, Ltd. appears on Exhibit 4.7b to Smithfield 2002 10-K filing. All other positions with Smithfield subsidiaries appear in the Westlaw Executive Affiliations database.
4) This exhibit is not intended to convey that McDonald's Corp. is a subsidiary of either Smithfield or a subsidiary of North Side Foods Corp.
Updated August 14, 2015