Plaintiff Exhibit 0026 : U.S. V. Visa U.S.A Inc., Et Al.
This document is available in two formats: this web page (for browsing content) and PDF (comparable to original document formatting). To view the PDF you will need Acrobat Reader, which may be downloaded from the Adobe site. For an official signed copy, please contact the Antitrust Documents Group.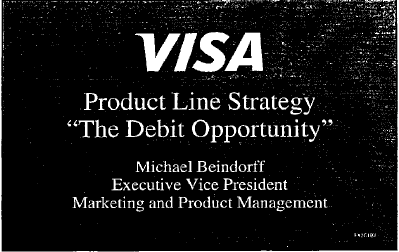 [D]
0688124
Highly Confidential -- Outside Counsel Eyes Only
1976...In some ways it feels like yesterday -- in others, it feels like a long time ago
Jimmy Carter was President of the United States; Watergate and Vietnam were still fresh in our memory; the country was in recession - in the midst of the oil crisis; inflation and interest rates were both in double digits; and, Bank Americard had just become VISA
In 1976 Visa's business consisted of a single product - The Classic Credit Card
Annual sales volume totaled $11 Billion
Competition was clear: primarily proprietary retail cards, American Express & Mastercharge
Although it probably didn't fee! like it at the time, the business was relatively simple
[D]
Fast forward 20 years to the present
Today Visa's product porfolio is not nearly so simple
Where once the Classic Card stood alone, we row offer a VISA Gold Card that will grow nearly 40% this year and account for almost as much volume as Classic
In addition, we've added both on and off-line debit card products -- this year VISA check cards in circulation alone will surpass 38 million and volume will grow in excess of 50%
And we have some exciting plans for Interlink and Plus that 1 will talk more about later
There are now three rapidly growing commercial credit card products under the Visa banner that will grow more than 50% in 1996. Cards in circulation will approach 4 million by year end, up from 2.1 million at the end of 1995
Finally, the porfolio 20 years later includes VISA traveler's checks, TravelMoney, and now, in time for the Olympics -- VISA Cash
0688126
By the end of last year, total Visa volume in the U.S. had grown to a whopping $372 billion in the U.S. alone
By any standard of measurement that is impressive growth and a long way from $11 billion in 1976
And while there are a number of new and emerging products in the portfolio, this hugely successful enterprize has been built largely around two products, VISA Classic & VISA Gold
These two products are still the heart of the business; together they account for almost 90% of volume
0688127
Along the way, you have built a strong competitive position - capturing over 50% of the market
...nearly twice the size of the nearest competitor
...more than three time the size of American Express
...and Visa continues to outgrow all competitors, adding to its lead again in 1996
0688128
As a direct result of your efforts to build your VISA brand over the last twenty years, by the end of 1995 total card based credit transactions reached $740 billion in the U.S.
Nilson estimates there was just under $3.8 trillion in consumer payment transactions in 1995 that could potentially have been card based
This means the credit card based share of the total pie reached 20% for the first time ever!
0688129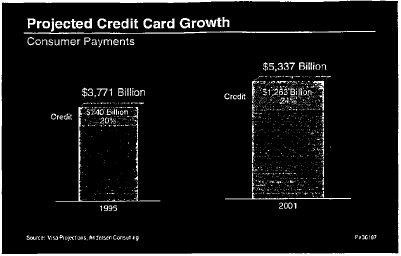 And, as you can see here, as we approach the 21st century, we fuly expect to continue to drive healthy growth in the credit category
By 2001, expect credit card transaction volume to reach 24% of total consumer payments...that's growth of over $500 billion in next six years
We plan to capture well more than half of that growth volume, to continue to grow our share!
By any measure, this is a very impressive story

(Note: Flip back to prior slide)

However, back up for a minute...In contrast to success of the credit business, we have not made nearly the same progress on the debit card side
In fact, year end 1995 POS debit transaction volume accounted for little more than 1% of all consumer payments
Clearly, we haven't focused very effectively or very consistently on building this business. So, it is not surprising to see account profitability issues, lack of critical mass of cards in circulation, no national marketing and advertising program,and product utility issues
We believe it's time to change that and it's Visa's responsibility to lead

(Note: move forward two slides to resume presentation)
[D]
As I said, we expect the credit category to continue to grow ~ and at a healthy rate
However, margins are shrinking; it is increasingly difficult to maintain the same growth in profitability
There is an opportunity to leverage the existing infrastructure and VISA brand to grow business in the underdeveloped category of debit
In the last year, we have reached critical mass in terms of cards - 38.5 million by year-end, in 50 states
No other brand is in a position to take the lead and build the category...and no other brand is better positioned to capture the growth and keep it!

(Pause)

Owning the relationship with the customer is critical to your future and debit is the key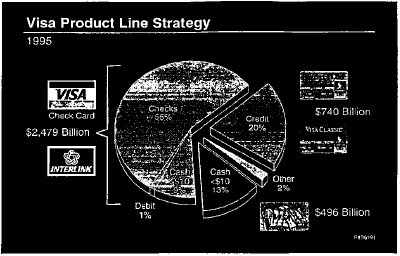 [D]
In the last 20 years, working together with you our member owners, we've built the world's most successful credit card business -- with VISA Classic & VISA Gold
Now, with VISA Cash, we are exploring our potential to profitably transfer the nearly half a trillion dollars of cash payments under $10 to card based transactions
But look at the left side of the pie, there's the "prize" -- the debit category -- with a volume potential of almost $2.5 trillion, more than 3 times the size of the credit category!
And today the entire industry is only capturing $51 billion of that $2.5 trillion!

(PAUSE)

Over 80% of that debit category payment volume is supported by paper checks today...and that you, the banks, are the primary vehicle for those checks....(Next Slide)
[D]
Howevert, the average Demand Deposit Account earns approximately $1/year
So, while debit cards do not earn the average of $58/year that a credit card account does, at between $18 - $24/year they are certainly more profitable for you than paper checks

(Pause)

Your next question is likely to be, "what is the risk to my credit card volume if I begin to aggressively "push" debit cards?" Cannibalization?
Good question -- let's take a look. It just so happens that we have quantifiable research , the 1995 Visa Payment Systems Panel Study, that answers that question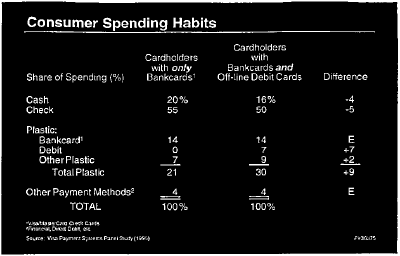 [D]
This is a chart of onsumer spending habits, explaining how people pay for goods and services
To the far left is the listing of payment methods
In the next two columns are:

Cardholders with only Bankcards
Cardholders with both Bankcards and Debit cards

Under each column is the percentage share of spending by payment method
Consumers with only Bankcards put 21% of spending on plastic; those with both Bankcards and debit cards put 30% on plastic
More importantly, all of the additional 9 percentage points in plastic spending was incremental to Bankcard spending
Bankcard spending stayed at 14%, debit went from 0 to 7% and other plastic went from 7 to 9%
Consumers who are issued debit cards tend to use them to replace payments previously made with checks or cash -- not payments previously made with credit cards
0688134
Our goal is to make debit cards a mainstream product in America -- the same way that credit cards are a mainstream product today
We believe the opportunity is right, and the time is now!
To accomplish our goal requires a significant and sustained program on a number of fronts -- starting with the consumer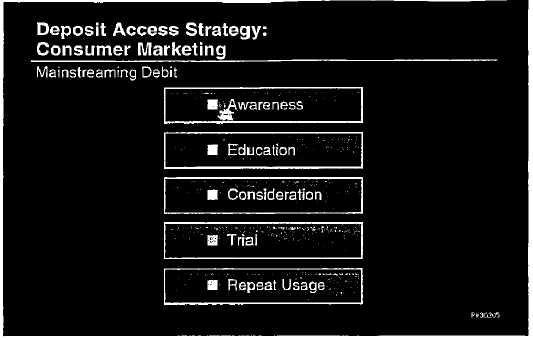 [D]
Ultimately, no matter what we do, until the consumer begins to perceive debit cards as an everyday, mainstream way of life and behave accordingly, we cannot succeed.
That means we have to generate broadscale awareness of the product and educate consumers. How to use it...where to use it...and most importantly, why they should use it
We must cultivate consideration of the product as an alternative to how they pay today and motivate them to try the debit card.
Finally, we have to be sure the product motivates consumers to become repeat and regular users. The product has to work and it has to deliver the convenience and simplicity of use that we promise.

(Pause)

So, how do we define success? How will we know when we have accomplished our goal? While most understand the term "mainstream," it is a little vague. We need specific goals, time frames and a plan
I woulod like to share some of that with you today
[D]
Today debit represents $51 billion in transaction volume, just over 1 % of all consumer payments
By the end of 2001, our intention is to grow that to 10% of all transactions
This means the debit business would grow to a total of $534 billion by the end of 2001. We think you would like 55-60% of that business
At the same time, credit card volume will continue to grow. This means in the next 5 1/2 years, we plan to lead total card based volume from today's 21% of total consumer payments to 34%
An aggressive goal, but achievable. If we are successful, here is our vision of the future...

(Next Slide)
[D]
Debit is a mainstream category in terms of consumer awareness, understanding and behavior
[D]
VISA is the acceptance mark on Member-branded debit cards, enhancing both the real and perceived value of the Member brand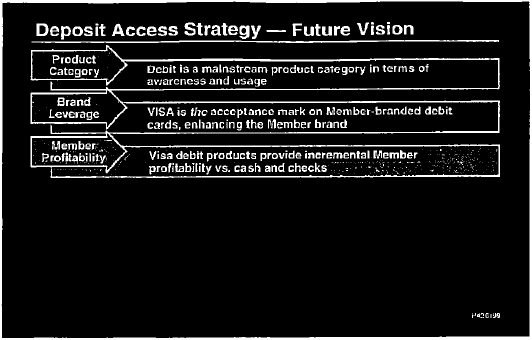 [D]
VISA debit products will provide incremental Member profitability vs. cash and checks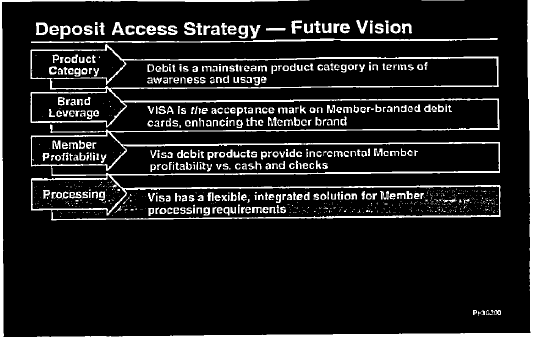 [D]
Visa has a flexible, integrated solution to our Members' processing requirements
[D]
Visa product offerings provide flexibility to meet the unique needs of each market or customer (Relationship Card)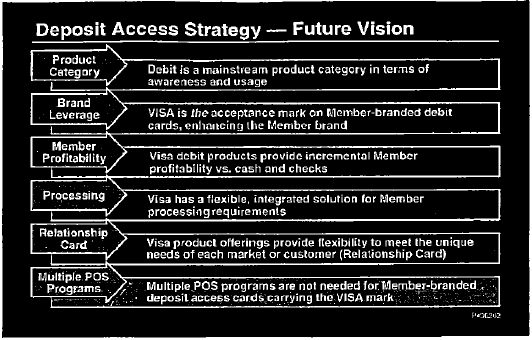 [D]
Multiple POS programs are not needed for Member-branded deposit access cards carrying the VISA acceptance mark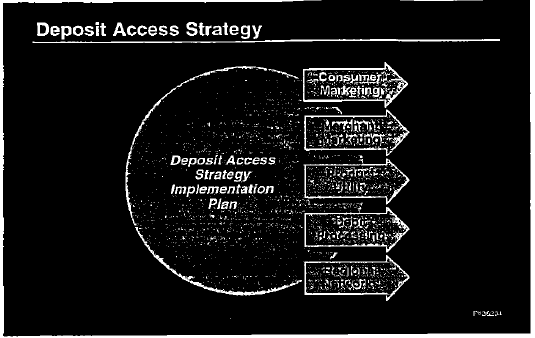 [D]
You may be thinking that this is some pretty bold talk
If you are, let me assure you that (1) you're right...it is...however, (2) a lot of very talented people have spent a lot of time and energy ensuring that these targets are achievable and creating a plan to get us there
Let me give you the highlights. The plan to mainstream debit has five primary elements, starting with consumer marketing
[D]
As I said earlier, if we are going to succeed, we have to create broadscale awareness and acceptance among consumers for debit products
Quantifiably, that means penetrating 50% of the DDA base of all VISA check card issuers
Secondly, we need 70% of those cards to be active
Finally, we must increase usage frequency to 12 times per month
Let me show what that does to transaction volume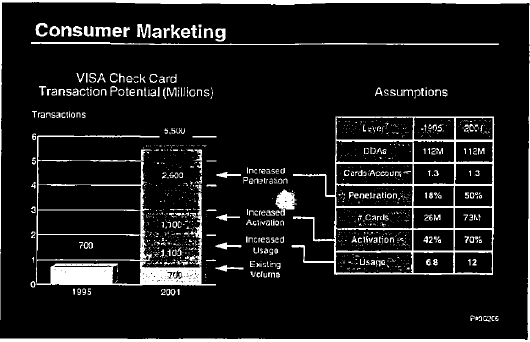 [D]
In 1995, consumers did 700 million transactions using VISA check cards. Based on the average amount per transaction and extrapolating the historical rate of growth, consumers will need to be doing approximatley 5.5 billion transactions with their VISA check cards by the end of 2001
To get there, we need to achieve the penetration, activation and usage frequency numbers I just showed you
Here you can see that today we have only an 18% penetration of DDA accounts within the DDA base of check card issuers. That must grow to 50% Activation rates must grow from 42% to 70%
And, frequency must grow to 12 times per month from just under seven times per month
These targets achievable; already banks in the marketplace are achieving those numbers
[D]
Next we must utilize a range of marketing and advertising programs to create consumer "pull" for debit cards

(Review Above Bullets)
[D]
We also have to create and execute programs to "push" the product into the purses and wallets of more consumers, and educate merchants about the value of the VISA debit products
Throughout all our efforts, we need to remember that the VISA acceptance mark is a leverageable asset being utilized to strengthen the Member's offering to their consumers, thereby enhancing the customer relationship
[D]
Beyond the consumer marketing plan, we have created a plan for marketing our debit products more effectively to the merchant
[D]
(Review Above Bullets)
[D]
Thirdly, we must address some fundamental issues with regards to product utility
If we are to succeed, we must give consumers the functionality they want with greater convenience and simplicity of use to incent them to change their behavior
[D]
(Review Above Bullets)
[D]
Next comes the issue of debit processing
[D]
DPS, our Debit Processing Service, is a significant enough venture that it may be appropriate to schedule a separate discussion on this new initiative
For now, it's enough to say that we will offer you turnkey processing solutions, providing a Visa alternative to EDS and FDR
Secondly, to succeed longer term it is important that we enable a single point of connectivity for banks linked to our debit processing service
[D]
Finally, we plan to work with the various regional networks to ensure that our members have what they need to win longer term in the debit category
[D]
The regional networks represent the point of convergence for debit
And, like Visa, they are also bank owned
We must work together with each regional network based on the unique conditions within each local market environment to ensure that we are maximizing your profitability and positioning you to win in the strategically important debit category over the longer term

(Pause)
0688156
Earlier I talked about utilizing the power of the VISA brand to help us achieve our goal of "mainstreaming" debit
Coming out of our annual worldwide board meeting in Montreal, you probably heard the announcement that we intend to begin the process of converging our on-line marks -- Interlink and Plus -- and bringing them together under the VISA brand umbrella
The objective is simple -- we want to leverage the power of the VISA brand to drive incremental volume and profitability for you within the debit arena
The VISA brand is one of your most powerful assets and it is underleveraged in this category
[D]
The decision to converge was made after much research, careful consideration and discussion with our debit member advisory group and the Board of Directors
This initiative began well over a year ago. Global Branding Research was conducted in 24 countries around the world, with specific emphasis here in the U.S
Objectives: SEE ABOVE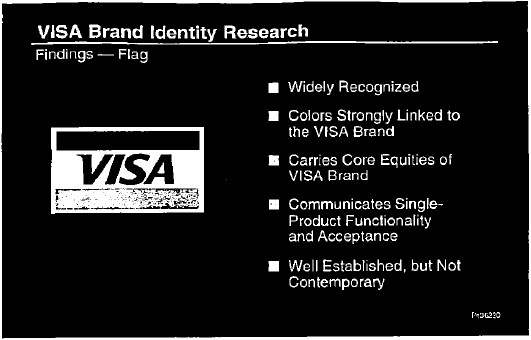 [D]
The research is too extensive to review today everything we learned. However, several key findings are particularly relevant to this discussion

(Read Points Noted Above)
[D]
(Note: Read Points Noted Above)
[D]
See Above - 1st bullet point is very important
With that learning, we decided it was time to converge our electronic POS and ATM marks into a single entity leveraging the VISA brand, and better positioning us for the future
[D]
The result is VISA Interlink, which will be launched on a "roll through" basis around the world starting now
Why not VISA Plus? Could there be consumer contusion?
Let me emphasize, this is a 3-5 year process that will be executed carefully in a manner that will minimize disruption to your business, ensure consumer acceptance and still allow us to accomplish the objectives behind the convergence decision

(Pause)

Why now:

Plus aquisition allows integration
Key element of our debit strategy
Leverages VISA brand and acceptance mark to elevate perceived value of the member brand
Facilitates migration to relationship card
0688162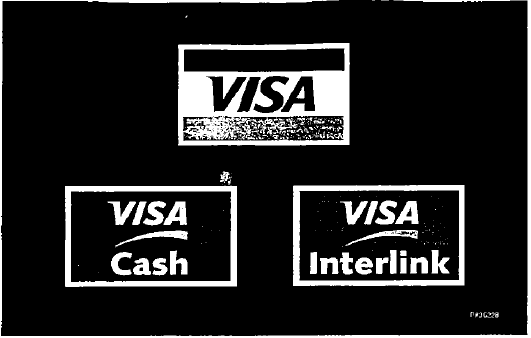 In addition to VISA Interlink, we are also migrating the graphic design elements to VISA Cash.
[D]
Review Plan Bullets Above
0688164
Review Points Noted Above
[D]
Review Points Noted Above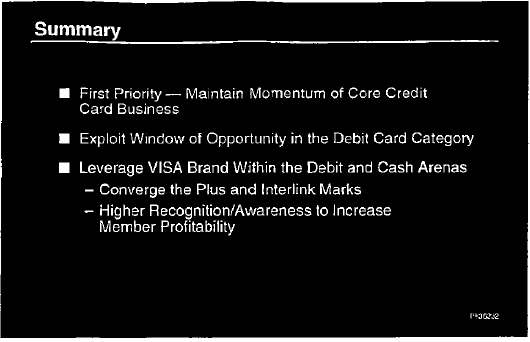 [D]
Review Points Noted Above
[D]
Review Points Noted Above
[D]
Review Points Noted Above
0688169
Updated August 14, 2015