Press Release
Randolph Man Sentenced for Attempting to Defraud Dreamworks by Falsely Claiming He Created Kung Fu Panda
For Immediate Release
U.S. Attorney's Office, District of Massachusetts
BOSTON – A Randolph man was sentenced today in federal court in Boston for wire fraud and perjury in connection with a scheme to defraud DreamWorks Animation SKG Inc. by falsely claiming that the company stole from him the characters and story for its animated movie Kung Fu Panda.
Jayme Gordon, 51, was sentenced by U.S. District Court Chief Judge Patti B. Saris to two years in prison, three years of supervised release and ordered to pay more than $3 million in restitution.  On Nov. 18, 2016, a federal jury found Gordon guilty on four counts of wire fraud and three counts of perjury. 
In early 2008, several months before the movie's June 2008 release, Gordon saw a trailer for Kung Fu Panda.  Gordon had previously created some drawings and a story about Pandas, which he called "Panda Power," that bore little resemblance to the characters in the movie.  But after seeing that trailer, Gordon revised his "Panda Power" drawings and story and renamed it "Kung Fu Panda Power."  He made these revisions as part of his scheme so that his work would appear to be more similar to the DreamWorks pandas he had seen in the movie trailer.  In February 2011, Gordon filed a copyright infringement suit against DreamWorks in U.S. District Court in Massachusetts, and later that year, he proposed that DreamWorks agree to settle the suit by paying him $12 million.  DreamWorks rejected that proposal, and the litigation continued for another two years.
During the course of the civil litigation, Gordon intentionally deleted relevant evidence on his computer that he was required to produce in discovery and lied during his civil deposition.  Furthermore, Gordon fabricated and backdated sketches that served as support for his suit.  The full nature of Gordon's scheme came to light when DreamWorks discovered that Gordon had traced some of his panda drawings from a Disney Lion King coloring book.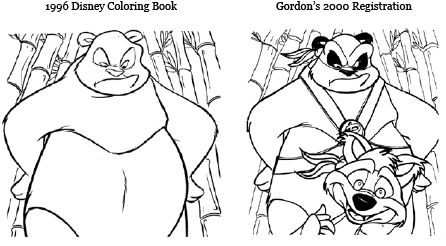 Gordon's sketches, which were dated 1992 or 1993, were copied from this coloring book, which was not published until 1996, therefore demonstrating that Gordon drew these sketches after 1996 and backdated them.  After DreamWorks discovered the tracing from the coloring book, Gordon agreed to dismiss his suit.  By this point, however, DreamWorks had spent more than two years defending the fraudulent suit, at a cost of approximately $3 million.
At trial, Gordon testified that he had not traced his drawings from the coloring book.  Instead, he claimed, Disney, like DreamWorks, had apparently copied his drawings and based characters in the Lion King on his work.  He also claimed that DreamWorks and Disney had copied characters in other movies from his work, including characters in The Incredibles, A Bug's Life, MegaMind and Flushed Away.
Acting United States Attorney William D. Weinreb and Harold H. Shaw, Special Agent in Charge of the Federal Bureau of Investigation, Boston Field Division made the announcement today.  Assistant U.S. Attorneys Adam Bookbinder and Amy Harman Burkart of Weinreb's Cybercrime Unit prosecuted the case. 
Updated May 3, 2017
---