Press Release
United States Returns Manuscript Signed by Conquistador Hernando Cortés in 1527 to Mexico's National Archives
For Immediate Release
U.S. Attorney's Office, District of Massachusetts
U.S. Attorney's Office filed civil forfeiture action in November 2022 to return manuscript
BOSTON – A nearly 500-year-old manuscript signed by Conquistador Hernando Cortés in 1527 has been returned to the Archivo General de la Nación de México – Mexico's national archives located in Mexico City. On July 19, 2023, the United States Attorney's Office for the District of Massachusetts, along with representatives from the Federal Bureau of Investigation, participated in a formal repatriation ceremony at Mexico's national archives, where the manuscript is believed to have been unlawfully removed from sometime before 1993. In November 2022, the U.S. Attorney's Office filed a civil forfeiture action against the manuscript to ensure its lawful return. It is a violation of federal law to transport or receive stolen goods valued at more than $5,000 that have traveled in foreign or interstate commerce.   
"After missing for decades, thanks to incredible international collaboration and persistence the Cortés manuscript is finally where it belongs back in Mexico, where it will remain a treasured part of Mexico's history and heritage," said Acting U.S. Attorney Joshua S. Levy. "I want to commend the asset recovery prosecutors in the U.S. attorney's office whose hard work and dedication led to the return of this priceless and historically important artifact. We were honored to have assisted in this effort."
The manuscript is a payment order signed by Cortés on April 27, 1527 authorizing the purchase of rose sugar for the pharmacy in exchange 12 gold pesos. It is believed to be one of several documents unlawfully removed from a collection of documents concerning a Spanish expedition to Central America in 1527 that is housed in Mexico's national archives. 
According to the civil complaint, in early 2022, an individual consigned the Cortés manuscript for online auction at a Massachusetts auction house. Mexican authorities alerted federal authorities in the United States that the manuscript being auctioned appeared to have been stolen. In turn, the auction house removed the manuscript from the upcoming auction and the manuscript was recovered. 
The United States Attorney's Office obtained a final order of forfeiture on February 27, 2023, and thereafter the Department of Justice authorized the manuscript's return to Mexico.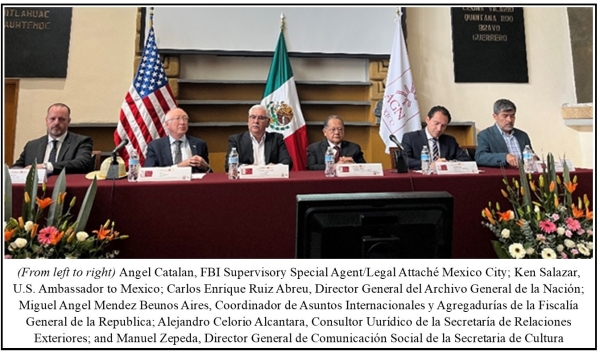 "We are incredibly honored to be able to assist in the return of this national treasure to the people of Mexico. This manuscript, which is nearly five centuries old, preserves an important part of Mexico's history, and reflects the FBI's ongoing commitment to protect cultural heritage, not only in the United States but around the world," said Christopher DiMenna, Acting Special Agent in Charge of the Federal Bureau of Investigation Boston Division. "The recovery of this priceless artifact is a direct result of our close and ongoing collaboration with the government of Mexico, and we are very thankful for their partnership."
Anyone with information on stolen art and cultural property are encouraged to contact the FBI at 1-800-CALL FBI (1-800-225-5324). Tips may also be submitted online at https://tips.fbi.gov/. 
Acting U.S. Attorney Levy and FBI Acting SAC DiMenna made the announcement. The civil forfeiture action was prosecuted by Assistant U.S. Attorney Carol E. Head, Chief of the Asset Recovery Unit. The Justice Department's Office of International Affairs Mutual Legal Assistance Team provided crucial legal assistance to the Government of Mexico.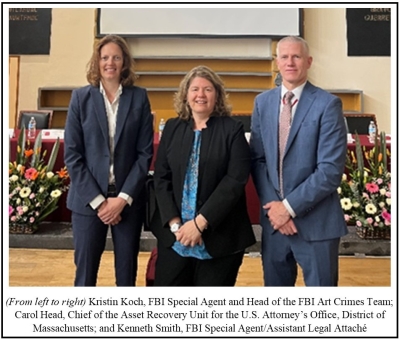 Updated July 25, 2023
---