Department of Justice
U.S. Attorney's Office
Southern District of California
---
North County Property Owner Charged in "Crack-House" Indictment; Feds Seek Forfeiture of Multi-Acre Compound
For Further Information, Contact:
Assistant U.S. Attorneys Kevin Mokhtari (619) 546-8402 and David J. Rawls (619) 546-7966
SAN DIEGO – Federal prosecutors unsealed an indictment in San Diego today charging the owner of a large residential compound in Vista with maintaining a drug-involved premises. The indictment seeks criminal forfeiture of the multi-acre property, which is located at 725 Poinsettia Avenue. 
Early this morning, members of the North County Regional Gang Task Force, the FBI SWAT team and  other law enforcement agencies raided the property and arrested the owner, defendant Sean Terrence Sheeter, who is charged in the indictment. Sheeter was released and ordered to appear in federal court in San Diego on Friday at 2:00 pm before U.S. Magistrate Judge Linda Lopez.
The federal indictment is the result of a multi-year investigation led by the North County Regional Gang Task Force, which is spearheaded by the FBI and the San Diego Sheriff's Department. The investigation involved months of federal wiretaps, multiple undercover drug buys, and surveillance that led investigators to learn about the criminal activity on the property.
This investigation initially focused on North County gang members and associates who were believed to be importing methamphetamine and heroin from Mexico and distributing the drugs in the North County area.  As the investigation continued, authorities learned that many of the targets were living at and operating from the Poinsettia Avenue property. According to a search warrant unsealed today, Sheeter, who also lives at the property, allowed gang members, drug dealers and users to stay at the property. 
According to the search warrant unsealed today, law enforcement activity at the property has been pervasive.  Between January 1, 2017 and February 25, 2020, there have been 53 separate calls for service or other calls to the San Diego Sheriff's Department pertaining to the property.  The calls included reports for stolen vehicles, thefts, disturbance calls, burglary, grand theft, armed suspicious persons, vandalism and a threat with a weapon. During the same time period, there have been approximately 22 arrests and 7 citations issued at the property.  The majority of the arrests relate to possession of controlled substances or stolen vehicles, but include several arrests related to firearms in the possession of felons or other prohibited persons. 
"We allege that this property is a drug-laden haven for violent felons, gang members, drug dealers and drug users," said U.S. Attorney Robert Brewer. "This neighborhood, and the streets of San Diego County, are safer today because of the hard work and dedication of the North County Regional Gang Task Force and prosecutors Kevin Mokhtari and David Rawls, who are responsible for these indictments."
"Today's operation brings the conclusion of a long-term investigation led by our North County Regional Gang Task Force.  This group of dedicated agents and officers work hard making the streets of North County safer for the community to live and work," said FBI Special Agent in Charge Scott Brunner. "The dangerous activity involving heroin, methamphetamine, firearms, and other illegal activity at the so called 'Heroin House' has been shut down."
"It's not unreasonable to expect our neighbors to be law abiding citizens," said Sheriff's Captain Justin White. "Unfortunately, Mr. Sheeter allegedly felt he was above the law with little regard for his neighbors and how illegal activity would affect everyone's quality of life.  The San Diego County Sheriff's Department is grateful for the hard work and cooperation of the North County Regional Gang Task Force and the U.S. Attorney's Office to bring about positive change in this Vista neighborhood."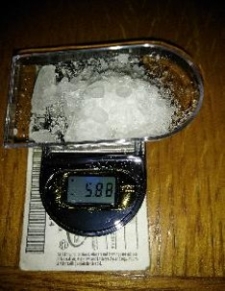 For further information on the original investigation that led to today's action, please see https://www.justice.gov/usao-sdca/pr/thirty-seven-gang-members-charged-crackdown-north-county-heroin-methamphetamine-and.
This case is the result of the ongoing efforts by the Organized Crime Drug Enforcement Task Force (OCDETF), a partnership that brings together the combined expertise and unique abilities of federal, state and local law enforcement agencies. The principal mission of the OCDETF program is to identify, disrupt, dismantle and prosecute high-level members of drug trafficking, weapons trafficking and money laundering organizations and enterprises.
This case was handled by Assistant U.S. Attorneys Kevin Mokhtari and David J. Rawls.

Indictment - Sheeter 

Warrant
DEFENDANT                                   Case Number 20CR0656-JLS    
Sean Terrence Sheeter                               Vista, California.
SUMMARY OF CHARGES
Maintaining a Drug-Involved Premises – Title 21, U.S.C., Section 856(a)(2)
Criminal Forfeiture – Title 21, U.S.C., Section 853
Maximum Penalty: Twenty years in prison and $500,000 fine
AGENCIES
Federal Bureau of Investigation
San Diego Sheriff's Department
United States Marshals Service
Bureau of Alcohol, Tobacco, Firearms and Explosives
Homeland Security Investigations
Drug Enforcement Administration
Carlsbad Police Department
Oceanside Police Department
Escondido Police Department
California Department of Corrections and Rehabilitation
California Highway Patrol
Department of Justice, Organized Crime and Drug Enforcement Task Force (OCDETF)
Department of Justice, Office of Enforcement Operations
Topic(s):
Drug Trafficking
Firearms Offenses
Updated March 3, 2020