Press Release
Suspected Meth Trafficker Arrested with Huge Haul of Drugs in Car
For Immediate Release
U.S. Attorney's Office, Southern District of California
Assistant U. S. Attorney Michael Wheat (619) 546-8437    
SAN DIEGO – Marisol Chavez-Morales was arrested and charged this week with methamphetamine trafficking in connection with the seizure of 156 pounds, one of the largest in recent history in the Southern District of California.
According to a complaint, a confidential source for the Drug Enforcement Administration identified the defendant as a methamphetamine trafficker who had "offered to sell large amounts of methamphetamine and heroin" to the source. At the direction of the agent, the source negotiated with Chavez, who agreed to provide 130 kilograms of meth, 6 kilograms of black tar heroin and 11 kilograms of "China White" heroin for $775,000. They agreed to meet at a San Diego restaurant on September 7, 2018, to exchange the drugs for money.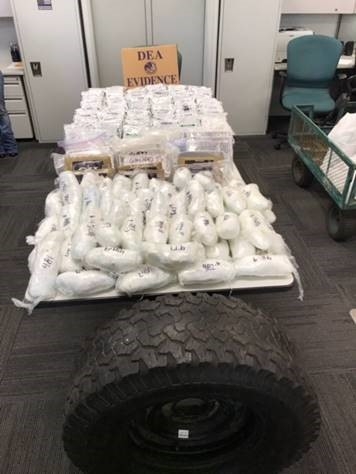 According to the complaint, DEA agents established surveillance at the restaurant and observed a silver Chevrolet Cruze enter in the parking lot and park next to the source's vehicle. The driver of the Chevrolet Cruze was later identified as Chavez. Agents approached the vehicle and Chavez and discovered approximately 71.5 kilograms of methamphetamine in the trunk and the back seat.  The methamphetamine was separated into different packaging and concealed within both a large tire located in the back seat and a large suitcase and small bag located in the trunk.  Additionally, agents found multiple vacuum-sealed brick packages containing suspected heroin contained within several boxes located in the back seat of the Chevrolet Cruze. Chavez was arrested.
During a hearing yesterday, the defendant declined to seek bond. The next court date is scheduled for September 25.
Methamphetamine seized in Chavez's car on Sept. 7.
DEFENDANTS                                            Case Number 18MJ04833                                       
Marisol Chavez-Morales                                 Age: 34                               Highland , CA
SUMMARY OF CHARGES
Possession with Intent to Distribute Methamphetamine – Title 21, U.S.C., Section 841(a)(1)
Maximum penalty: Mandatory minimum 10 years, up to life imprisonment and $10 million fine.
AGENCY
U.S. Drug Enforcement Administration
*The charges and allegations contained in an indictment or complaint are merely accusations, and the defendants are considered innocent unless and until proven guilty.
Updated September 17, 2018
---
Press Release Number:
CAS18-0914-Chavez