Press Release
Twenty-two Indicted in $20 Million Theft Ring at High-End Shopping Malls
For Immediate Release
U.S. Attorney's Office, Southern District of California
Assistant U. S. Attorney Stephen Wong (619) 546-9464
NEWS RELEASE SUMMARY – September 6, 2017
SAN DIEGO – A well-organized and often violent group of thieves has stolen more than $20 million worth of merchandise from high-end shopping malls here and around the country, according to an indictment unsealed today which charges 22 people.
A contingent of more than 250 officials from local, state and federal law enforcement agencies made 12 arrests today and searched three homes in Lemon Grove, Chula Vista and San Diego. Three defendants were already in custody; seven were fugitives as of 1 p.m. today. The defendants in custody are scheduled to make their first court appearances at 10 a.m. tomorrow before U.S. Magistrate Judge Barbara Lynn Major.
During searches today, agents confiscated approximately $30,000 in cash plus about a dozen large trash bags full of new clothing - with merchandise tags and security devices still attached - from retailers such as Victoria's Secret, Hollister Co., Guess, Express and Abercrombie & Fitch, and brands such as Calvin Klein, Hurley, Armani, Adidas, Kenneth Cole and Puma. Agents also found piles of new Louis Vuitton shoes and boxes full of security sensors that had been removed from clothing.
The indictment describes how defendants from the San Diego area formed crews of thieves to steal merchandise from retail stores throughout the United States and transport the merchandise across state lines for sale in Mexico. The well-organized teams operated consistently for over a decade. The indictment describes how team leaders assigned each member a specific role, such as team leader, mule or blocker. Team leaders selected stores to target, scouted the stores, and choreographed the actions of other team members using cell phones and hand signals while Mules secreted the stolen merchandise out of stores in "booster bags," which are shopping bags with metallic linings designed to defeat anti-theft sensors. Blockers prevented store employees from seeing the ongoing theft by obstructing their view with clothing, by distracting the employees, or by physically preventing the employees from responding.
When necessary, the teams used force against store employees, other customers, and law enforcement to escape. For example, the indictment alleges that in November 2009, defendant Sergio Manuel Montano Nava knocked over an infant in its stroller and injured the infant's father to avoid being arrested for a theft at a Hollister store in Schaumburg, Illinois.
In November 2012, defendants Jose Damazo Herrera, Robin Macias and others drove vehicles through a crowd while fleeing a theft from a Hollister store in the Fashion Valley Mall in San Diego. The thefts alleged in the indictment typically resulted in losses of several thousand dollars in merchandise.
In March 2013, a defendant grabbed a loss prevention officer by the throat and threw her to the ground while running from a theft at Abercrombie & Fitch at the Plaza Bonita Mall in National City.
The indictment lists 38 thefts which occurred at locations around the country at various clothing stores, including Victoria's Secret, Hollister Co., Abercrombie & Fitch, Banana Republic and Express in the California cities of Escondido, San Diego, National City, San Clemente, Ventura, Oxnard, Camarillo, City of Industry, Orange, Mission Viejo, Northridge, Canoga Park; and outside the state in Las Vegas, Nevada; Frederick, Maryland; Vancouver, Washington; and Schaumburg, Illinois.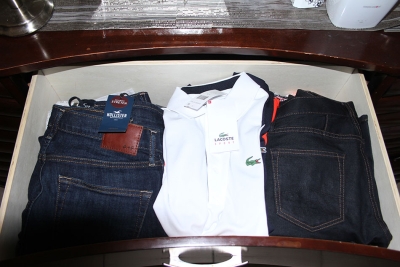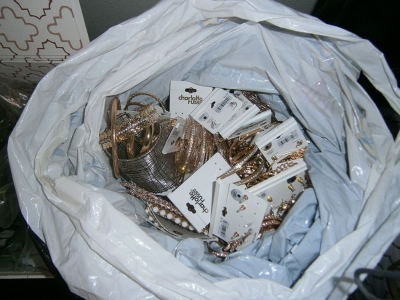 The indictment said that on October 23, 2013, defendant Maria Angelica Mendez Valdivia had $482,275 worth of merchandise - stolen from at least 57 retailers - which was being transported to Mexico. The thieves sold the stolen merchandise to an alleged "fence," defendant Sara Portilla, who is accused of selling the stolen merchandise from a store she operates in Tijuana.
"The mall is supposed to be a safe place for families to shop, eat and enjoy themselves," said Acting U.S. Attorney Alana Robinson. "Instead, a prolific and violent group of thieves has stolen millions of dollars in merchandise as well as peace of mind from mall employees and customers. With today's action, we are protecting customers and businesses both physically and economically, and we are restoring and preserving the safety of our community gathering spots."
"Homeland Security Investigations, together with its law enforcement partners, has worked tirelessly to investigate and ultimately dismantle this theft ring," said David Shaw, special agent in charge of HSI San Diego. "Not only does organized retail crime have a major financial impact on businesses and consumers, but the brazen acts allegedly committed by these defendants also posed a very real threat to public safety. HSI is committed to holding individuals involved in this criminal activity accountable for their actions."
"Crimes that cross jurisdictional lines can be challenging for any one agency to investigate," said San Diego Police Chief Shelley Zimmerman. "It takes a partnership and commitment from agencies at all levels to collapse the most sophisticated crime rings that exist today. The collaboration we have here in San Diego between law enforcement agencies is second to none. I am so proud of the efforts in this complex case to bring these thieves to justice."
DEFENDANTS                                           Case Number 17cr2511-GPC
Sara Portilla                                                  Age: 39                San Diego, CA
Maria Angelica Mendez                               Age: 43                San Diego, CA
Jose Mora                                                     Age: 49                Oceanside, CA
Julio Gabriel Lopez Moreno                        Age: 41                Chula Vista, CA
Alejandro Madrinan                                     Age: 43                San Diego, CA
Araceli Razo                                                 Age: 42                Imperial Beach, CA
*Eduardo Madrinan                                      Age: 22                Lemon Grove, CA
*Carlos Gomez Daza                                    Age: 32               San Diego, CA
Karina Yvette Saman Rojas                         Age: 29                San Diego, CA
Juan Manuel Juarez Herrera                         Age: 41                San Diego, CA
James Sanabria                                             Age: 31                San Diego, CA
*Josue Antonio Damazo Herrera                 Age: 26                San Diego, CA
Jose Damazo Herrera                                   Age: 28                San Diego, CA
Brandon Ramirez Salas                                Age: 22                Mexico
*Jesus Raymundo Razo Del Angel              Age: 23                San Diego, CA
Jacob Palacios                                              Age: 24                San Diego, CA
Robin Macias                                               Age: 33                Chula Vista, CA
*Giovani Razo Alvarez                                Age: 33                San Diego, CA
*Adrian Razo                                               Age: 29                Atlanta, Georgia
Sergio Manuel Montana Nava                     Age: 31                San Diego, CA
*Vanessa Medina Munguia                         Age: Unknown    San Diego, CA
Adrian Ulices Reyna Rodriguez                  Age: 21               San Diego, CA
*Fugitive
SUMMARY OF CHARGES
Conspiracy to Transport stolen goods across state and international borders, – Title 18, U.S.C., Sections 371 and 2314
Maximum penalty: Five years in prison and $250,000 fine
Receiving stolen goods that have crossed state and international borders – Title 18, U.S.C., Section 2315
Maximum penalty: Ten years in prison and a $250,000 fine
Illegal re-entry of a removed alien – Title 8, U.S.C., Section 1326
Maximum penalty: Twenty years in prison and $250,000 fine
Maximum penalty: Twenty years in prison and $500,000 fine
AGENCIES
Homeland Security Investigations
Orange County Sheriff's Department
San Diego Police Department
Carlsbad Police Department
Escondido Police Department
National City Police Department
U.S. Border Patrol
ICE/Enforcement and Removal Operations
U.S. Customs and Border Protection
U.S. Marshals Service
San Diego Harbor Police Department
*The charges and allegations contained in an indictment or complaint are merely accusations, and the defendants are considered innocent unless and until proven guilty.
(Image links below)
Updated September 6, 2017
---
Press Release Number:
CAS17-0906-Portilla