Press Release
Man Charged With Selling Multiple Forged Paintings By Contemporary Artist Raymond Pettibon
For Immediate Release
U.S. Attorney's Office, Southern District of New York
Christian Rosa Weinberger, a/k/a "Christian Rosa," Provided Fake Certificates of Authenticity for the Forged Pettibon "Wave Series" Paintings
Damian Williams, the United States Attorney for the Southern District of New York, and Michael J. Driscoll, the Assistant Director-in-Charge of the New York Office of the Federal Bureau of Investigation ("FBI"), announced today the indictment of CHRISTIAN ROSA WEINBERGER, a/k/a "Christian Rosa," for his role in a scheme to defraud art buyers through the sale of forged paintings by the artist Raymond Pettibon accompanied by fake certificates of authenticity.  WEINBERGER fled the United States in early 2021 shortly after news about his involvement in selling a fake Pettibon painting was reported in the press, and he remains at large. This case is assigned to U.S. District Judge Andrew Carter.
U.S. Attorney Damian Williams said: "As alleged, Christian Rosa Weinberger cheated contemporary art buyers by selling them forged paintings purportedly from the hand of Raymond Pettibon. Weinberger swindled buyers out of hundreds of thousands of dollars, and risked a New York artist's legacy, through his forgery scheme. Thanks to the partnership of this Office and the FBI's Art Theft Crime Team, Weinberger's forgery scheme is at an end."
FBI Assistant Director Michael J. Driscoll said:  "The beauty of art may be in the eye of the beholder, but the behavior we allege today is objectively ugly. Quite simply, it's a federal crime to defraud investors and fake documentation of artwork provenance. Mr. Weinberger may believe he escaped justice when he fled the country earlier this year, but the FBI and our partners have international reach and steadfast determination.  We encourage him to turn himself in, because we will eventually find him with that persistent long arm of the law."
According to the allegations in the Indictment[1] filed today in Manhattan federal court:
From approximately 2017 through 2020, WEINBERGER, together with others known and unknown, engaged in a scheme to defraud potential art buyers by selling forged Pettibon paintings.  Pettibon is a prominent contemporary artist based primarily in New York, New York, who has produced a series of paintings depicting ocean waves with surfers accompanied by handwritten text (the "Wave Series"). WEINBERGER is a contemporary visual artist based primarily in Los Angeles, California and Vienna, Austria. As part of the scheme to defraud, in or about 2018 and 2020, WEINBERGER sold the following artworks, which WEINBERGER falsely represented to be authentic Pettibon "Wave Series" paintings, to two buyers ("Buyer-1" and "Buyer-2"):
Untitled ("It was the Moment . . . "), 2013, 100 cm by 155 cm:
Untitled ("Drop in . . ."), 2011, 80 cm by 60 cm: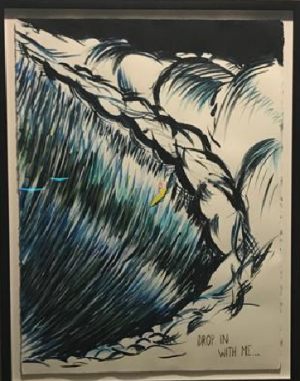 Untitled ("Bail, or bail out . . ."), 2012, 115 cm by 163 cm:
Untitled ("If there is a line . . ."), 2016, 118.1 by 208.3 cm:
WEINBERGER used the proceeds from the sale to Buyer-1 of Untitled ("Bail, or bail out . . ."), and Untitled ("If there is a line . . .") to make the down payment and subsequent mortgage payments on a residence in California. WEINBERGER also gifted the following "Wave Series" painting to Buyer-1 in exchange for Buyer-1's help in selling paintings attributed to Pettibon to Buyer-2: Untitled ("I Keep Pouring . . ."), 1997, 110 cm by 90 cm.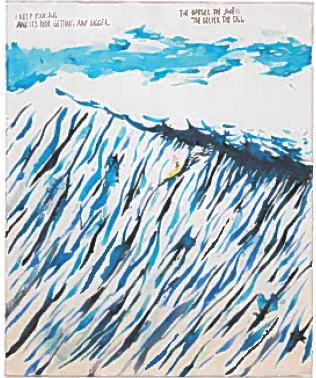 In connection with the sale or transfer of the above paintings to Buyer-1 and Buyer-2, WEINBERGER provided purported certificates of authenticity for each painting. The purported certificates of authenticity contained an image of the particular painting, and were purportedly signed by Pettibon. In fact, these purported certificates of authenticity were fake, and Pettibon's signatures were forged.
In or about December 2019, around the same time that WEINBERGER was discussing the sale of certain Pettibon paintings with Buyer-1, WEINBERGER exchanged emails with a friend of WEINBERGER's ("Co-conspirator-1") about trying to find a buyer for certain unnamed paintings.  In one of the emails, WEINBERGER told Co-conspirator-1 that "they're asking about the certificates, how we're getting them."  Co-conspirator-1 asked WEINBERGER, in substance and in part, why the sales were taking so long. WEINBERGER responded explaining that he wanted to find a buyer who would agree not to resell the works at auction, and wrote in English that "I am not trying to get busted so that's why it's takeing[sic] longer."
On or about January 29, 2021, an online news source published an article reporting accusations that WEINBERGER had forged Untitled ("If there is a line .  .  ."), one of the "Wave Series" paintings originally purchased by Buyer-1, which was later placed for sale by a subsequent purchaser at a New York auction house. On or about January 30, 2021, the day after the article was published, WEINBERGER emailed Co-conspirator-1 that "[t]he secret is out." On or about January 31, 2021, WEINBERGER drafted an email to Pettibon, in which he stated that the painting featured in the article "is a overpainted print made from [Co-Conspirator-1] a friend from Austria[.]" Less than a month later, WEINBERGER left the United States. A few months later, WEINBERGER sold the California residence and attempted to transfer the funds abroad.          
*                      *                      *
WEINBERGER, 43, a Brazilian and Austrian citizen previously residing in Los Angeles, California,  before fleeing the United States in February 2021, was charged in the Indictment with one count of wire fraud conspiracy, one count of wire fraud, and one count of aggravated identity theft.  The wire fraud charges carry a maximum prison term of 20 years.  The aggravated identity theft charge carries a mandatory sentence of two years in prison.
The maximum and minimum potential sentences in this case are prescribed by Congress and are provided here for informational purposes only, as any sentence will be determined by the judge. 
Mr. Williams praised the investigative work of the FBI's Art Crime Team.
This case is being handled by the Office's Money Laundering and Transnational Criminal Enterprises Unit.  Assistant United States Attorneys Jessica K. Feinstein and Cecilia E. Vogel are in charge of the prosecution.
To report information related to this case, please contact the FBI's Art Crime Team at NYArtCrime@fbi.gov. 
The allegations in the Indictment are merely accusations, and the defendant is presumed innocent unless and until proven guilty.
---
[1] As the introductory phrase signifies, the entirety of the text of the Indictment and the descriptions of the Indictment set forth herein constitute only allegations, and every fact described should be treated as an allegation.
Contact
Nicholas Biase, James Margolin
(212) 637-2600
Updated October 13, 2021
---
Press Release Number:
21-278