Press Release
Prolific Thoroughbred Trainer Sentenced To Five Years In Federal Doping Case
For Immediate Release
U.S. Attorney's Office, Southern District of New York
Trainer Jorge Navarro Ordered to Pay Over $26 Million in Restitution
Damian Williams, the United States Attorney for the Southern District of New York, announced that defendants JORGE NAVARRO received a sentence of sixty months' imprisonment today for his leading role in the felony drug misbranding and adulteration charges arising from this Office's investigation of the abuse of animals through the use of performance enhancing drugs and as charged in United States v. Navarro et al., 20 Cr. 160 (MKV).  NAVARRO was sentenced by U.S. District Judge Mary Kay Vyskocil, who furthered ordered that NAVARRO pay $26,860,514 in restitution for the fraud perpetrated through his doping program. 
U.S. Attorney Damian Williams said:  "Jorge Navarro's case reflects failings, greed, and corruption at virtually every level of the world of professional horse racing. For money and fame, corrupt trainers went to increasing extremes to dope horses under their care. Unscrupulous owners, who stood to profit directly, encouraged and pressured trainers to win at any cost. Veterinarians sworn to the care and protection of their patients routinely violated their oaths in service of corrupt trainers and to line their own pockets. Assistants and grooms all witnessed animal abuse in the service of greed, but did little to stop such conduct, and engaged in myriad ways to support notoriously corrupt trainers. Structures designed for the protection of the horses abused in this case failed repeatedly; fixtures of the industry – owners, veterinarians, and trainers – flouted rules and disregarded their animals' health while hypocritically incanting a love for the horses under their control and ostensible protection. Standing as the keystone for this structure of abuse, corruption, and duplicity was Jorge Navarro, a trainer who treated his animals as expendable commodities in the service of his 'sport.' Today's sentence appropriately condemns the danger inherent in Navarro's crime and reflects the seriousness with which this Office takes the kind of abuse that Navarro practiced."
According to the allegations contained in the Superseding Indictment, prior charging instruments and other filings in this case[1], and statements during court proceedings:

The charges in the Navarro case arise from an investigation of widespread schemes by racehorse trainers, veterinarians, PED distributors, and others to manufacture, distribute, and receive adulterated and misbranded PEDs and to secretly administer those PEDs to racehorses competing at all levels of professional horseracing. By evading PED prohibitions and deceiving regulators and horse racing officials, participants in these schemes sought to improve race performance and obtain prize money from racetracks throughout the United States and other countries, including in New York, New Jersey, Florida, Ohio, Kentucky, and the United Arab Emirates ("UAE"), all to the detriment and risk of the health and well-being of the racehorses.  Trainers, like NAVARRO, who participated in the schemes stood to profit from the success of racehorses under their control by earning a share of their horses' winnings, and by improving their horses' racing records, thereby yielding higher trainer fees and increasing the number of racehorses under their control. Veterinarians, including those whom NAVARRO directed in the corrupt administration of illegal substances, profited from the sale and administration of these medically unnecessary, misbranded, and adulterated substances.
NAVARRO operated his doping scheme covertly, importing misbranded "clenbuterol" that he both used and distributed to others, avoiding explicit discussion of PEDs during telephone calls, and working with others to coordinate the administration of PEDs at times that racing officials would not detect such cheating. Among the horses that NAVARRO trained and doped was XY Jet, a thoroughbred horse that won the 2019 Golden Shaheen race in Dubai.  Among NAVARRO's preferred PEDs were various "blood building" drugs, which, when administered before intense physical exertion, can lead to cardiac issues or death.
NAVARRO's crime was far from a single lapse in judgment. Rather, NAVARRO engaged in repeated and persistent efforts to cheat over the course of years, cycling through various sources of supply, and pursuing aggressively new means to illegally dope horses. Throughout, NAVARRO maintained a flippant attitude towards his dangerous and illegal conduct. NAVARRO, notoriously known in the horse racing world as the "Juice Man" due to his routine doping, kept a pair of customized shoes in his barn with the words "#JUICE MAN" emblazoned across the front: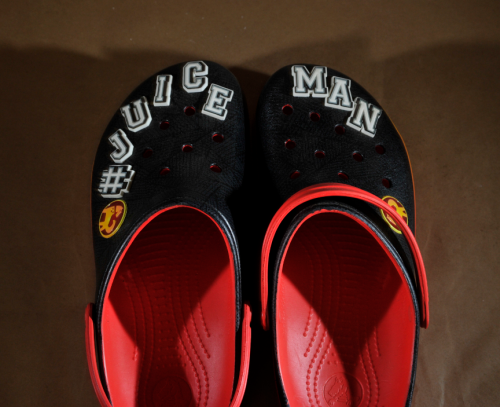 * * *
In addition to the prison sentence, NAVARRO was ordered to payment of restitution in the amount of $26,860,514, reflecting winnings obtained through his fraudulent doping scheme.
Mr. Williams praised the outstanding investigative work of the FBI New York Office's Eurasian Organized Crime Task Force and its support of the Bureau's Integrity in Sports and Gaming Initiative. This case is being handled by the Office's Money Laundering and Transnational Criminal Enterprises Unit.  Assistant United States Attorneys Sarah Mortazavi, Andrew C. Adams, Benet Kearney, and Anden Chow are in charge of the prosecution.
---
[1] As to Navarro co-defendants, the entirety of the texts of the Indictments and the descriptions of the Indictments set forth herein constitute only allegations and every fact described should be treated as an allegation.
Contact
Nicholas Biase, James Margolin
(212) 637-2600
Updated December 17, 2021
---
Press Release Number:
21-360