UST - Region 20
UST - Region 20
Federal Judicial Districts Established for Kansas, New Mexico and Oklahoma
---
The United States Trustee Program is a component of the U.S. Department of Justice that supervises the administration of bankruptcy cases. The United States Trustee for Region 20 serves the federal judicial districts established for Kansas, New Mexico and Oklahoma. The regional office is located in Wichita, KS. The links on this site contain information about the regional office of the United States Trustee and the field offices within Region 20.
Important Notice
U.S. TRUSTEE PROGRAM EXTENDS TELEPHONIC SECTION 341 MEETINGS TO CASES FILED THROUGH JULY 10, 2020
Friday, April 24, 2020
The U.S. Trustee Program is extending the requirement that section 341 meetings be conducted only through telephonic or other alternative means not requiring in-person appearance to all cases filed through July 10, 2020. Appropriate notice will be provided to parties in accordance with bankruptcy law and rules.
---
USTP ISSUES NOTICE TO CHAPTER 7 AND 13 TRUSTEES REGARDING RECOVERY REBATES UNDER THE CARES ACT OF 2020
Tuesday, April 7, 2020
---
U.S. Trustee Program

Quick Links

---

U.S. Bankruptcy Courts

---

Web Site Comments?

Comments or questions about this site, please email us at USTWeb.

---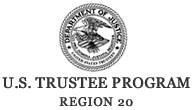 Contact
Office of The U. S. Trustee
(316) 269-6637