This document is available in two formats: this web page (for browsing content) and PDF (comparable to original document formatting). To view the PDF you will need Acrobat Reader, which may be downloaded from the Adobe site.

The views and opinions expressed in this submission are solely those of the authors and do not represent the views of the Department of Justice.
Slide 1

Emerging U.S. Wireless Broadband Markets

Thomas W. Hazlett
Professor of Law & Economics

thazlett@gmu.edu
U.S. Department of Justice
Antitrust Division Symposium
Nov. 29, 2007
---
Slide 2
Multi-Dimensional Convergence
Voice and Data Networks
Fixed and Wireless Networks
---
Slide 3
Cable Modem v. DSL Subscribers 1999-2002 (U.S. Residential)
---
Slide 4
Broadband Race Past 1Q2003 DSL Deregulation
---
Slide 5
Wireless: the "Third Pipe"?
---
Slide 6
U.S. Wireless Voice and Data
($ billion annual revenues, 2005-2011)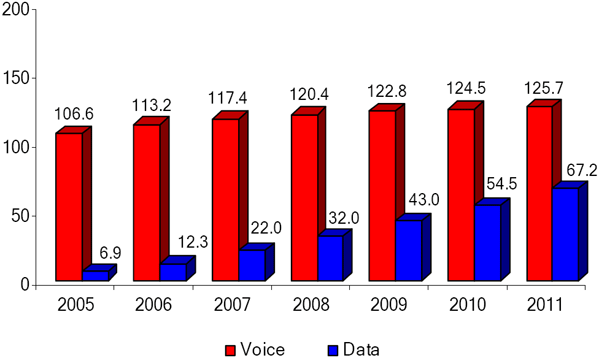 Source: Telecommunications Industry Association (12.06)
---
Slide 7
Key Wireless Data Players
Mobile voice networks

AT&T, VZW, Sprint, T-Mobile

spectrum dearth → consolidation (from six)
EV-DO v. wCDMA (the rivalry that saved the EU)
Regional carriers Alltel, Leap, MetroPCS

network sharing → Blackberry, OnStar, iPhone, Virgin Mobile, Twitter

'Pure play' entrants

Clearwire, Digital Bridge
Frontline via 700 MHz?
---
Slide 8
More Key Players
Other entrants

Cable ops (SpectrumCo's 20 MHz via AWS)
Satellite TV ops (no terrestrial spectrum yet)

Application providers

Google, Microsoft, Apple…
---
Slide 9
Regulation
Examine mobile markets globally
Retail prices decline with

spectrum
more spectrum
competition

more spectrum creates more competition
deregulation creates more spectrum
---
Slide 10
Success of Liberalization
Granting licensees flexible spectrum use

rather than rigidly defining services, technologies, business models

Cellular licenses in USA

complex spectrum sharing and investment
innovation in technology and bus models

Property rights in Australia, Guatemala

reduces barriers to entry
---
Slide 11
"[W]orld's leading market showcase for wireless data"
"Sydney 'has become the world's leading market showcase for wireless data services,' says… U.S. technology research Gartner in Australia… [A] reason wireless broadband is taking off here: The government sold off radio spectrum for such services relatively cheaply. Privately held Personal Broadband snapped up its license in 2001 for only about US$7.5 million."
-- Wall Street Journal (2.18.05)
---
Slide 12
USA Policy
Positive → deregulation of select licenses

Cellular, AWS, 2.5 GHz (BRS)

Negative → regulatory lags

2G license delay
3G license delay
fling with unlicensed (TV Band, 3.65 GHz)

Muni WiFi and the rise of the term "over-hype"

flirting with re-regulation (700 MHz)
---
Slide 13
May 3, 2002
Spectrum Auction Delay Hits Fast Track
By Roy Mark
Updated June 25, 2015