Press Release
Fentanyl Seizures in First Five Months of 2022 Surpass all of 2021
For Immediate Release
U.S. Attorney's Office, District of Colorado
Golden – Law enforcement partners across Colorado announced they have already seized more illicit fentanyl in the first five months of 2022 than they did in all of last year.  In a press conference at the headquarters for the Colorado State Patrol in Golden, law enforcement officials presented data from the Rocky Mountain High Intensity Drug Trafficking Area showing that more than 2 million dosage units of fentanyl were removed from Colorado communities so far this year. 
"We appreciate the work law enforcement is doing to take this deadly poison off our streets. We also need the help of the public in ending the demand for it. It is risky to take any drug not prescribed by a doctor and obtained from a pharmacy," warned U.S. Attorney Cole Finegan.
"Presently the Patrol's Interdiction Section has seized more fentanyl in the first five months of 2022 than all of 2021," stated Col. Matthew C. Packard, chief of the Colorado State Patrol. "While I would love to tell you that our troopers have eliminated the threat of this deadly drug, what we remove is a drop in the ocean. It's cheap, it's everywhere, including a strong counterfeit market where people think they are taking other forms of pills. If you have a loved one struggling with any form of drug abuse, get them help."  
"When we analyze data that indicates increases in drug seizures and dramatic rises in fatal overdoses, it becomes alarmingly apparent that the user market for illicit fentanyl in the state is expanding. To save lives, a unified response between public safety and health professionals will be essential to counter this dangerous trend," said Executive Director Keith Weis from the Rocky Mountain High Intensity Drug Trafficking Area Program.
"We have seen the harm that fentanyl brings to our communities. FBI Denver works closely with our partners to combat and prevent drug trafficking. The FBI will continue to use all resources necessary to thwart these deadly drugs and protect our citizens from harm," said FBI Denver Division Special Agent in charge Michael Schneider.
The U.S. Attorney's Office for the District of Colorado will collaborate with law enforcement partners from around the state at the first ever Colorado Fentanyl Summit on June 2, 2022 and June 3, 2022. The summit is a two-day intensive training for law enforcement on all aspects of fentanyl enforcement from investigation and case-building through interdiction and prosecution. The Denver City Attorney is organizing the Summit, which is hosted by Denver Mayor Michael Hancock and Attorney General Phil Weiser.
Available resources:
Office of Behavioral Health: https://cdhs.colorado.gov/behavioral-health
Stop The Clock (where to get naloxone): https://www.stoptheclockcolorado.org/map
How to recognize an overdose: https://www.samhsa.gov/medication-assisted-treatment/medications-counseling-related-conditions/opioid-overdose
SAMHSA's National Helpline: https://findtreatment.samhsa.gov
CDC 24/7 Saving Lives, Protecting people: https://www.cdc.gov/stopoverdose/index.html
DEA One Pill Can Kill Website: https://admin.dea.gov/onepill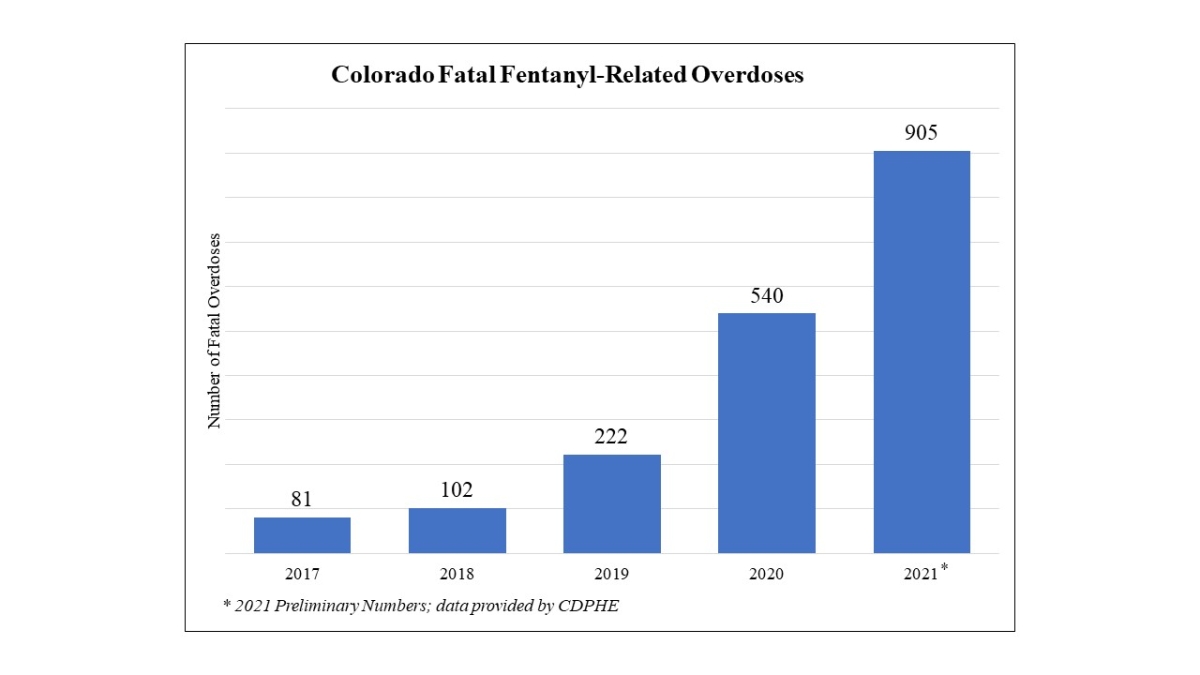 Updated June 1, 2022
---