---
What Are Opioids?
Codeine
Dilaudid
Fentanyl
Heroin
Hydrocodone
Methadone
Morphine
Oxycodone
Oxycontin® a/k/a "Oxy"
Percocet® a/k/a "Percs"
Tramadol
Vicodin® a/k/a "Vikes"
"In 2016, we lost 64,000 people to overdose in our country.
That is more deaths in one year than during the entire Vietnam War."
(Partnership for Drug-Free Kids)
Did You Know?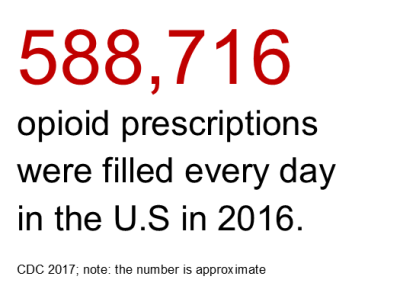 There were 47,600 opioid-related deaths in the United States in 2017 (CDC)
4 out of 5 heroin users began by misusing prescription pain meds
(Partnership for Drug-Free Kids)
There were an estimated 2,033 opioid-related deaths in Massachusetts in 2018 (MA DPH)
Opioids killed more people in 2016 in the U.S. than murders or fatal car crashes 
(Murders: FBI, Car Accidents: NHTSA, Opioids: CDC)
Prescription opioids and heroin act on the same brain receptors (SAMHSA)
Every 15 minutes an opioid-dependent baby is born in the United States (NIH)
50% of those who take prescription opioids without a prescription, get them for free from a friend or relative (SAMHSA)
In 2015, the economic cost of the opioid crisis in the United States was $504 BILLION (WhiteHouse.gov)
Nearly 31,900 people died of fentanyl-related deaths in the United States in 2018 (CDC)
Approximately 89% of fatal overdoses in Massachusetts were fentanyl-related in 2018 (MA DPH)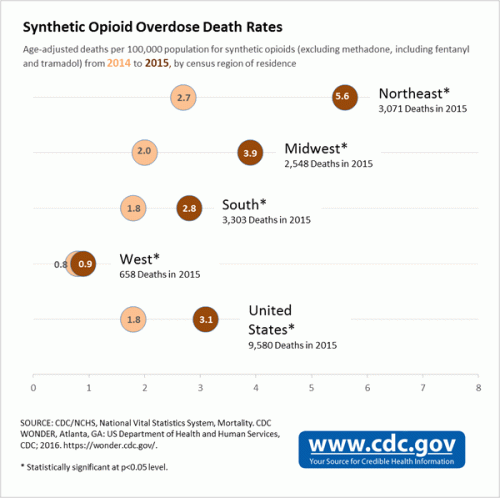 Fentanyl Facts
It is a synthetic (made by chemicals) opioid (DEA)
It is roughly 100 times more potent than morphine (DEA)
It is about 50 times more potent than heroin (DEA)
It is a pharmaceutical drug used to treat patients with severe pain (NIH)
It is now produced in illegal drug factories and sold to drug dealers who package it in stash houses and clandestine labs 
It is responsible for more fatal overdoses than heroin and prescription pain pills (CDC)
Drug dealers are producing counterfeit pills that look almost identical to legitimate prescription opioids and filling them with fentanyl (DEA)
---
In Need of Treatment?
Massachusetts Substance Abuse Helpline - 800-327-5050
SAMHSA: Substance Abuse Treatment Services Locator
---
#ResistTheRisk is sponsored by the U.S. Attorney's Office - District of Massachusetts 
Updated May 3, 2021