UST - Region 6
UST - Region 6
Federal Judicial Districts Established for the Northern and Eastern Districts of Texas
---
The United States Trustee Program is a component of the U.S. Department of Justice that supervises the administration of bankruptcy cases. The United States Trustee for Region 6 serves the federal judicial districts established for the Northern and Eastern Districts of Texas. The regional office is located in Dallas, TX. The links on this site contain information about the regional office of the United States Trustee and the field offices within Region 6.
---
Important Notices
U.S. TRUSTEE PROGRAM EXTENDS TELEPHONIC OR VIDEO SECTION 341 MEETING
Friday, August 28, 2020
The U.S. Trustee Program has extended the requirement that section 341 meetings be conducted by telephone or video appearance to all cases filed during the period of the President's "Proclamation on Declaring a National Emergency Concerning the Novel Coronavirus Disease (COVID-19) Outbreak" issued March 13, 2020, and ending on the date that is 60 days after such declaration terminates. However, the U.S. Trustee may approve a request by a trustee in a particular case to continue the section 341 meeting to an in-person meeting in a manner that complies with local public health guidance, if the U.S. Trustee determines that an in-person examination of the debtor is required to ensure the completeness of the meeting or the protection of estate property. This policy may be revised at the discretion of the Director of the United States Trustee Program.
USTP ISSUES NOTICE TO CHAPTER 7 AND 13 TRUSTEES REGARDING RECOVERY REBATES UNDER THE CARES ACT OF 2020
Tuesday, April 7, 2020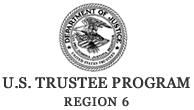 Contact
Office of The U. S. Trustee
(214) 767-8967