Networks are chosen to be highlighted on this page for demonstrating a promising practice, a unique model, or have something novel and of value to offer others in the field.  All highlighted networks are showcased with their consent and collaboration.  If you would like your team considered for this purpose, you may email talitha.j.guinn-shaver@usdoj.gov.
Georgia's Crimes Against the Disabled and Elderly Task Force (CADE)
The Crimes Against the Disabled and Elderly Task Force (CADE), is a one-of-a-kind joint effort combining Georgia's Division of Aging Services' Forensic Special Initiatives Unit (FSIU) and the Georgia Bureau of Investigation (GBI).  The GBI is a law enforcement agency with statewide authority whose mission is to provide the highest quality investigative, scientific, and information services and resources to the criminal justice community and others as authorized by law, for the purpose of maintaining law and order and protecting life and property.  As the statewide leader in the detection, investigation, and forensic evaluation of crimes against elderly and disabled Georgians, the GBI employs agents specially dedicated towards this type of work in each of the 15 regional offices.
The Forensic Special Initiatives Unit (FSIU), housed within the state unit on aging, serves as the nexus between the two state agencies. FSIU's mission is to protect Georgia's elder adults and adults with disabilities, prevent at-risk adult abuse, and prosecute offenders. This robust mission is accomplished through technical assistance and training to law enforcement and other primary and secondary responders and by identifying gaps in current policies, systems, and laws. FSIU is the primary source of training and subject matter experts in Georgia on the topic of abuse, neglect, and exploitation of elder adults and adults with disabilities.
One of the first success stories in this joint venture was The Abuse, Neglect & Exploitation (ANE) Work Group which initially met at in April of 2012.  Members of The ANE Work Group are professionals representing state, local, and federal agencies involved with the investigation and prosecution of abuse, neglect, and exploitation as well as agencies providing protective, social, regulatory oversight, and victim assistance to at-risk adults. The introductory meeting was called in response to an emerging crime trend of unlicensed personal care homeowners targeting at-risk adults for the purpose of financially exploiting the residents; a form of human trafficking later named Benefits Trafficking.
During the first meeting, attendees identified an extensive list of obstacles encountered by agencies authorized to investigate allegations of at-risk adult abuse, neglect, and exploitation.   A formalized list of obstacles turned into an Executive Summary provided by now-retired GBI Director Keenan and sent to then-Governor Nathan Deal.  The list also became a roadmap of issues to address for the ANE Work Group.  The group continues to meet in an ongoing effort to identify and address issues to protect victims, prevent future victimizations, and build strong cases to prosecute offenders. 
 Additional subcommittees naturally formed as an outgrowth of the ANE Work Group. One of the more important subcommittees is the Legislative Work Group.  In 2012, the work group addressed the location of protective laws in Georgia's criminal code.  Administrative Title 30 housed the criminal statutes that protect Georgia's adults with disabilities and elder population.  Within one year, HB 78 moved these statutes to the criminal title so law enforcement could locate them more easily.  The Legislative Work Group continues to create new laws or enhance current ones while working alongside the Prosecuting Attorneys' Council (PAC) and Georgia Legislators to better protect this vulnerable population.  Some of the newer laws include allowing Judicial Circuit's the opportunity to create At-Risk Adult Multidisciplinary Teams (MDT's) and a new law for trafficking of elder persons, adults with disabilities, or residents for their government benefits and other resources.
Although FSIU and the GBI worked closely together for over 10 years, it was only in 2021 that an MOU officially formed the CADE Task Force.  Anna Thomas is the manager of FSIU and the state coordinator for the At-Risk Adult Multidisciplinary Teams in Georgia. Further, she serves on the steering committee for the National Network of State Elder Justice Coalitions. Her background in law enforcement, prosecution, and gerontology allows for a wide scope of activities and experience. The four-person team also oversees the Financial Exploitation Work Group which brings the banking industry, social services, and law enforcement together on a quarterly basis to discuss tends and new resources available. One of the most important activities for FSIU is a two-day class called CACTS (Certified Adult Crime Tactics Specialist). Each month, the unit teaches a wide variety of disciplines on topics such as how to identify and respond to at-risk adult abuse, suspicious deaths, financial exploitation, social services and resources, and interviewing older adults and adults with disabilities. Currently, over 4,000 people are Certified Adult Crime Tactics Specialists in Georgia, and that number continues to climb since the first class in 2011. As the program grows and law enforcement is trained, the number of arrested preparators has increased from 347 in 2013 to 6,350 in 2022.
For more information or to reach us, please email FSIU@dhs.ga.gov.
Minnesota Elder Justice Center
Amanda Vickstrom, Executive Director

Shelly Carlson, Special Projects Manager

MEJC's Annual World Elder Abuse Awareness Conference
The Minnesota Elder Justice Center is a statewide nonprofit working to mobilize communities to prevent and alleviate abuse, neglect, and financial exploitation of older and vulnerable adults. Its vision is that the MEJC is a trusted resource that improves lives, communities, and systems with and on behalf of elders and vulnerable adults.
Incorporated in 2014, the Minnesota Elder Justice Center (MEJC) operates as an independent non-profit organization. With a staff of 10, MEJC works to advance policy and systems change efforts, raise public awareness, train professionals, and provide direct services to victims of elder abuse, neglect, and financial exploitation. In addition, the organization serves as a nucleus within the Minnesota aging and vulnerable adult community, providing collaborative opportunities to improve systems, services, and policy to address elder abuse, neglect, financial exploitation and maltreatment.
MEJC provides support and advocacy to older and vulnerable victims of abuse via a helpline, as well as in-person support and advocacy. Services also include assistance to others who work with older adults, as well as limited legal representation for victims of elder abuse. Over the last year, MEJC staff worked with 830 victims of elder abuse.
In addition to direct support to victims, MEJC also works with county teams to support a coordinated response to elder abuse, including coordinating E-MDTs in several communities across Minnesota with funding from OVC's E-MDTs for Older Victims of Abuse grant program. MEJC manages the coordination and facilitation of two E-MDTs, and assists with the coordination of an E-MDT involving two border counties in two states. Staff also provide technical assistance across the state to communities where no E-MDT is present, or when a case arises in which more expertise is needed.  MEJC has also just launched a web portal to connect E-MDTs across the state, increase communication among E-MDT coordinators and members, share tips and resources, and provide a forum to uncover gaps in system responses to elder abuse. 
Training and education are essential to those working with older or vulnerable adults, and a cornerstone of the work at MEJC. Staff provide entry-level and advanced training to individuals and institutions who work with older and vulnerable adults, including those who work in social services, legal community, health care, financial institutions, and others. MEJC also provides specialized trainings for law enforcement and criminal justice professionals, and coordinates opportunities for professionals to work together to learn, discuss and prepare recommendations to strengthen systems to protect older and vulnerable adults.
Free weekly webinars cover a variety of topics relevant to those working with older or vulnerable adults, including: guardianship, supported decision making, advocacy strategies with older victims, intimate partner violence and abuse in later life, responding to financial exploitation, partner program information, policy efforts, and more. In addition to free weekly webinars, recorded trainings and resources, including toolkits, resource sheets, and manuals are available on MEJC's website free of charge.
MEJC advocates for policy initiatives that benefit older and vulnerable victims of abuse, prevent abuse, and increase access to justice. Recent collaborative policy successes include sucessfully advocating for new legislation updating Minnesota's Vulnerable Adult Act this past session. In 2021, MEJC and its partners worked to pass legislation to modernize Minnesota's guardianship statute. After two years of work, MEJC worked as part of a collaborative team to draft and advocate for the successful passage of Minnesota's 2019 Elder Care and Vulnerable Adult Protection Act which for the first time, created licensing of Assisted Living Facilities in Minnesota and added significant new protections for consumers.
MEJC's approach to addressing elder abuse in Minnesota includes collaborating with program participants, professionals from adult protection agencies, public advocacy organizations, elder and disability organizations, health care providers, law enforcement, city and county attorneys, private attorneys, and other government organizations. The Minnesota Elder Justice Center considers collaborative work to be part of necessary systems change for older or vulnerable victims of abuse, neglect and exploitation. It also allows us to actively listen to and learn from others working in related fields.
To learn more about the work of the Minnesota Elder Justice Center, please visit our website at www.elderjusticemn.org. You can also watch a short video to learn more here -https://www.youtube.com/watch?v=d47rBwbgc8o&t=19s.
The Weinberg Center's SPRiNG Alliance Elder Shelter Program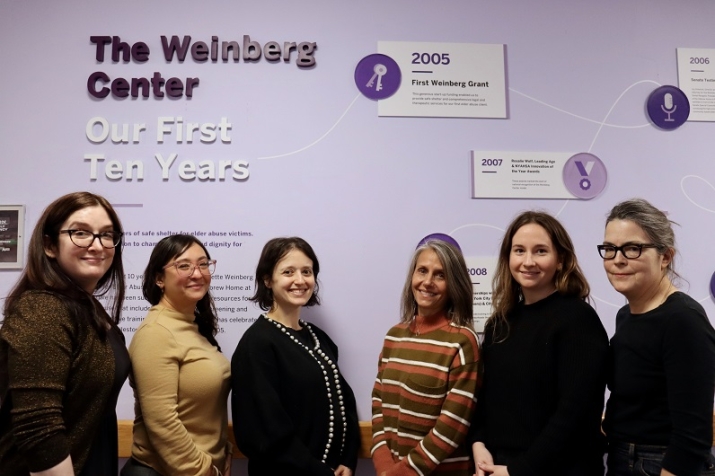 Ms. J. is 77-years-old and has mobility impairment. She has experienced abuse by her son, who struggles with alcohol addiction. He has thrown his mother to the floor, screamed insults at her, and taken her monthly Social Security income. Recently, the home care aides she relies on for daily assistance have stopped coming to her home due to her son's threatening behavior.
MDTs across the country regularly strategize and safety plan to support clients like Ms. J. These clients are experiencing multiple forms of abuse, which are both enabled by and exacerbate complex medical conditions. Sometimes, instead of being a haven, the home is the very epicenter of the abuse. In such instance, the client needs to quickly and temporarily leave home and receive intensive services to address the abuse, while simultaneously gaining access to the holistic health care they need in order to heal optimally. Unfortunately, most communities do not have this kind of service and those services that available (e.g., domestic violence shelters, homeless shelters) usually cannot accommodate complex medical needs or cognitive impairment and cannot help in navigating the unique legal, emotional and social service issues facing older adults.
The Harry and Jeanette Weinberg Center for Elder Justice at the Hebrew Home at Riverdale opened its doors in 2005 to fill this specific gap in service. Pioneering the model of an elder abuse shelter program located within a continuum-of-care health system, the Weinberg Center accepts clients from throughout New York City and Westchester County Clients are housed throughout the facility based on their medical needs and provided with dedicated attorneys and social workers, who work with each client to craft an individualized, strategic plan to support the client's short and long-term goals and assist them in returning to the community whenever possible, whether to the home they came from, or a new home aligned with their goals and needs. The Weinberg Center has currently provided nearly 200,000 days of shelter. An initial evaluation of the Weinberg Center by the RAND Corporation found preliminary evidence that participation in a shelter model program may improve health outcomes within continuum of care settings for older adults who have experienced abuse in their homes while also providing significant cost savings.
Integral to the Weinberg Center mission is the belief that every multidisciplinary team needs access to an elder shelter program to truly provide a robust coordinated community response to elder abuse. From its inception, working to foster replications of this model has been a critical piece of the Weinberg Center's mission. To that end, the Weinberg Center established the SPRiNG Alliance (Shelter Partners: Regional, National, Global) a professional shelter network to lend structure to its replication program. There are currently 14 shelter replications in operation throughout North America, and others in various stages of development, with twenty different communities represented within the SPRiNG Alliance.  The SPRiNG Alliance holds monthly meetings, an annual in-person Symposium and ongoing peer and expert consultation to help grow the capacity of each program and, by extension, the elder shelter movement.
Clients like Ms. J all over the country deserve the best possible interventions and a safe place to heal while their cases are being addressed.  Elder shelter programs have a unique ability to partner with MDTs and provide a critical safety net for older adults who experience abuse and neglect.
Watch a video about another client's experience: Carmen's Journey to Justice.
Alabama's Center for Elder Justice & Advocacy
The Middle Alabama Area Agency on Aging (M4A), one of 13 local AAAs in Alabama has mobilized community partners to create the new Center for Elder Justice & Advocacy (C4EJA) initiative. The new center will serve as Alabama's Elder Justice Resource Center, provide direct support and assistance to older adults and their caregivers across the greater Birmingham region, provide extensive training to professionals and members of our local communities, and eventually house an Adult & Caregiver Respite Program, and a Temporary Elder Emergency Shelter. Adult mistreatment is a serious health and safety issue that must be addressed, and the new center is the strongest line of defense to combat this problem.
The center will offer help, support, and direct services to older victims of abuse, neglect, or exploitation crime, as well as those who may be at the greatest risk of adult mistreatment.  The center will also support family caregivers who are struggling through their caregiver journey. The spirit of the Center for Elder Justice & Advocacy is to reach individuals and families early, and provide them the tools, direct support, and resources to prevent the abuse from happening in the first place, but also further support older adults in need of assistance.
This model is very innovative because it will house all the services to support elder justice issues in one easily accessible location, including an Adult & Caregiver Respite Program and Temporary Elder Emergency Shelter. This initiative will also create and sustain countywide Elder Justice Alliances to further mobilize communities to prevent and properly respond to adult mistreatment so people can live with dignity, security, and independence as they age.
M4A will open its doors to the public in the Spring of 2022, make available the Adult & Caregiver Respite Program in the Summer, and then work to make available the emergency shelter in early 2023. To learn more, please visit their standalone website at www.elderjusticeal.org. Please contact Robyn James at rjames@m4a.org if you want more information on this elder justice movement across Alabama. M4A website: www.m4a.org
1 minute Video Link Below:
Ohio I-Teams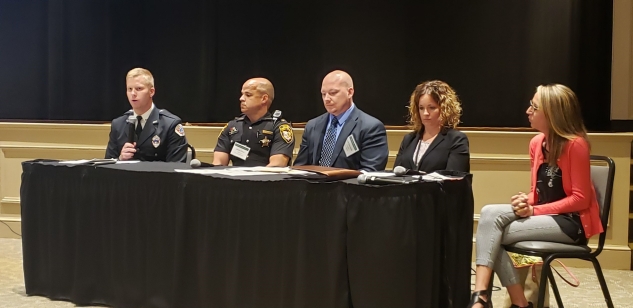 The state of Ohio has a unique approach to multidisciplinary teams, also known as interdisciplinary teams (I-Teams).  In 2014, an Adult Protective Services (APS) Workgroup, established under Ohio House Bill 483 of the 130th General Assembly, submitted recommendations to be integrated into Ohio's APS system. The workgroup identified this as an opportunity for multidisciplinary collaboration to organize access to services in a way that was more reliable and convenient for the individuals who needed them, and distributed the responsibility for meeting these needs across organizations in a way that spread rather than concentrated the financial burden. The workgroup specifically identified I-Teams as a best practice for organizing access to a comprehensive array of services.
The APS workgroup's recommendation led to Revised Code 5101.621 which became effective in September 2015. This statute mandated each county department of job and family services, or the contracted agency responsible for APS investigations, to prepare a memorandum of understanding (MOU) to work collaboratively with community partners in the execution of their responsibilities related to cases of adult abuse, neglect and exploitation. The MOU also mandated the establishment of an I-Team to coordinate efforts related to the prevention, reporting, and treatment of abuse, neglect and exploitation of adults. Statutorily requiring I-Teams shows the importance Ohio places on working collaboratively to protect Ohioans aging in place.
Prior to the statutory mandate of the establishment of I-Teams, nine (9) counties in Ohio had developed the best practice of working collaboratively with other agencies on APS cases. Since the mandate in 2015, every county in the state of Ohio now works together with agencies in their community by keeping an updated signed MOU and regularly holding I-Team meetings. Aging networks in Ohio can find a local I-Team by using the Elder Justice Network Locator Map on the Department of Justice website or by emailing the Ohio Adult Protective Service unit at APS_Mailbox@jfs.ohio.gov. For more information about the background of Ohio's APS I-Teams, please contact the Ohio APS Policy I-Team Lead, Robin Miller, at robin.miller@jfs.ohio.gov.
The UNC School of Government, Elder Protection Project
| | | |
| --- | --- | --- |
| Aimee Wall | Meredith Smith | Margaret Henderson |
Aimee Wall, Meredith Smith, and Margaret Henderson, faculty members with the UNC School of Government, created a pilot program to help counties across North Carolina create and grow elder abuse multidisciplinary teams (MDTs).  The program has two primary goals: (i) offer in person workshops at the School, and (ii) provide extended support to the MDTs after the initial workshop. 
With respect to the first goal, an initial two-day workshop was held at the School.  The School solicited applications from professionals working in the field of aging and adult services.  Participants were required to apply by county as a team.  Each team could send up to seven people and the School selected seven teams to attend.  The teams included both the largest county in NC as well as one of the smallest; a mix of rural and urban counties; and both mountain and coastal counties.
The second goal of the project is to provide extended support to the MDT counties after attending the initial workshop. This includes, for example, helping the teams develop policies and procedures governing their work together, reviewing and revising draft information sharing agreements, and helping them measure their success.  The School is also developing an online portal for teams to use to administer their MDT through a shared calendar, task lists, a document hub, and MDT contact list. The desired outcome for this goal is that teams continue to meet and make significant progress on the implementation of MDTs in their communities.
For more information contact: Meredith Stone Smith meredith.smith@sog.unc.edu
Updated April 14, 2023