Press Release
Owner of construction company and Puget Sound properties involved in illegal production of marijuana sentenced to 6 years in prison
For Immediate Release
U.S. Attorney's Office, Western District of Washington
Operated construction, electrical, and real estate firms to facilitate grow installations and money laundering
Seattle – A 52-year-old Seattle-area man was sentenced today in U.S. District Court in Seattle to 6 years in prison for his schemes involving the illegal manufacturing of marijuana, announced U.S. Attorney Nick Brown.  Raymond Ng engaged in conspiracies to facilitate illegal marijuana grows in residential neighborhoods, and to launder the proceeds through businesses and properties. At the sentencing hearing U.S. District Judge John C. Coughenour said "Ng continued his conduct after he had plenty of warning that it was criminal, and he was at risk."
"Mr. Ng's scheme was damaging to our community on many levels," said U.S. Attorney Brown.  "The illegal marijuana grows are at risk for electrical fires, drug rip-offs by other criminals, and mold and chemical contamination from the growing process.  Violating Washington State law on marijuana production harms the regulated market. And buying homes with drug proceeds and converting them to grow houses hurts homebuyers trying to get a toehold in the real estate market."
According to records filed in the case, Ng's involvement in the illegal marijuana business appears to have begun as early as 2016, when he purchased a house near a Renton elementary school and rented it to an employee of his construction company to grow marijuana.  The house was searched by law enforcement in June 2017, resulting in the seizure of 533 plants. This house was later sold by Ng, but on his seller disclosure statement he lied and said the house had not been used for drug manufacturing.
Despite the search of his property, Ng continued to help others illegally grow marijuana in residences around Seattle. He rented his own properties to illegal marijuana growers, and helped others buy properties that were used to illegally grow marijuana. When a grow was searched by law enforcement, Ng's construction company would renovate the property, and his real estate company would help to sell it. Through these many services, Ng helped to spread illegal marijuana grows in Puget Sound neighborhoods.
"Illegal marijuana grows only serve to damage our community" said Inspector in Charge Anthony Galetti. "By circumventing Washington State's law on legal marijuana we saw the home next door turned into an underground production facility. From fires caused by shoddy electrical wiring to pesticides and chemical running into local waters, these grows put the workers and our community in harm's way. With Ng's sentencing we hope this serves as a warning to all others, these grows are dangerous and have no place in our neighborhoods or in the U.S. Mail."
Ng also conspired to launder drug proceeds, working with his co-conspirator to use illegal marijuana proceeds to pay for properties. Ng used his position as a successful businessman to lie to a mortgage company so that an employee of his construction business could purchase a house, which the employee then used to grow marijuana.
Ng's girlfriend, Qifang Chen, 33, who was pregnant when she and Ng were arrested in this case, was also charged in the scheme.  She was sentenced to six months of home confinement and three years of probation.
Ng has been in custody since his arrest in October 2020. As part of a larger investigation, law enforcement searched Ng's home as well as dozens of other locations in Washington, Oregon and New York seizing 13,000 marijuana plants, more than 500 kilograms of processed marijuana, 20 firearms, and millions of dollars in cash and properties.  At Ng's home they seized more than $300,000 in cash, which Ng admitted were drug proceeds.  Ng is forfeiting more than $750,000 as part of his sentence.
In asking for an 87-month sentence, prosecutors wrote to the court, Ng "used his successful business as a front to launder drug proceeds. He used his experience as a real estate agent to ease the purchase and sale of marijuana grow houses. And he used his position as the owner of businesses to lie to mortgage companies and the government. In many ways, it was precisely Ng's professional accomplishments that allowed him to break the law."
"Today's sentencing is a testament to the dedication and hard work each and every member of the King County Sheriff's Office invested in this case," said interim King County Sheriff Patti Cole-Tindall.  "When we work with the Department of Justice and other federal partners to combat trafficking and other criminal enterprises, communities throughout King County are safer."
"Everyone has an obligation to abide by the laws at the federal, state, and local levels. When individuals like Mr. Ng and Ms. Chen choose to flout these laws for their own illegal enrichment, they betray the trust of their communities and the public," said Special Agent in Charge Bret Kressin, IRS Criminal Investigation (IRS:CI), Seattle Field Office. "With our expertise in 'following the money,' IRS:CI is committed to working with our partners in law enforcement to bring criminals like these to justice."
This case is part of an Organized Crime Drug Enforcement Task Forces (OCDETF) operation. OCDETF identifies, disrupts, and dismantles the highest-level criminal organizations that threaten the United States using a prosecutor-led, intelligence-driven, multi-agency approach. Additional information about the OCDETF Program can be found at https://www.justice.gov/OCDETF.
The case was investigated by the U.S. Postal Inspection Service (USPIS) and the Internal Revenue Service Criminal Investigation (IRS-CI) and the King County Sheriff's Office.  The Drug Enforcement Administration (DEA), the FBI, and Homeland Security Investigations (HSI) and the Bureau of Alcohol, Tobacco, Firearms & Explosives (ATF) assisted with the search warrants in October 2020.
The case is being prosecuted by Assistant United States Attorneys Nicholas Manheim and Stephen Hobbs.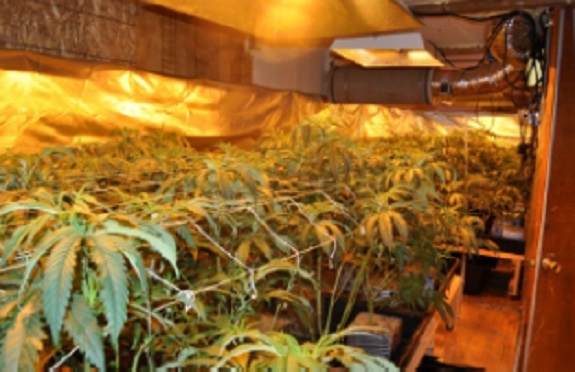 Contact
Press contact for the U.S. Attorney's Office is Communications Director Emily Langlie at (206) 553-4110 or Emily.Langlie@usdoj.gov.
Updated April 12, 2022
---