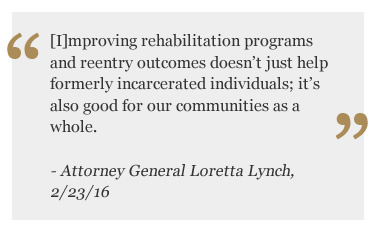 Reentry programs and reentry courts are designed to help returning citizens successfully "reenter" society following their incarceration, thereby reducing recidivism, improving public safety, and saving money.
A primary focus of our reentry efforts is to remove or reduce barriers to successful reentry, so that motivated individuals - who have served their time and paid their debt to society - are able to compete for a job, attain stable housing, support their children and their families, and contribute to their communities. 
 
Local Reentry Program
For many years, the United States Attorney's Office for the Western District of Washington has recognized the importance of successful reentry.  By working with our law enforcement and community partners, we are integrally involved in the development and implementation of creative solutions to address reentry barriers.  We recognize that helping individuals return to productive lives after incarceration will make the Western District of Washington a safer and better community. 
Ongoing Reentry Efforts
DREAM Court: The Drug Reentry Alternative Model (DREAM) is a pre-adjudicative diversion drug court, providing an intensive form of presentence supervision with direct, regular judicial involvement.DREAM began in August 2012 and is designed to provide an alternative to the more traditional path of prosecution, conviction and incarceration.For certain defendants who meet the eligibility criteria and are accepted into DREAM court, the program lasts between 12 months and 24 months.Upon successful completion, the underlying charges are dismissed.

Community Partnerships: The United States Attorney's Office for the Western District of Washington has a designated violence prevention and reentry coordinator who regularly attends Community Partnership for Transition Services meetings in King, Pierce, and Snohomish Counties.These groups meet on a monthly basis to share information, discuss current practices, and collaborate on new reentry initiatives.The meetings are also attended by representatives from the state and county, law enforcement entities, probation offices, and reentry service providers.

United States Probation Office's Evidence Based Practices Executive Committee: The U.S. Attorney and Criminal Chief sit on a District-wide Evidence-Based Practices Executive Committee.The Committee, comprised of district court judges, magistrate judges, probation and pretrial officers, and defense counsel, is focused on determining which prevention and reentry programs used by the probation office are based on evidence-based practices, as well as looking for new and effective programs.

Indian Country: In 2015, with our full support, the Lummi Nation was selected to participate in one of the three regional Intergovernmental Reentry Workshops hosted by the Department of Justice, Office of Justice Programs, Bureau of Justice Assistance, in partnership with the Executive Office for the U.S. Attorneys' National Indian Country Training Initiative.Our tribal liaisons attended the three-day workshop, which allowed stakeholders to hear from national tribal reentry experts and to discuss ways to support the Lummi Nation's efforts.We will continue to work with tribal representatives on reentry.
Upcoming Events
National Reentry Week 2016: The Department of Justice recently designated April 24-30, 2016, as Reentry Week.In honor of Reentry Week, the United States Attorney's Office for the Western District of Washington will host a workgroup with representatives from multiple local and federal agencies to address the reentry barrier posed by outstanding warrants.Through open discussion, we hope to develop solutions to help individuals resolve warrants earlier.

FDC SeaTac Panel: Also during Reentry Week, we will participate in a panel discussion at FDC SeaTac, the only federal detention center in the State of Washington.This discussion will include presentations by formerly incarcerated individuals on their respective paths to successful reentry, as well as a dialogue with current inmates about what would improve their reentry success.

2016 Summer Institute: Pierce County Community Partnership for Transition Services, the University of Puget Sound's Race and Pedagogy Initiative, and New Connections will host an annual conference on July 27-28, 2016 for reentry service providers, educators, and community organizations.  The institute aims to connect people and resources, support service providers, and foster collaborative partnerships to promote successful community transitions after incarceration.
Federal Interagency Reentry Council (FIRC)
The FIRC, established by the Attorney General in January 2011, comprises 20 federal agencies representing a significant executive branch commitment to coordinating reentry efforts and advancing effective reentry policies. It is premised on the recognition that many federal agencies have a major stake in prisoner reentry.  Learn more
Reentry Issues

Public Safety
Reentry improves public safety.  Approximately two million adults are incarcerated in state prisons and local jails. Nationally, two out of every three people released from state prisons are rearrested for a new offense and about half are reincarcerated within three years. Reducing recidivism is critical for increasing long-term public safety and lowering corrections costs.

Employment
Individuals who have been incarcerated can expect their future earnings to be reduced by about 40 percent after they return to their communities.   Reentry efforts seek to reduce barriers to employment so that people with past criminal involvement – after they have been held accountable and paid their dues – can compete for work opportunities.

Health
There is often a lack of continuity in care from inside the prison to the community.  Reentry efforts can help ensure that the Affordable Care Act and other reforms will significantly increase access to appropriate physical and behavioral health interventions after release from incarceration. Substance abuse can be a significant impediment to successful reentry and a major health concern. Addressing the root causes of substance abuse leads to improved public safety.

Education
Education is a core resource for release preparation, and is an evidence-based tool for reducing recidivism among adults and juveniles. Participation in education programming was associated with a 16 percent reduction in recidivism in one study. Education is also a critical building block for increasing employment opportunities.

Housing
Stable housing with appropriate supportive services is a key factor in preventing homelessness and reducing recidivism.  The goal is to reduce barriers to public and subsidized housing, and advance promising models that improve outcomes for people who repeatedly use corrections and homeless services.
 
Additional Resources
Please visit the following resources for more information about reentry:
Updated May 4, 2016