You are here
Project Safe Childhood
Project Safe Childhood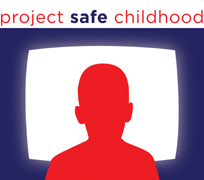 Guided by the leadership of the Attorney General, Project Safe Childhood (PSC) aims to combat the proliferation of technology-facilitated sexual exploitation crimes against children. The threat of sexual predators soliciting children for physical sexual contact is well-known and serious; the danger of the production, distribution, and possession of child pornography is equally dramatic and disturbing. The response to these growing problems must be coordinated, comprehensive, and robust. It must aim to investigate and prosecute vigorously, and protect and assist victimized children. At the same time, it must recognize the need for a broad, community-based effort to protect our children and future generations.
For further information on this District's PSC effort please contact:
Assistant U.S. Attorney Matthew Hampton
PSC Coordinator
206-553-7970
PSC Links and Resources
Cyber Safety Tips for Students and Parents and Guardians
Project Safe Childhood Home Page

Amber Alert

Office of Youth Development

National Center for Missing and Exploited Children

Web Wise Kids

i-SAFE, Inc.

NetSmartz.org

WiredSafety

Public Service Ads

Internet Safety - Presentations and Resources

Connect With Your Kids!!