Press Release
Renton, Washington, resident sentenced to ten years in prison for drug trafficking while armed with a stolen handgun
For Immediate Release
U.S. Attorney's Office, Western District of Washington
Worked as drug distributor and debt collector for violent cartel connected drug distribution ring
Seattle – A Renton, Washington resident who continued to deal drugs and possess firearms after many of his coconspirators were arrested and charged federally, was sentenced today in U.S. District Court in Seattle to ten years in prison, announced U.S. Attorney Nick Brown.  Gerson Alberto Flores-Rivera, 28, pleaded guilty in May 2022 to distribution of methamphetamine, possession of fentanyl with intent to distribute, possession of methamphetamine, heroin, and fentanyl with intent to distribute and carrying a firearm during and in relation to a drug trafficking crime.  At the sentencing hearing U.S. District Judge John C. Coughenour said, "Fentanyl is the worst we've seen – meth was the worst before fentanyl came along…. The other tragic thing about fentanyl that really bothers me is that it tends to be focused on younger people. It's the young people that are dying."
Flores-Rivera had been heard on the wire-tap involving a drug trafficking organization related to the CJNG cartel.   When members of that group were arrested in July 2020, Flores-Rivera's identity was not fully known.  His full identity and role in the CJNG related cartel came into focus in the spring of 2021, as Flores-Rivera continued to sell drugs.  On five different dates between February and May 2021, Flores-Rivera sold methamphetamine and fentanyl to a person working with law enforcement.  Following the last drug deal, Flores-Rivera was arrested with 500 fentanyl pills and a loaded stolen Glock 9mm semi-automatic handgun with an extended magazine.
  A court authorized search of Flores-Rivera's apartment turned up 24 kilos of methamphetamine hidden in his couch, 2 kilos of heroin, 16,000 fentanyl pills, another firearm, and more than $45,000 in cash.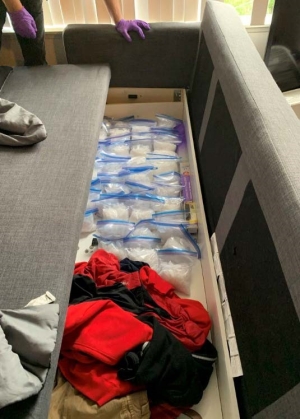 In asking the court to impose a ten-year sentence prosecutors wrote, "After working alongside members of one of the most violent drug trafficking organizations our District has prosecuted, Flores-Rivera continued to serve as an armed drug trafficker for others…. After many of his coconspirators were arrested in July 2020, and despite widespread publicity about their arrests, Flores-Rivera missed an opportunity to extricate himself from the dangerous and illegal world of drug trafficking. Instead, he doubled down and continued unabated – stealing cars, dealing drugs, and carrying guns."
This prosecution is part of an Organized Crime Drug Enforcement Task Forces (OCDETF) investigation. OCDETF identifies, disrupts, and dismantles the highest-level drug traffickers, money launderers, gangs, and transnational criminal organizations that threaten the United States by using a prosecutor-led, intelligence-driven, multi-agency approach that leverages the strengths of federal, state, and local law enforcement agencies against criminal networks. The investigation was conducted by the U.S. Drug Enforcement Administration's (DEA) Tacoma Resident Office in partnership with Tahoma Narcotics Enforcement Team (TNET), Kent Police Department, Homeland Security Investigations, SeaTac Police Department, Thurston County Narcotics Team (TNT), the Federal Bureau of Investigation, and the Bureau of Alcohol Tobacco, Firearms and Explosives (ATF).
The case is being prosecuted by Assistant United States Attorneys Amy Jaquette and C. Andrew Colasurdo.
Contact
Press contact for the U.S. Attorney's Office is Communications Director Emily Langlie at (206) 553-4110 or Emily.Langlie@usdoj.gov.
Updated January 10, 2023
---
Topics
Violent Crime
Opioids
Drug Trafficking