Press Release
Spouse and cousin of drug trafficking ringleader sentenced to significant prison terms for their roles in drug distribution conspiracy
For Immediate Release
U.S. Attorney's Office, Western District of Washington
Spouse played key role as money-launderer, while cousin distributed drugs and collected payments – sometimes by force
Seattle – Two members of a drug trafficking ring that buried drugs and cash on a rural property near Arlington, Washington, were sentenced today in U.S. District Court in Seattle, announced U.S. Attorney Nick Brown. Jose Arrondondo-Valdez, 27, was sentenced to nine years in prison and Yvette Olguin, 40, was sentenced to 30 months in prison. Arrondondo-Valdez is the cousin of ringleader Cesar Valdez-Sanudo. Olguin is Valdez-Sanudo's wife. Both played key roles in the drug ring. At sentencing, U.S. District Judge John C. Coughenour said he based his sentences "on the size of the drug ring and that it distributed fentanyl, which is an extraordinarily dangerous drug."
"Debt collection, money laundering – these are sophisticated organizations that don't function without members who handle these chores – and the two people sentenced today were key players in a drug ring that distributed massive amounts of methamphetamine and fentanyl in our community," said U.S. Attorney Nick Brown. "In addition to prison time, substantial resources have also been seized as proceeds of drug trafficking."
Members of the drug ring were indicted in December 2020, following a lengthy wire-tap investigation. Law enforcement seized large amounts of drugs during the investigation, including a 49-pound load of methamphetamine that was coming to Washington State from California, disguised in boxes for household items.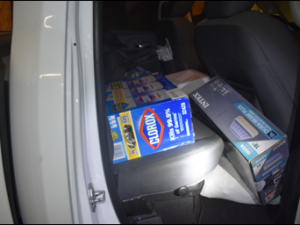 All told, in the course of the investigation, law enforcement seized approximately 143 pounds of methamphetamine, 15 pounds of heroin, 35,000 suspected fentanyl pills, 24 firearms, and approximately $ 778,000. 
"With today's sentences, Mr. Arrondondo-Valdez and Ms. Olguin will spend significant amounts of time in federal custody as a result of their roles in this drug trafficking organization," said Jacob D. Galvan, Acting Special Agent in Charge, DEA Seattle Field Division. "Together with our state and local partners we removed significant amounts of narcotics and firearms from the community and prevented the organization from using its proceeds to further their illicit schemes."
Jose Arrondondo-Valdez served as the right-hand man to ringleader Valdez-Sanudo. Arrondondo-Valdez was arrested with Valdez-Sanudo at the Snoqualmie Casino. The men had three loaded and chambered firearms in their vehicle, one with a homemade silencer. The men planned to confront a member of the ring who owed a debt for drugs.
Jose Arrondondo-Valdez lived on the Arlington property that Olguin and Valdez-Sanudo had purchased with drug money. When law enforcement searched the property, they seized more than 27 kilos of meth, nearly six kilos of heroin, and nearly two kilos of fentanyl pills, much of it buried underground. On the property, there were ten firearms.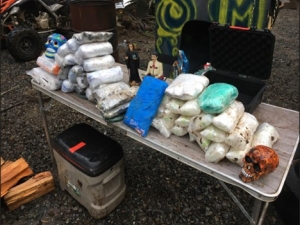 Olguin was key to the operations of the drug trafficking organization by making hotel and travel arrangements and working to launder the cash the operation took in. When the drug ring members were arrested, Law enforcement seized cash, checks, and the contents of bank accounts as proceeds of the drug crime. Olguin schemed with her husband Valdez-Sanudo to launder more than $1 million through casinos. The couple purchased property and vehicles to launder drug money. Olguin sought to avoid banking transaction reporting requirements by making deposits in amounts below the $10,000 threshold.
This case is part of an Organized Crime Drug Enforcement Task Forces (OCDETF) investigation. OCDETF identifies, disrupts, and dismantles the highest-level drug traffickers, money launderers, gangs, and transnational criminal organizations that threaten the United States by using a prosecutor-led, intelligence-driven, multi-agency approach that leverages the strengths of federal, state, and local law enforcement agencies against criminal networks.
The investigation was conducted by the U.S. Drug Enforcement Administration (DEA) Tacoma Residence Office in partnership with Tahoma Narcotics Enforcement Team (TNET), Kent Police Department, Homeland Security Investigations, SeaTac Police Department, Tacoma Police Department, Snohomish Regional Drug Task Force (SRDTF), the Skagit County Sheriff's Office, the Federal Bureau of Investigation, the Bureau of Alcohol Tobacco, Firearms and Explosives, and the Internal Revenue Service (IRS). 
The case is being prosecuted by Assistant United States Attorneys Amy Jaquette and C. Andrew Colasurdo.
Contact
Press contact for the U.S. Attorney's Office is Communications Director Emily Langlie at (206) 553-4110 or Emily.Langlie@usdoj.gov.
Updated March 21, 2023
---
Topics
Violent Crime
Opioids
Drug Trafficking