Press Release
Two defendants appear on indictment connected to $7 million in drugs left on beach near Port Angeles, Washington in April 2021
For Immediate Release
U.S. Attorney's Office, Western District of Washington
400 pounds of methamphetamine and two pounds of fentanyl left in black duffle bags on the shoreline
Seattle – Two of three defendants charged in a failed attempt to smuggle more than 400 pounds of methamphetamine and two pounds of fentanyl powder into Canada appeared in U.S. District Court in Seattle today, announced U.S. Attorney Nick Brown.  Erika A. Bocelle, 32 , of Providence, Rhode Island and John Michael Sherwood,  65, currently of Idaho,  appeared on an indictment today, connected to the April 2021 discovery of some $7 million of illegal drugs found on the beach near Port Angeles, Washington.
Bocelle, Sherwood and a third defendant, Kevin Christopher Gartry, 45, of British Columbia, Canada, are charged in a three-count indictment with conspiracy to distribute controlled substances, possession of controlled substances with intent to distribute, and conspiracy to commit international money laundering.  All three defendants are in custody on unrelated charges and are being brought to western Washington on the indictment returned in August 2022.
On April 7, 2021, beachcombers near Port Angeles reported a black duffel bag with drugs inside.  The Clallam County Sheriff's office took possession of the bag found to contain 2 pounds of fentanyl powder and nearly 60 pounds of methamphetamine. The fentanyl powder was originally believed to be cocaine. Just days later, on April 11, 2021, a different beach walker reported another find – seven more duffel bags containing 342 pounds of methamphetamine.  The Sheriff's Office estimated the street value of the drugs as nearly $7 million.
Due to the large quantity of drugs involved, the defendants face a mandatory minimum ten years to life in prison.
The charges contained in the indictment are only allegations.  A person is presumed innocent unless and until he or she is proven guilty beyond a reasonable doubt in a court of law.
The grand jury indictment was returned after an extensive investigation by the FBI, Homeland Security Investigation (HSI), U.S. Border Patrol and the Border Patrol Air and Marine Unit, the Royal Canadian Mounted Police (RCMP), and the Olympic Peninsula Narcotics Enforcement Team (OPNET).
The case is being prosecuted by Assistant United States Attorney Vince Lombardi.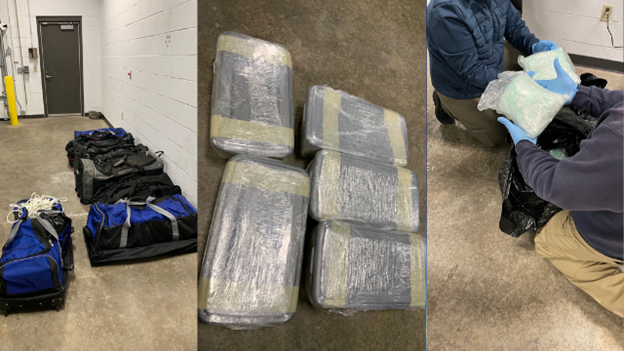 Contact
Press contact for the U.S. Attorney's Office is Communications Director Emily Langlie at (206) 553-4110 or Emily.Langlie@usdoj.gov.
Updated December 7, 2022
---