OVW Podcast: Patchwork
OVW Podcast: Patchwork
Patchwork, a podcast from the Department of Justice's Office on Violence Against Women (OVW), offers a glimpse into the implementation of the Violence Against Women Act (VAWA) at the local, state, tribal, and national levels. How are VAWA grants made? What happens after the grants leave Washington and arrive in communities across the country? Who are the people who benefit from the grants? Featuring the voices of people combating domestic and sexual violence on the front lines and behind the scenes, Patchwork threads together stories from over 25 years of federally funded efforts to serve victims and hold offenders accountable.
  Email sign up: Get an alert when a new podcast is available
Podcasts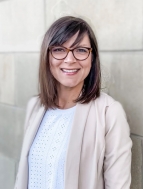 Elder abuse is generally thought of as exploitation and financial abuse perpetrated by strangers, however the abuse commonly comes from people who are known and trusted and it often includes sexual violence and stalking. Kristin Burki, the Director of the National Clearinghouse on Abuse in Later Life (NCALL), explains how sexual abuse of elders is a form of power and control and how the crimes often create unique dynamics that complicate responses. In this episode, Kristin shares her outlook on the future of  supporting survivors of elder abuse.

Ending gender-based violence requires effort and awareness. Unique cultural differences must be accounted for and included in every advocates' plan of care if they intend to work from a trauma-informed perspective, according to Dr. Tricia Bent-Goodley. In this episode she shares how misconception can hide a problem within a community, elaborates on the idea that community perception is critical to understanding the victim's story, and offers a message to future generations of social workers.

The Resource Sharing Project is part of a national movement to end sexual violence. They provide support to coalitions across the country that serve victims of sexual violence.
In this episode, Kris Bein, the Assistant Director at the Resource Sharing Project, and Monika Johnson Hostler, the Executive Director of the North Carolina Coalition Against Sexual Assault, join Patchwork to elaborate on creating safe spaces for victims. They discuss challenges advocates have faced during the COVID-19 pandemic and share their positive outlooks on how the field will continue to evolve in order to serve victims.