Christopher A. "Kip" Crofts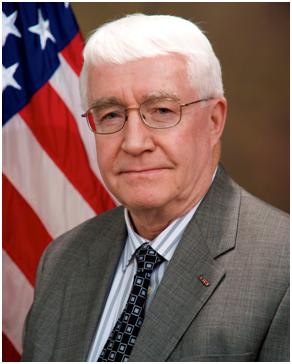 On December 24, 2009, Christopher A. "Kip" Crofts was unanimously confirmed by the U. S. Senate as the new United States Attorney for the District of Wyoming and officially took office on Monday, January 4th, 2010.
Kip was born and raised in Lander, Wyoming. He received a B.A. from the University of Wyoming in 1965, and an ROTC commission as a Second Lieutenant in the Army. He served over four years as an Army officer, with service in Viet Nam and the Dominican Republic, and was discharged as a Captain in 1969. During his tour in Viet Nam, Kip was awarded the Bronze Star for distinguished service. After his return to Wyoming, he taught English/Social Studies at Laramie Jr. High School for two years and then attended law school at the University of Wyoming School of Law on his GI Bill.
Kip received his Juris Doctorate degree in 1974. He practiced law and served as a Justice of the Peace in Fremont County for four years. Kip then began employment with the Wyoming Division of Criminal Investigation (DCI), became the agency's Director in 1981, and is credited for making DCI a first rate state law enforcement agency. In 1990, Kip resigned from DCI to accept an appointment as an Assistant United States Attorney in Casper. He served there until 1995, when then U. S. Attorney David Freudenthal asked him to open and staff a branch office in Lander, Wyoming to better serve the Wind River Indian Reservation. Kip served in Lander until 2005, when he accepted an assignment from the United States Justice Department as a legal advisor on a Provincial Reconstruction Team (PRT) in Iraq. He served in both Baghdad and Basra. Upon his return from Iraq, he retired from the Justice Department and accepted a position as Legal Counsel to Governor Freudenthal, a position he held until his appointment as United States Attorney for the District of Wyoming.
Kip has a son, Shane, a Lieutenant Colonel in the Wyoming National Guard, and a daughter, Jeannie, a journalist in New York City.
Updated July 21, 2015