You are here
District of Colorado
District of Colorado
About the U.S. Attorney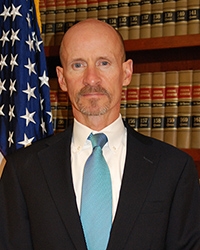 Robert C. Troyer, USA
Bob Troyer was born in Colorado and grew up in Washington DC. He graduated from Pomona College in 1984 with a BA in English. For several years after college, Bob taught high school English in Washington DC and worked during the summers as a commercial fisherman in Alaska.

About the District
In the District of Colorado, the United States Attorney's Office faces a myriad of challenges shaped by Colorado's natural resources; federal military and correctional facilities; and Colorado's growing and diverse population.
Federal lands comprise about one-third of Colorado, including four national parks, five national monuments and twelve national forests. The United States Attorney's Office regularly works with the various land agencies addressing a host of issues relating to the management and preservation of Colorado's natural resources.
OFFICE CONTACT INFORMATION
Main Office
1801 California Street, Suite 1600
Denver, CO 80202
(303) 454-0100 (phone)
(303) 454-0400 (fax)

 

Durango Branch Office
103 Sheppard Drive, No. 215
Durango, CO 81303
(970) 247-1514 (phone)
(970) 247-8619 (fax)

 

Grand Junction Office
205 North 4th Street, Suite 400
Grand Junction, CO 81501
970-257-7113 (phone)
970-248-3630 (fax)

 
Attorney Vacancies & Volunteer Legal Internships