John S. Leonardo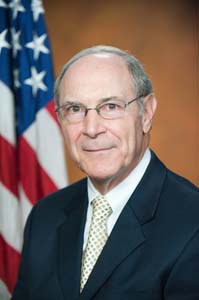 John S. Leonardo was sworn in as the United States Attorney for the District of Arizona on July 3, 2012.
Judge Leonardo, who served as a judge on the Pima County Superior Court from 1993 to 2012, leads one of the largest U.S. Attorney's Offices in the country.  The office employs approximately 300 personnel in four locations (Phoenix, Tucson, Flagstaff, and Yuma), and serves more than eight million Arizona residents, including the residents of the 22 federally-recognized Indian tribes whose reservations fall in whole or in part within Arizona.
In addition to presiding over more than 380 jury trials, four of which were capital murder trials, Judge Leonardo took on extra duties as Presiding Judge of the Pima County Superior Court from 2002 to 2007.  Judge Leonardo also served as a member of the Arizona Supreme Court Judicial Ethics Advisory Committee and was honored in 2011 with the Judicial Integrity Award from the Arizona Trial Lawyers Association.
Prior to his judicial service, Judge Leonardo served as an Assistant U.S. Attorney for the District of Arizona from 1982 to 1993 and for the Northern District of Indiana from 1973 to 1982, where he also served as the First Assistant U.S. Attorney from 1978 to 1982.  From 1972 to 1973, Judge Leonardo was an Assistant State's Attorney for Prince George's County, Maryland.  He graduated from the University of Notre Dame in 1969 and from George Washington University School of Law in 1972.
Updated October 7, 2015