Press Release
United States Attorney's Office Celebrates the Achievements of Judge Mary Anne Richey
For Immediate Release
U.S. Attorney's Office, District of Arizona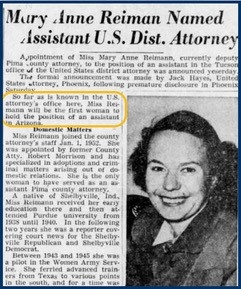 In honor of Women's History Month in March, the United States Attorney's Office spotlights the achievements of Judge Mary Anne (Reimann) Richey, a true woman of firsts.
     Judge Richey received her Bachelor of Laws from the University of Arizona College of Law in 1951. She paid for law school by operating a local ranch and raising thoroughbred racehorses. Judge Richey was the only woman in her graduating class, and the only woman to pass the Arizona bar examination that year. Three years later, she became the first woman Assistant United States Attorney (AUSA) for the District of Arizona.
     In 1960, Judge Richey became the first woman United States Attorney for the District of Arizona. She was appointed as a judge to the Pima County Superior Court in 1964, and served as the Court's presiding judge from 1972 to 1976. In 1976, President Gerald Ford nominated Judge Richey to a seat on the United States District Court for the District of Arizona, as the only woman to receive a nomination during the Ford Administration. Judge Richey remained on the federal bench until her death in 1983.
     Judge Richey's achievements went far beyond the law. She grew up with aspirations of taking to the sky, and joined the Women's Airforce Services Program (WASP) in 1943 as a test pilot to honor her brother, a Navy pilot killed earlier in the war. Throughout her life, Judge Richey was deeply committed to civic engagement and a champion for underprivileged girls.
     Today, there are 83 woman AUSAs in the District of Arizona, making up more than half of the District's AUSA positions. 67% of the Office's employees are women. Following Judge Richey, four more women have been confirmed as the United States Attorney, including former Maricopa County Superior Court Judge Linda A. Akers, former Arizona governor and United States Secretary of Homeland Security Janet Napolitano, and United States District Judge Diane J. Humetewa.
RELEASE NUMBER:           2019-041_Judge Richey
# # #
For more information on the U.S. Attorney's Office, District of Arizona, visit http://www.justice.gov/usao/az
Follow the U.S. Attorney's Office, District of Arizona, on Twitter @USAO_AZ for the latest news.
Updated March 29, 2019
---
Press Release Number:
2019-041_Judge Richey